If it's Texas hospitality you're looking for, you'll find it nowhere more than in the capital of Texas, Austin. Music makes up the basis for many of the area attractions, but there's plenty more to choose from.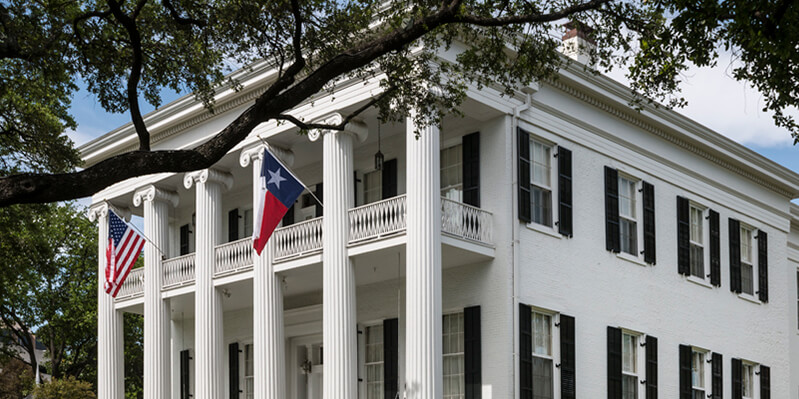 Tours of the Texas Governor Mansion The Governor's Mansion was built in 1856 with dignified white columns welcoming all that come to it. Since 1856, this prestigious historic home has…
Congress Avenue Bridge
Bats may not usually make your top ten list of "things to see," but the Congress Avenue Bridge is home to the largest urban colony of bats.
Want to learn about Mexican free-tailed bats? If you do then you will want to visit the bridge from March to October to see the largest urban colonies of them in the area with a bat population of 1.5 million. Why do we care about Bats? Most bats are valuable allies, well worth protecting. They are primary predators of vast numbers of insect pests. In the US the brown bats often eat mosquitoes and can catch up to 1,200 tiny insects in an hour! An average-sized colony of big brown bats can eat enough cucumber beetles to protect farmers from then of millions of the beetle's rootworm larva each summer. Large colonies of Mexican free-tailed bats eat hundred of tons of moth pests weekly. Bats play a key role in keeping a wide variety of insect populations in balance.
BCI (Bat Conservation International) of Austin is devoted to conservation, education and research initiatives involving bats and ecosystems they serve. BCI is aware that bats rank among the world's most misunderstood and endangered wildlife. They are quick and people don't understand them or the benefits which is the goal of BCI to change this.
The Congress Avenue Bridge is filled with people every summer night to see the world's largest urban bat colony emerge from under the Congress Ave. Bridge. This is one of the largest and most unique tourist attractions anywhere.
The Austin American-Statesman created the Statesman Bat Observations Center adjacent to the Congress Bridge, giving visitors a dedicated area to view the nightly emergence.
The bats migrate each spring form central Mexico to various roosting sites throughout the southwestern US. Most of the colony is female, and in early June each one gives birth to a single baby bat, called a pup.
Come and watch the emergence of the bats at sunset which creates a spectacle at sunset. . . something you won't soon forget and may actually learn the benefit of bats!
Location: Barton Springs Rd. and Congress Ave.
Austin Zoo
The zoo is touted as a family-friendly place to visit. You can see the animals, hold a birthday party or have a picnic.
Austin City Limits
Most country music fans have heard of Austin City Limits. The show is taped live at the University of Texas at Austin campus and you're invited to view the show live.
Capitol Building Tours
Austin serves as the capital of Texas and tours of the capitol building are a popular stop on the itinerary of many who live or visit the city. While you're here, you can visit the Lyndon B. Johnson Library.
Kiddie Acres
If you've got a group of smaller children, this is a sure-fire way to keep the entire family happy. The adults can rest while the kids enjoy rides, fun, and even mini-golf.
Lonestar Riverboat
Take a ride back in time on a real paddlewheel riverboat. You have the option to take a sightseeing tour, watch a sunset on the evening ride, or book a private party.
Recreations & Leisure
There are three lakes in the immediate vicinity and with the extended summer, season water is a great attraction. Fishing, swimming, camping and all kinds of water sports are popular pastimes in Austin and the surrounding area.
If you're into some healthy exercise, Austin has lots of walking, hiking and biking trails, or you can take advantage of some of the city's inline skate areas. The Hill Country Inline Skate Club offers advice and information for those wanting to take their wheels to the pavement.
City Getaways
Austin has plenty to offer, but you'll also find lots to do within a short drive of the city. Remember that Austin is centrally located in the state, but Texas is a big state. Just because something is located in Texas doesn't mean it's going to be near Austin!
Just 24 miles north of Austin you'll find the Inner Space Cavern. Whether you want a short tour or you are a true adventurer, you'll be sure to love the sites of this "living cave." If you want a taste of the pioneer days, you can pan for minerals, just like the settlers panned for gold more than a century ago. There are plenty of gems, minerals and interesting stones to find, and you're welcome to keep anything you find. Think it's something valuable? The staff at Inner Space will help you identify your treasure.
If you love animals and have always wanted to go on a safari, you'll want to plan a visit the Natural Bridge Wildlife Ranch in San Antonio. There's a great array of animals, ranging from antelopes to zebras, and there's no need for you to drive for hours waiting for them to appear (as you would on a real safari) or to walk along trails to see each animal in a cage (as in a zoo). Get the best of both worlds. You can choose the walking tour or driving tour, feed the animals and take all the pictures you want.
Arts
There is an awesome array of arts activities available in Austin. At any given time, you can choose from theatre, dance or music events from professional and semi-professional groups. Take a look at just a few of the cultural options in Austin.
Esther's Follies
If you want to be entertained, this should make your list of things to do in Austin. The show is described as a combination of magic show and Vaudeville.
University of Texas Performing Arts Center
The University plays host to a number of events every year. Students, faculty and the community come together for chorales and other music performances. Check with the University of Texas at Austin's Music Department for a listing.
Ballet Austin
Look for your favorites or see something new from this professional ballet, performed at Bass Hall.
Austin Museum of Art
It's more than your typical art museum because AMOA offers family days and art lessons along with a variety of other events. Located downtown, the focus is on modern artists.
The Austin Symphony Orchestra
For almost a century, this has been home to Austin's professional symphony. There's always something special planned.
Austin's Theatre for Youth
This professional theatre group's goal is to involve the youth of Central Texas in the theatre.