Texas Wineries & Hill Country Vineyards near Austin
Did you know that Texas has the country's second most visited wine region? People have long traveled to the state, particularly the Texas Hill Country, to enjoy the vineyard and winery tours and tastings. Central Texas wineries have joined forces to plan events and promotions around important dates throughout the year. Many wineries and vineyards welcome visitors throughout the year, but you might want to check this website for more information on special events. Once you have that information, you can go to the grape stomps and tastings and enjoy the best that Texas has to offer.
Fall Creek Vineyards in Driftwood
18059 Farm to Market Rd 1826, Driftwood, TX 78619
The vineyards were established in 1975, which makes them the oldest in the region. This site is located on the northwest shores of Lake Buchanan and nearby boat cruises are available to the Fall Creek Falls if you want to make a day of it. These folks also have a grape stomp in August and those events can be a lot of fun. From Llano, take 16 north and turn right onto 29. Then turn left onto 2241 and follow it until you can turn to the right onto county road 222.
Solaro Estate Winery
13111 Silver Creek Rd, Dripping Springs, TX 78620

For generations, the Fritz family has made exquisite wines from the beautiful hills of Emilia Romagna, Italy, and they continue their winemaking tradition in the beautiful Texas Hill Country. Solaro Estate has been crafting award-winning wines with the knowledge of their Italian ancestors–and some good ol' Texas flair–since the turn of the century.
Solaro Estate has been named Texas Winery of the Year from 2012 to 2019, and Texas Hill Country Winery of the Year from 2020 to 2021. It has exhibited the best of what Texas wine has to offer and has played an important role in putting Texas wine regions on the map.
Duchman Family Winery
13308 FM150 W, Driftwood, TX 78619
This is another of those fabulous wineries and vineyards located in the Hill Country, and it is situated above Onion Creek. They have a nice wrap around porch that overlooks the vineyards. You can come out here and take the grape-to-glass tour at their site located near Driftwood.
The tasting room at this winery is open 7 days of the week much of the year, but some times they are closed on Monday so be sure to check the schedule. In addition to tastings, they offer a from grape to glass tour of the facilities. They also book private parties here and at various times they will show motion pictures on the patio. Wine and chesse anyone?
At the "Y" in Oak Hill stay left, continuing on Highway 290 west towards Fredericksburg. Turn left onto FM 1826. Drive 14 miles until FM 1826 ends at FM 150. Take a left and the winery should be about 2 miles down the road on the left.
Grape Creek Vineyards
10587 E U.S, US-290, Fredericksburg, TX 78624
The Texas High Plains AVA is the state's second largest, with over 5,000 acres under vine. The region is ideal for premium grape growing due to its high elevation (3,500 feet), long sunny days, cool clear nights, and consistent winds. Over 75 varietals are supported by the High Plains AVA. Grape Creek sources some of our most popular wines from top growers, including Cabernet Sauvignon, Petit Verdot, Viognier, Mourvèdre, and Pinot Grigio.
The vineyards are laid out in blocks across our 100-acre property to take advantage of the best soil, air flow, and high ground to help protect the vines from freezes. The entry and tasting room blocks also provide a lovely setting for our guests.
The estate vineyards primarily feature grape varietals from warmer growing regions such as the Rhone Valley and Madiran in southern France, as well as Colline Teramane and Basilicata in Central Italy.
Driftwood Estate Winery
4001 Elder Hill Rd, Driftwood, TX 78619
The spirit and heart of Texas are embodied by Driftwood Estate Winery and Vineyard. Driftwood exudes Texas pride in its production of high-quality wines made entirely from Texas grapes. Driftwood Estate Winery is perched on a bluff overlooking our Estate Vineyard and the Hill Country, where visitors can sample our award-winning wines. The view from the bluff is breathtaking, and the grounds are ideal for unwinding with a glass or bottle of Driftwood Estate wine.
Gary Elliott established The Vineyard in 1998. It was Hays County's first commercial vineyard. For the past 24 years, the Driftwood Estate Winery and Vineyard has been run by a family. The Vineyard is comprised of 18 acres of grape vines, and the Winery produces 10,000 cases of wine per year.
Becker Vineyards
464 Becker Farms Rd, Fredericksburg, TX 78624
Becker Vineyard's winery is a 10,000-square-foot replica of a late-nineteenth-century German stone barn, a popular style in Texas Hill Country. Three winery expansions have occurred since the vineyard's inception in 1992 to accommodate 74 fermentation tanks and over 5500 barrels used during the aging process.
This vineyard has been in existence since 1992 and is between Fredericksburg and Stonewall. It is located on a site where Mustang grapes previously were grown so there is a link to long-term winemaking here. There also is a three acre lavender farm on the site. Becker Vineyards is located 11 miles east of Fredericksburg in the heart of peach country, off 290. Exit Jenschke Lane, turn right at 464 Becker Farms Road.
Chisholm Trail Winery
2367 Usener, Fredericksburg, TX 78624
The owners offer tours of the winery on a regular basis and naturally they have a tasting room you can visit if you want to sample their products. You can even have a picnic on the grounds at Spring Creek if you want to relax and enjoy the outdoor scenery at this site, which includes the adjoining vineyards. Quarter horses and longhorns should be roaming about the area as well. From Fredericksburg, take 290 west and turn left onto Usener Road and look for the sign. This could prove to be a nice diversion if you are trying to get out of spending all day shopping in Fredericksburg.
Flat Creek Estate Winery & Vineyard
24912 Travis Peak Trail, Marble Falls, TX 78654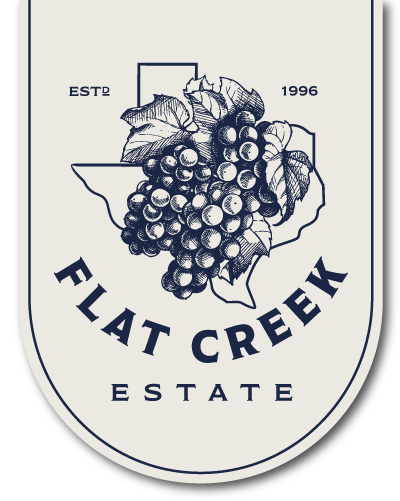 You should come out here even if it is only for the view. The event center at their winery has a patio overlooking the vineyards in a picturesque setting located near Marble Falls and it is available for private parties. Johnson Park is close by if you are looking for a place to jump in the water and cool down a bit after your visit to the winery.
Flat Creek Estate is located approximately 40 miles northwest of Austin. Our beautiful 80-acre estate includes an elegant tasting room, a full-service restaurant called The Bistro at Flat Creek Estate, a covered pavilion, and an 18-hole disc golf course. When you combine our beautiful vineyards and full-service winery, you have an all-day destination for couples, groups, and families.
To get here from Marble Falls, head east on 1431 and turn right onto Singleton Bend Road. That road will turn back to the left and then look for the signs. Don't forget that there are lots of scenic views when you are heading out on 1431, it is one of the nicer drives in this part of the Hill Country.
Fredericksburg Winery
247 W Main St, Fredericksburg, TX 78624

This winery is located in downtown Fredericksburg and is a fine spot to stop off if you are sick and tired of walking up and down the street all day toting somebody else's packages. They are open seven days a week and really enjoy giving tours, but it is best to contact them before you arrive so they can be sure to prepare for your visit.
The Switzer Family owns and operates the Fredericksburg Winery. This is our official website, and I am the sole author of the content. This website reflects our approach, our opinions, and our attitude. Everyone has the right to approach winemaking and life in their own way. We have ours, and it is correct for us. We hope the information provided here piques your interest enough to try our wines and come visit us.