The Governor's Mansion was built in 1856 with dignified white columns welcoming all that come to it. The governor occupies a private second-floor apartment. The other rooms of the Mansion may be seen on public tours, reservations are required on day in advance. Beginning in October of 2007 the mansion was closed for tours indefinitely for extensive deferred maintenance. A building as old as the mansion requires constant and extensive maintenance to keep it in pristine condition as the Governor deserves, as well as the citizens of Texas.
The Mansion is the fourth oldest governor's resident continuously occupied in the US and the oldest governor's mansion west of the Mississippi River.
The mansion was damaged in a fire June 8, 2008 when extensive damage occurred. Funds for the restoration are being gathered to assure the mansion is repaired with quality. To assist with the funding you can contact www.texasonline.com or send a check of money order to Texas Governor's Mansion Restoration Fund, PO Box 12878, Austin, TX 78711-2878. You can get information on the restoration at 866-751-5829.
The beautiful mansion sits on a beautifully landscaped city block near the Capitol building. The building has been designated a National Historic Landmark.
The building is made of buff-colored bricks and was built when the Legislature appropriated $14,500 in 1845.
The deep veranda, floor-length windows and wide hallways provided cooling ventilation in the summer. The square plan of the structure itself placed four main rooms on each floor, two on either side of the broad central hallway. A rear wing held a kitchen and servant's quarters. This simple two story design was impressively proportioned with twenty-nine foot Ionic columns across the front spanning ceiling heights of sixteen feet downstairs and thirteen feet upstairs.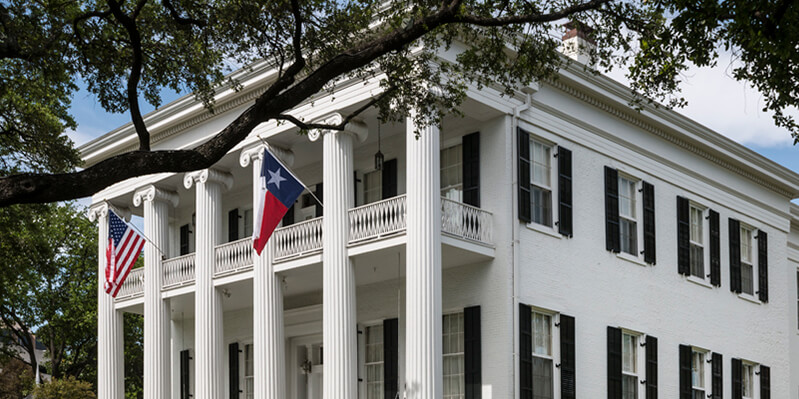 The history of the families that have lived in the mansion bring smiles to the faces of those that hear about them from the son of Sam Houston, 5 year old Andrew Jackson Houston, locked the members of the Legislature in their chamber and hid the key. It took his father telling him he would have Andrew arrested for him to finally produce the key to let them out. Then there was the drama of James Stephen Hogg's children sliding down the sweeping stair rail. Following his youngest son's falling off the Governor hammered tacks down the banister and that put an end to the fun. Visitors may still inspect the filled nail holes.
In 1914 the Mansion received extensive remodeling with the original kitchen wind demolished and a new addition was added to the back of the main house. This included a new family dining room on the main floor and additional living space upstairs. A new enlarged kitchen wing was then built. This basic floor plan remains today.
The mansion, when put back to rights, will showcase off some of the furnishings owned by former governors and important collection of portraits.
Location: 1010 Colorado St., Austin, Texas 78701
Phone: 512-463-5516