Running with Your Family in Austin.
One of the many benefits of running is that it can serve as a stress reliever for each of us in a variety of ways. Running, whether for competitive or social reasons (or both), can provide opportunity to connect with others and ourselves in order to improve overall health in body, mind, and spirit. With these tips, we hope to empower your family members to lace up, hit the pavement, and begin to feeling good.

When I step back and tally up the amount of time that goes into my running, I realize it is a lot. And it's not just the time on the road it's the cross training, the running club meetings and track workouts, the physical therapy and massage appointments, the race and time getting to races. It adds up and most of that time is spent on my own away from my family.
Often times I need that alone time. In many ways running brings focus to everything else I do. I like to think of my time on the road as "moving meditation;" without it I'd be pretty scattered and crazy (more so than I am already). Running gives me the space to mentally prepare for the challenges I face on a daily bases. But running with your family can be really rewarding.
How Running Brings My Family Together
Depending on your family's fitness, taking turns bike riding while the others run can help everybody maintain a relaxed group pace and keep you together. Alter who runs and who bikes to give everybody an opportunity to improve their running fitness!
But it is important to me that my family feel included in what I do. It's not always easy to do so, but for me it is worth it. There are some very deliberate decisions I make and ways that I structure my running that enable my family to feel a part of what I do. You can make running with your family fun, here's a few tips on how to do that:
Run Locally
When the kids were little and I was still nursing running local races was a must. Keeping it local means you'll have enough time to get everyone ready in the morning, get to the race with enough time to warm up, race, cool down and get home in a reasonable time. Now that the kids are older, we are traveling for races. It's nice that we can do this now, but local races are still best for in between those big destination races.
Find a nearby loop where you and your children can safely walk or run together. Set goals for them, such as completing the loop some certain number of times or running segments, to allow them to push themselves in a pleasant, low-key way.
Nature trails and parks can provide them with an opportunity to enjoy the outdoors while staying active. Cheering for mom or dad (or an older sibling) at a race can be a fun and challenging introduction to racing, as well as an alternative way to stay involved.
Shoal Creek Trail
A pleasant trail with t he southern end in downtown Austin and the northern end is near the University of Texas campus. There are paved and unpaved surfaces. Due to storm damage, some sections of the trail may have been rerouted.
Zilker Park
Zilker Park's central location, just a few minutes from downtown, makes it one of Austin's most visited parks. It's difficult to imagine there being quite so much space for everyone to run around, fly kites, or play disc golf on its 351 acres. Run across the road to the south to visit the Zilker Playscape or dive into the 68-degree, spring-fed pool at Barton Springs.
Lady Bird Lake Hike and Bike Trail
For beginners, the trails around Auditorium Shores are ideal. The 3.2-mile loop from the South First Bridge to the Mopac Bridge is ideal for beginners or quick tune-ups. The trail also offers 7 and 10 mile loops for the more seasoned and eager, but sticking to 3.2 miles with 2 water stations along the way and a RunTex nearby will keep you safe.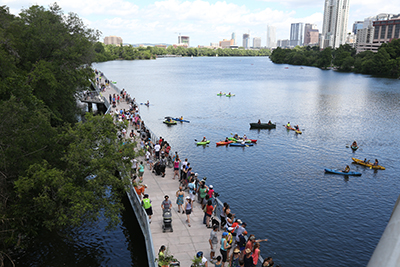 Join a Family Friendly Running Club
I've been a part of several different running clubs and it's fun to be a part of one that is family friendly. I've been a part of clubs that have had a kids 5K and my current club offers a running summer camp. Running with friends and running with your family can be really fun!
Rise Runner – Youth and Adult Endurance Coaching
Rise Runner facilitates Austin Youth & Family Track Nights and holistic coaching for both youth and adults, encouraging growth in the body, mind, and spirit.
Running with the Family
When you can run together, whether it is a family fun run or a 5K it can be really fun to do something as a family. Crossing the line of a 5K your kids can give you a whole new perspective.
Run for the Hills
1401 N Farm to Market 1626, Buda, TX
5k/10k and Pumpkin Dash will help raise funds for Rescue-Rebuild-Rejoice Transitional Housing ministry to single mom families.
Stroller Runs
My stroller running days are over, but for quite a few years there I was running with a stroller on a daily basis. It was the only way I could get out. Bringing your kids along in the stroller is a great way to get them out for some fresh air.  If you begin or end your run at a playground, they can get a chance to stretch there legs for a bit while you stretch yours too!

Ann and Roy Butler Hike and Bike Trail
With 10 miles of trail, you could explore this trail several times and discover something new each time. On the very same trail, you can visit several parks, Lady Bird Lake, and downtown Austin. It's no surprise that it's a local Austin favorite.
Don't force It
My family comes to the majority of my races. Sometimes, however it's better for the family to stay home. Usually that's when a race start is early or in the case of snowshoe races, the weather is too cold. It is better that my family stays dry and warm at home than be dragged out to a race just for the sake of "doing it all together."
There are seasons to running and to life, sometimes we train hard and focus on running and other times we pull back. There is not right or wrong way. I don't even think there is necessarily a perfect balance. There's an ebb and flow learning how to work within that shifting dynamic will help you and your family run happy.
Final Word
Austin's green spaces have a unique quality. They cater to all levels of athletes, entire families, and those who simply want to get some fresh air. When you're out running with your family, keep your attention on them and their needs. Remember that this is more of a social opportunity than intensive training. Start your family off with a healthy, happy attitude toward running, so they'll be more likely to appreciate it for a long life of overall health.
Do you try to incorporate your family into your running? Or is running "your thing"? How does your spouse feel about your running endeavors?