Butterfly feeders are easy to make, look wonderful in your garden and help wildlife!  Join me while I show you how to make a beautiful butterfly feeder.
Here is a photo of my finished product.  I just love the way it looks between my Bee Balm and my Zinnias, don't you?
Here is a quick look at the process – scroll down for complete instructions!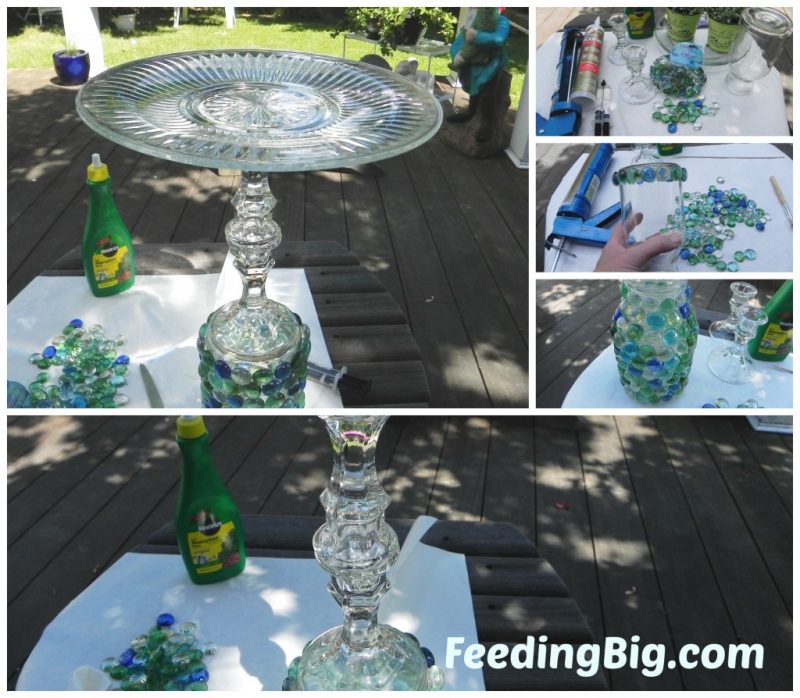 Creating art that not only beautifies my yard, but helps the wildlife always makes me feel good.
The items I needed were:
1 glass jar (I used a spaghetti sauce jar)
Decorative flat backed marbles (I bought mine at the Dollar Tree – I used 2 bags)
Plate (I used a clear glass plate from the Dollar Tree)
2 candlestick holders (From the Dollar Tree)
Clear Silicone Tub and Tile Sealant (I found mine at Lowes)
(The entire project cost less than $15.00 – the most expensive item was the silicone)
The steps:
Attach the flat backed marbles to the jar using the silicone sealant (the sealant is waterproof and will act as a glue).
When all of the marbles are attached, let the jar sit for a while until the sealant is dry.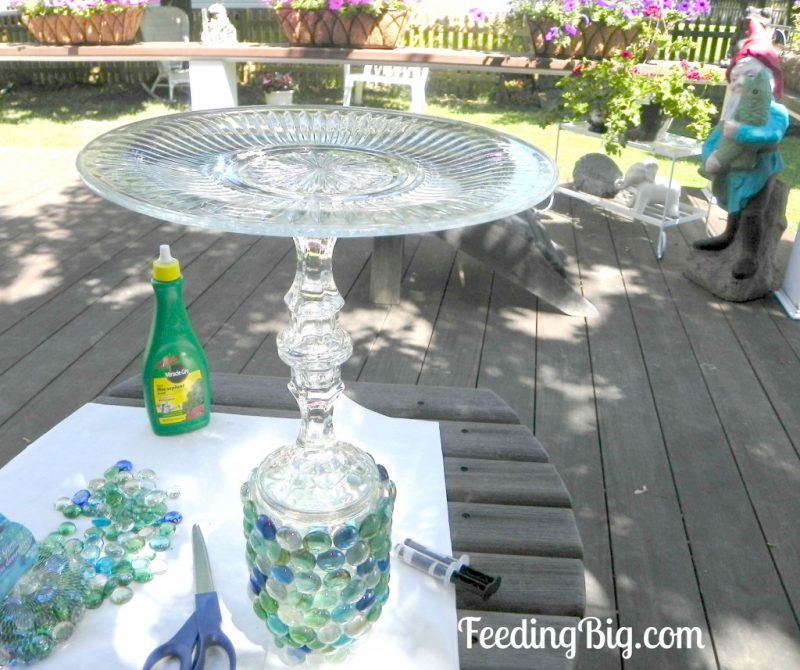 The last step is to attach the plate to the candlestick holders, using the sealant.  You now have a Butterfly Feeder.  I placed a few marbles on the dish so that the butterflies had a landing area.  Fill the plate with water and watch the butterflies enjoy!
I will warn you, this feeder is pretty heavy.  You will want to be careful of where you place it.  I put mine in the flower bed and used some garden stakes to place it on.  You need to consider the size of the opening of your jar, when deciding what kind of stake you will place it on.
I hope you enjoyed this and will plan on making a Butterfly Feeder.  Older children could easily make or help with this project.  Please work in a well ventilated area, the smell of the sealant is strong.