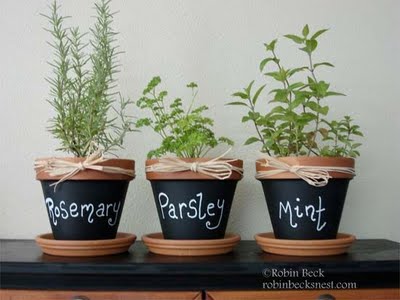 *CHALKBOARD HERB GARDEN*
This is really easy, so let's get started…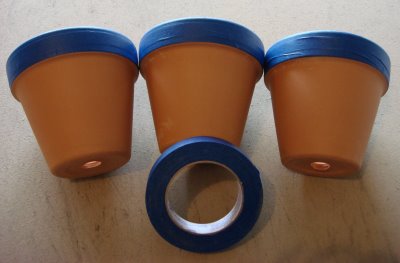 First get some clay pots and tape off what you don't want painted with painters tape. Also put a piece of tape over the hole on the bottom so paint doesn't sneak in…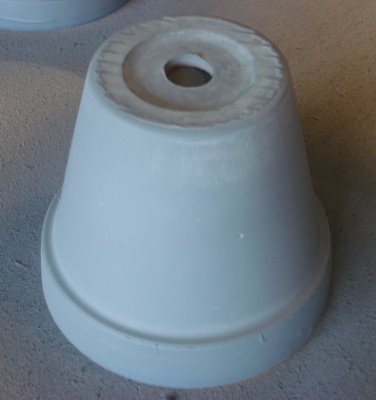 Prime your clay pots with inexpensive primer-I used the kind you spray on…
Brush on one coat of chalkboard paint, wait an hour and apply the second coat… In between coats I wrap my brush in plastic wrap so I don't have to clean it.  You could also use the spray chalkboard paint, it works great too.
The instructions say to wait 2 hours before writing on them with chalk-I gave it overnight to dry to make sure. By the way~ This small can of paint will do a whole mess of pots. A little goes a long way. Peel off tape.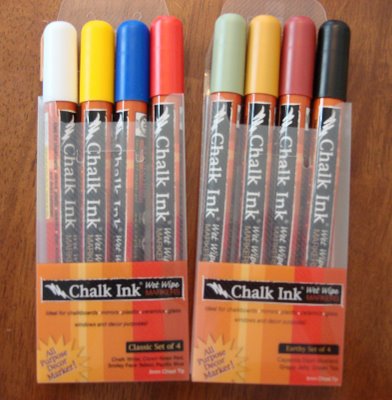 These are the most wonderful chalk pens that I've ever seen. They go on like a liquid BUT the only problem is they do not wipe off easy. It's best to use plain ol' regular chalk on these.  But if you'd like to buy the chalk pens, I bought these at Michael's craft store. Pictured are a set of Classic colors and Earthy colors.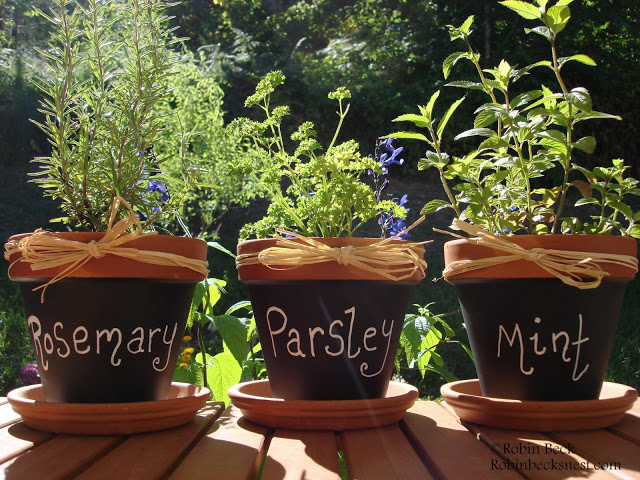 *Up close outdoor photo*
              Topped off with a raffia bow~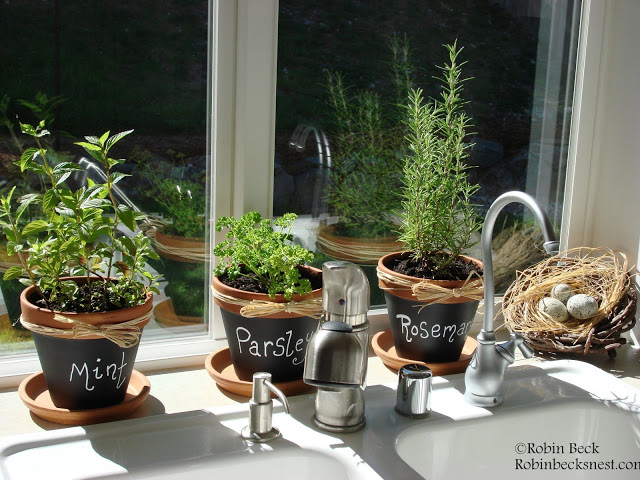 I put my finished product behind my kitchen sink where the sun shines in nice and bright…This gives me easy access to my herbs when I need them for cooking or to put some mint into a nice cold glass of iced tea…
OTHER IDEAS
~FALL~
Miniature mum plants in place of herbs… Write the color of the flowers (red, yellow, red) on the chalkboard adding fall colored ribbon around the top of the pots. Add pumpkins where the nest is in the last photo..
~CHRISTMAS~
For Christmas add miniature Poinsettia in a couple pots and a little Christmas tree in the middle one and write the word "HO" on each pot so they will read "HO, HO, HO" or write "SLEIGH BELLS RING" and add Christmas ribbon with bells hanging from the ends of each ribbon. Miniature red sled to replace pumpkins.
~SPRING~
Bulbs and spring ribbon with a bunny sitting where the red sled was…