Whether your children are going to preschool for the first time, entering kindergarten or another elementary school grade, going back to school (BTS) can be both an exciting and daunting experience for children. Reading books about BTS can help ease children's nerves and reassure them about starting school, going to a brand new school or even entering a new grade.
Here are few of our family favs:
The Pout Pout Fish Goes To School (Macmillian)
Mr. Fish is nervously awaiting his first day of school, and he flub-flubs, blub-blubs and counts off his troubles of not knowing how to write his name, how to draw shapes and how to do math.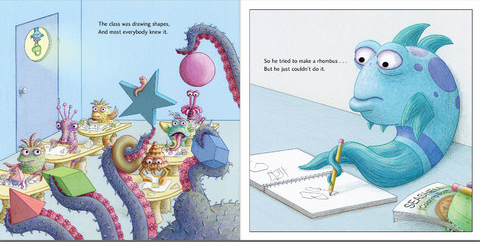 That is until he's reassured by his kind-hearted and understanding kindergarten teacher that school is the perfect place to learn how to master all of these new skills.  It reinforces the mantra "you are smart," "you can get it," "you belong" and "don't forget it!"
Rufus Goes To School (Sterling)
All Rufus Leroy Williams III wants is to go to school so he can learn to read his favorite book. But there's one problem: he's a pig and Principal Lipid says: "NO PIGS IN SCHOOL!" Rufus even gets a backpack, a lunchbox, and a blanket to prove he's ready. But Mr. Lipid won't budge. Is there ANYTHING Rufus can do to change his mind? Check out a full review of the book here.
If You Take A Mouse To School (HarperCollins)
Part of the "If You Give"  book series.   This one follows a boy and his mouse through a busy day at school. If you take a mouse to school, he'll ask you for your lunch box. When you give him your lunch box, he'll want a sandwich to go in it. Then he'll need a notebook and some pencils. He'll probably want to share your backpack, too . . .
Pete the Cat: Rocking in My School Shoes (Scholastic)
Pete the Cat is rocking in his school shoes! He discovers the library, the lunchroom, the playground, and lots of other cool places at school. And no matter where he goes, Pete never stops moving and grooving and singing his song . . . because it's all good.
Froggy Goes To School (Puffin)

Froggy's starting kindergarten. Despite his assertions that he's not nervous, there are plenty of tell-tale signs that he is. When he tries to pour the milk on his breakfast bowl of flies, the carton flies out of his hands.   Froggy's antics, complete with sound effects (flop, flop, flop) entertains young readers and reassures them that school is fun.
How Do Dinosaurs Go To School (Blue Sky Press)
Everyone's favorite dinosaurs are back–and this time they are going to school. More fun dinosaur antics await as these prehistoric pupils are in a class of their own!
This School Year Will Be The Best (Puffin)
On the first day of school, new classmates are asked to share what they would most like to happen in the upcoming year. Some kids? hopes are familiar while others are off-the-wall. Whether it's looking good on picture day or skateboarding at school, everyone's wishes are shown in humorously exaggerated illustrations. As the first day draws to a close, there can be no doubt? This school year will definitely be the best!
Auto Amazon Links: No products found.
The Berenstain Bears' School Days (Random House)
This is actually a six-book collection about school with books offering reassurance to elementary-age children about first-day jitters, homework, report cards, playground bullies, and more. The stories are written with the commonsense wisdom, gentle humor and wholesome values for which the Berenstain's are known.
Dog Days of School (Disney Press)
Tired of school, Charlie envies his dog Normal, who he thinks has it pretty good:  he gets to spend his days lounging around on the couch, playing fetch and NEVER has to do any homework. Charlie wishes that he could be a dog too.  But when his wish comes true and things get all topsy-turvy, he soon discovers that his life and going to school wasn't that bad after all.
Now it's your turn to share. What books are you currently reading with your kids?