This head-to-toe guide gives parents practical pointers for monitoring their children's health from birth through toddlerhood.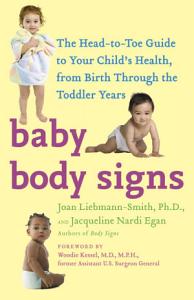 The human body changes rapidly during the first years of life. Often-anxious new parents struggle to know whether a particular physical issue signals big trouble or something that will pass without intervention. Joan Liebmann-Smith, Ph.D., and Jacqueline Nardi Egan give parents guidelines on when to call the doctor and when to relax in their book Baby Body Signs (Bantam, 2010), a follow-up to Body Signs (Bantam, 2008) – a book for adults interested in their own physical signals.
What Baby Body Signs Covers
In the book's introduction, Liebmann-Smith and Egan explain why they wrote a book that readers would find useful in detecting potential problems in the family's most vulnerable members: "Babies are not miniature adults, and they often have very different body signs from their older counterparts," the authors write. "And since babies can't communicate with verbal language, their body signs are extremely valuable medical resources; they can tell parents, physicians, and other healthcare providers what the baby can't."
Baby Body Signs centers on the health of children during the predominantly preverbal years, from birth through age three. Liebmann-Smith and Egan have divided the book into 10 chapters that address physical signs parents and caregivers might observe. The topics include:
head and neck
hair and scalp
eyes
ears
nose
mouth, tongue, and teeth
torso and limbs
skin
genitals
body wastes
Resources Within Baby Body Signs
Each chapter begins with a brief introduction to the topic. A question-and-answer format rounds out the remainder of the chapters with information breakout boxes interspersed. These short paragraphs provide the reader with quick tips, historical data, and concise warning signs. The chapters close with bullet points of physical cues that warrant a doctor's visit.
An alphabetical index at the back of Baby Body Signs directs readers to specific pages when researching a particular topic. The overall organization of the book makes it easy to thumb through and learn more about a specific body part or sign; however, the reader should be careful not to take information out of context. For this reason, the book is better read chapter by chapter – and better yet – cover to cover.
Interesting Facts Found in Baby Body Signs
Baby Body Signs provides a bounty of practical information, as well as novel information that won't necessarily help parents. Most parents wouldn't know, for example, that in Italy legend has it that the navel of Venus, the goddess of love, is the model for the popular pasta tortellini. Another interesting tidbit: Baby walkers have been around a long time. Various paintings and embroideries show the baby Jesus with a three- or four-wheeled walker – much like the ones used today.
Without inciting hypochondria, Liebmann-Smith and Egan have given parents another resource to guide them when deciding whether to call the pediatrician. Organized by topic, Baby Body Signs offers a plethora of useful information. The book is peppered with curious data that makes it more of a conversational read and less a boring medical reference book.
Source:
Liebmann-Smith, PhD, Joan, and Jacqueline Nardi Egan. Baby Body Signs. Bantam Books, 2010. ISBN 978-0-553-38565-6.