Last year, a new craft trend started popping up around the Internet and on mommy blogs–silk tie-dyeing Easter eggs. Instead of coloring Easter eggs the old fashioned way (food coloring or those color pellets you buy from the store), you use material cut from old silk ties or scarves.
The technique involves placing an egg inside the material of an old silk tie and then boiling the egg and the material. Patterns and colors from the tie are transferred onto the egg during the boiling process. The results are stunning, but left many parents wondering, "Is this safe?"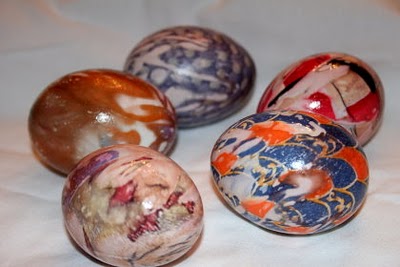 It's a really cool and unusual way to decorate Easter eggs. I've never seen results like that from egg decorating, but the house was full of such a strong chemical smell that we had to open our kitchen windows. We never ate the eggs because my gut instinct was just telling me not to. We threw away about two dozen eggs.
When we boiled the eggs with the silk fabric, there was such a stench in our house that we had to open all of our kitchen windows. What was that? Vinegar? Yucky boiled egg smell? Chemicals? I had no idea, but I felt so weird about it that we didn't eat any of our eggs that we colored using this method last year. I threw out about two dozen silk tie dyed eggs…and then I felt awful and wasteful. What was the point of doing something cool like this if you just had to throw away perfectly good food at the end?
I'm not going to lie, the process was fun and the eggs were beautiful, but I've always had a haunting question in the back of my mind: "Are these eggs safe to eat?"
I decided to do the leg work after performing the technique at my egg decorating party with friends and family last year.
According to my research, fabric dyes are completely different from FDA authorized food-safe dyes. In fact, fabric dyes use many chemicals and can often be toxic. (Great, I poisoned an entire party last year without knowing.)
The chemical dye companies and the FDA said there are distinct differences between food dyes and garment dyes and cannot recommend eating anything that came into contact with garment dyes. Many sites actually recommended discarding kitchen utensils that come into contact with the chemical garment dyes.
According to Susan Brittingham, who makes quilts and discusses hand-dyeing the material, you should never use hand dyes in your kitchen. In fact, Brittingham states on her site, "never use spoons, cups, or jars you have used for dyeing in the kitchen or for food again."
Although we weren't actually dyeing material, we were boiling the material to release the dyes…onto FOOD.
I definitely needed more information, so I contacted Colorado-based wholesale dye company BestDye.com and posed the question to them: Are silk tie dyed Easter eggs safe for consumption? Steven Lee answered back with this:
While I might be concidered [sic] somewhat of an expert on the use of cold water reactive type dyes when dyeing textiles, unfortunately I'm not an expert on dyeing easter eggs. I would advise against eating any eggs that were dyed with anything but food type dyes though. Silk ties could have been dyed with one of several types of dyes so you would not know what type of dye your silk was dyed with.
I then posed the same question to the Center for Food Safety and Applied Nutrition through the U.S. Food and Drug Administration. Jeannine Ertter-Prego, Consumer Affairs Specialist, promptly replied with:
There are colors that are approved for coloring eggs. Fabric dyes are not considered approved for this use. I can not recommend using this method for coloring eggs.
Both responses from the chemical dye companies and the United States Food and Drug Administration were the same same response from both sides: Don't eat the eggs.
Sorry, everyone. It seems those tie dyed eggs are cool to look at and to use for centerpieces, but beyond that? They're probably not safe for consumption. It looks like it's back to the old food-approved dye pellets and boring food coloring for decorating Easter eggs.
So it's a cool technique, but if you try it be aware of the potential issues.
I'm not sure we will be trying it again because, honestly, that's just too much waste for me.