Top-Selling and Best Strollers
When you have a baby or young child, you know how many different things you need to purchase to care for them. Cribs, diapers, diaper pails, mobiles, high chairs, clothing, bottles, pacifiers, special shampoos, playpens, all sorts of chairs or cradles with an array of features. And, of course, you also need a baby stroller. The whole array of baby and infant products can be a confusing maze to navigate. This is especially true for first-time parents. You'll get conflicting advice coming from all directions – friends, parents, in-laws, co-workers, neighbors, etc. The best baby stroller can be hard to pick out under these circumstances.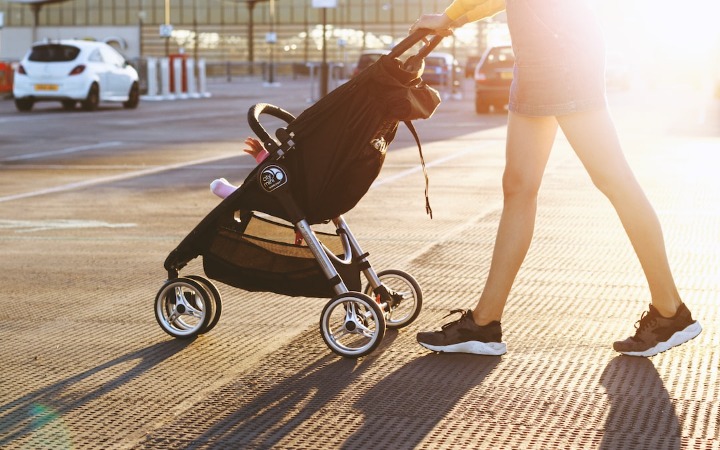 Fortunately, we're here to help. Our guide to the 10 best strollers in 2022 uses a review approach, highlighting the important criteria to consider when choosing a baby stroller. It then covers 10 of the top-selling, best-reviewed, and most interesting models of baby strollers available today. We've also provided links for each stroller's listing on Amazon, so that you can further investigate, read consumer reviews, and compare shops. By the time you've finished reading through and exploring our guide, you'll be a pro at this, ready to choose the best baby, infant, toddler, or young child stroller to suit your particular parenting needs.
BOB – Revolution Pro Jogging Stroller
The BOB Revolution Pro Jogging Stroller is a durable, all-terrain jogging stroller. It is suitable for children from shortly after birth up to 75 pounds/44 inches in height. As one of the best strollers for active parents, it features a tri-wheel design (like most jogging strollers). The tires are air-filled for a smooth, all-terrain ride. There's also an attached bicycle-style hand brake for added safety. It can be folded up for transport or storage with just 2 easy steps, too. Other features include a canopy, ventilation, padded seat, and under-seat storage area. This jogging stroller can also be transformed into an all-in-one. It supports BOB and Britax car seats, with an adapter that is sold separately.
In terms of negatives, the biggest complaints tend to be the overall weight of the stroller. At 30 pounds it is a bit on the high end of entries on our list. The price is also somewhat higher than everyday strollers. Generally, though, it's in line with what you see from high-performance, mountain-bike-style jogging strollers across the industry. It's well-reviewed and offers a level of versatility for active parents that many other strollers simply can't match.
| Specifications | Value |
| --- | --- |
| Number of Children: | 1 |
| Maximum Child Weight: | 55 lbs |
| Collapsible/Foldable: | Yes |
| Car Seat Function: | No |
| Style: | Lightweight, Travel |
| Amazon Customer Rating: | 4.4 / 5 |
Britax – B-Free and Endeavours Travel System
Britax is a recognized name in childcare, particularly in the stroller and car seat market. The Britax B-Free and Endeavours Travel System is an all-in-one stroller that builds on these strengths. It serves as both a stroller and car seat, with the B-Free Stroller, Endeavours Infant Car Seat, and included an adapter. The car seat fits onto the stroller, backward-facing, for infants and newborns. When children get older, the stroller (without a car seat) is forward-facing. It has a generous canopy, storage, and a high-quality and durable design. Safety is always a priority for Britax, and this unit is no exception. There are 2 layers of side-impact protection, coupled with a true steel frame. It uses the tri-wheel design that has become increasingly popular of late.
The biggest complaints tend to be that the price is high, which is true. But remember, you are getting both a car seat and a stroller, along with the adapter to make them work together. For such a durable, high-quality product, the price is quite reasonable. In our minds, this is one of the best travel system strollers or all-in-ones on the market today.
| Specifications | Value |
| --- | --- |
| Number of Children: | 2 |
| Maximum Child Weight: | 45 lbs each/90 lbs total |
| Collapsible/Foldable: | Yes |
| Car Seat Function: | Supported (Accepts Most Car Seats) |
| Style: | Double Stroller |
| Amazon Customer Rating: | 4.0 / 5 |
Chicco – Mini Bravo Plus Lightweight Stroller
The Chicco Mini Bravo Plus Lightweight Stroller is one of the best baby strollers on our list. It offers a high maximum child weight but keeps the overall unit weight pretty light when compared to other strollers. It's collapsible for transport and storage, with a quick-fold feature. While not a car seat itself, the base chassis accepts the company's KeyFit and Fit2-style car seats. The provided stroller seat pops out to allow the car seat to be latched in place. There are also a large number of perks here, with cup holders, storage, one-touch foot brakes, and fairly good construction durability for a lightweight stroller.
Drawbacks are few and far between in this model. The wheel's performance is the main area of improvement that users have identified. While they are durable and offer good navigation and turning, they don't work the greatest on rougher terrain. A relatively minor point, though, in the grand scheme. Therefore, this model is one of the best values on the list.
| Specifications | Value |
| --- | --- |
| Number of Children: | 2 |
| Maximum Child Weight: | 45 lbs each/90 lbs total |
| Collapsible/Foldable: | Yes |
| Car Seat Function: | No |
| Style: | Double Stroller |
| Amazon Customer Rating: | 4.5 / 5 |
Chicco – Viaro Quick-Fold Stroller Travel System
The Chicco Viaro Quick-Fold Stroller Travel System straddles the line between a travel stroller (it's fully collapsible, though a bit heavy for a travel stroller at 18 pounds), and an all-in-one, with a built-in removable car seat. It allows for seamless transitioning from the stroller seat to the car seat and back. And, it works great in both roles. The stroller also comes with a lot of additional features. These include a canopy, storage, cup holders, and bumper bar.
On the con side of things, the only negative is really the price. It's a bit higher than some other baby strollers. However, you have to keep in mind, that you are getting a stroller AND a car seat for that price. This is opposed to just buying a stroller, so it can actually come out well below the cost of buying the two separately. The stroller is a bit bulky for travel though, especially when you compare it to true travel strollers. But, it is far more robust, durable, and high-quality for everyday use. Truly, one of the best stroller travel systems.
| Specifications | Value |
| --- | --- |
| Number of Children: | 1 |
| Maximum Child Weight: | 50 lbs |
| Collapsible/Foldable: | Yes |
| Car Seat Function: | No |
| Style: | Lightweight |
| Amazon Customer Rating: | 4.1 / 5 |
GB – Pockit Lightweight Stroller
The Pockit Lightweight Stroller from GB is truly lightweight, and a compact travel stroller. In fact, it's a 2014 Guinness World Record winner for the most compact stroller. The weight and portable size certainly prove that (9.5 pounds, collapsible to 12x7x14"). It's one of the best baby strollers for travel. Despite the diminutive size when collapsed, it has a very high maximum child weight, and a sleek design. Naturally, to hit this low weight, it's a bit less durable than some other strollers. It's also a bit light on some features. But, it still offers notable perks like double-pair swivel wheels, storage options, and a small canopy.
On the downside, it doesn't perform very well on rough terrains like gravel or mulch. There is also no car seat integration. But this really shouldn't be a big deal in a lightweight travel stroller. If you're sticking to the pavement, sidewalks, and other similar areas, you're all set. And if weight and compactness are a consideration, then there's no better stroller than the Pockit Lightweight Stroller.
| Specifications | Value |
| --- | --- |
| Number of Children: | 1 |
| Maximum Child Weight: | 40 lbs |
| Collapsible/Foldable: | Partially |
| Car Seat Function: | No |
| Style: | Hybrid |
| Amazon Customer Rating: | 4.6 / 5 |
Joovy – Caboose Graphite Stand-on Tandem Stroller
The Joovy Caboose Graphite Stand-on Tandem Stroller is a new and somewhat unique take on the double stroller concept. Rather than a double-wide stroller front, or two nested seats, this model provides a classic stroller seat for the younger child up front. At the same time, it has an area in the back for an older child to stand or sit on an integrated bench seat. There's storage underneath, a bumper bar with a cup holder, and a tray for the stroller-seated child. And what's more, it even supports the most common car seats, with the included universal adapter. If your second child is too young to stand or sit on the bench seat, the unit is also compatible with the (sold separately) Caboose Rear Seat. That turns this stroller into a more traditional nested double stroller.
There are some drawbacks, including no built-in parent tray or organizer. There are also some complaints about the handlebar orientation, some users developing squeaky wheels, and the larger weight/size meaning it's not as easy to load/unload in the car. We believe, however, that this is offset by the uniqueness of the design and the highly affordable price. In fact, this stroller costs less than you'd pay for most single-occupancy strollers. As a viable double stroller option for multiple children, especially of differing ages, it's definitely worth the price.
| Specifications | Value |
| --- | --- |
| Number of Children: | 1 |
| Maximum Child Weight: | 50 lbs |
| Collapsible/Foldable: | Yes |
| Car Seat Function: | No |
| Style: | Lightweight |
| Amazon Customer Rating: | 4.4 / 5 |
Joovy – Scooter X2 Double Stroller
Joovy is a respected brand in the stroller space. In terms of double strollers, the Joovy Scooter X2 Double Stroller is simply one of the best solutions for parents with two young children or infants. It retains most of the features of top single strollers while allowing 2 occupants to safely ride in it. All this comes at a price that is comparable to, or lower, in most cases, than a single-occupant stroller! At the same time, the biggest concern that double strollers often present is whether or not they will fit through doorways. The Joovy Scooter X2 Double Stroller is only 30 inches wide. This means it should fit through standard doors with ease.
This stroller does come up short with regard to some of the frills of single-occupant strollers, though. This is mostly a means to cut down on the width/size of the stroller. There are no cup holders or trays, and no car seat integration. It does have plenty of storage space though, and high-quality wheels that work well on most terrain. It's a bit on the heavy side, though, since it needs to be durable enough to hold 2 users. It also needs to be robust enough to hold 2 occupants. And with a weight capacity of 90 pounds total – well in excess of most single-occupant strollers – it meets that goal.
| Hormone | Function | Influence on Weight Loss |
| --- | --- | --- |
| Ghrelin | Responsible for appetite level | It makes you hungry for foods with high calories |
| Leptin | Tells the brain about your body fat percentage | It can change your metabolism due to external influences |
| Adiponectin | Controls body fat percentage, without influencing appetite | It can help boost your appetite without increasing food intake |
| Insulin | Controls how you process sugar | Insulin levels can decrease body fat |
| Cortisol | Stress hormone that influences metabolism rate | High levels of cortisol can lead to excess abdominal fat |
Kolcraft – Cloud Plus Lightweight Stroller
The Kolcraft Cloud Plus Lightweight Stroller has the distinction of having one of the lowest prices of any stroller on our list. It's also one of the most affordable of any good quality stroller on the market today. As one of the best baby strollers for the money, it offers an incredibly lightweight design, at just under 12 pounds. And it manages to do this without skimping on features. In addition to a canopy, bumper bar/tray, and under-seat storage, it has an integrated dual-cup holder and an organizer tray for the parent. There's also a high-quality 5-point restraining system to keep your child secure. Further, there's a three-tier adjustment on the canopy to keep your child in the shade and avoid excessive sun exposure.
Of course, at the low price point, it's understandable that some features are omitted. It does not support any kind of car seat function, for example. It also has limited adjustments to things like the handlebars. Despite being lightweight, is not the most compact choice for travel. Still, the quality is very good for the price. The durability of a lightweight, bargain stroller is superior to many higher-priced options. It works well on most surfaces and offers most of the perks of more expensive options.
Roan – Rocco Classic Pram Stroller 2-In-1 with Bassinet and Seat Unit
The Roan Rocco Classic Pram Stroller 2-In-1 is a stroller that grows with your child. It's not only one of the best strollers for newborns but supports children up to three years of age. It starts as a classic pram-style bassinet stroller for newborns and young babies. Later, it transforms into a chair-style stroller (while retaining the benefits of the solid construction of the pram base). Like most pram-style units, it's only partially collapsible. The heavy construction and durable base include high-quality all-terrain wheels. But it can still be partially collapsed and disassembled for longer-term storage or travel.
Some people complain that the wheels are not swivel-based for navigation but fixed in place. Additionally, it's not the most convenient stroller for everyday travel by car, train, bus, or similar. But for use around the house and around town, where you're mostly using it for walking with your baby, it's ideal. It's a bit more expensive than other models, too. But, keep in mind it's also meant to last for up to 3 years of your child's life. With the high-quality, heavy-duty construction, this higher price is largely justified.
Summer Infant – 3DFlip Convenience Stroller, Double Take
The Summer Infant 3DFlip Convenience Stroller, Double Take, provides, as the name implies, the option to flip the seat! So your child faces toward you, or forward, depending on your (and their) preference. It's extremely lightweight and portable, with a generous canopy to protect it from the sun. It also features several position options (6 in total) for a range of versatility that many other strollers don't match. The double wheels on all 4 corners provide a degree of durability and handling not seen at this price point.
Some negatives that users have mentioned include issues with the handlebar and some frustration with the seat material. They have noted it seems a bit on the flimsy side compared to some other stroller designs. This can be especially noticeable in the seating area. However, for a portable, lightweight stroller, bordering on being a travel stroller, it offers a good mix of features and versatile positioning, at a price that is quite affordable.
Why Baby Strollers are Important
The best baby strollers perform several important functions for parents. They allow for an infant, toddler, or another small child to be safely contained while out for a walk, trip to the store, etc. They help to ensure the comfort and safety of your child while allowing them to spend time outdoors with you and your family. Further, they free parents from having to carry a baby or young child who cannot walk. This enables parents to run errands, go shopping, and do[social_warfare] things that they otherwise need to do, without having a baby precariously dangling in their arms or strapped to their chest.
That's not to say, of course, that you should ignore your child. Nor does it mean that they can be strapped into a baby stroller or carriage and be left alone. It's just a convenient and safe way to bring them with you places or to get outside and get some air or exercise. It frees up your hands and lets your child rest in relative comfort.
Many babies and infants grow to like their stroller time very much. Some parents have found that their children nap far more easily when rolling along in a stroller than they do when sitting at home in their crib! The best baby strollers also usually offer some additional conveniences for parents. This may include cup holders and storage for snacks, spare diapers, and other baby necessities. These features help provide an all-in-one solution for mobility with your child.
Different Types of Strollers
There are several different overall types of baby strollers on the market today. Some are hybrids or cross two or more of these categories, and these types are not written in stone. In general, however, the types of strollers usually include:
Full-size baby strollers, the most common kind in the US, are usually up-right chair-like devices set in a reclined position.  Typically pushed from behind, the child is usually facing away from you (though some models have them facing towards you). These are usually collapsible to some extent for storage and transport, though still can be quite bulky.
Lightweight strollers, are essentially like full-size models but designed for portability.  They are not usually as bare-bones or highly compact as a travel stroller.
Travel strollers, which are usually for slightly older toddlers and infants, are designed to be highly collapsible and offer minimum profile and weight when fully collapsed. These are meant for travel, especially on airplanes, buses, and similar.  Typically, ideal for use in places where a bulky stroller might not be ideal.
All-in-one designs, where the stroller seat itself lifts off and becomes a car seat, to be strapped into the car for safe travel with your child. These baby stroller car seat units are usually similar to full-size baby strollers.  They just have the added mechanics to allow the seat to be removed as a car seat.
Vintage baby strollers, often taking the form of a classic British pram style.  These are essentially large, flat-backed baskets with various overhangs or protective shades on top. These are usually only minimally adjustable, solid-body designs.  They are quite durable and sturdy as a result.  These almost always have the child facing toward the parent pushing the stroller.
Additional types are often advertised, including more lightweight versions of full-size baby strollers that are designed for jogging or running specifically. You can also find upscale, luxury baby strollers that seem to offer everything but the kitchen sink, though at a premium price. There are also double or triple baby strollers that are designed for multiple children and are especially useful for twins or triplets. These kinds of strollers can often accommodate 2 children of different ages, weights, and sizes, and are not limited to twins or triplets. There are also some regional and country differences in stroller types. But, as always, we're mostly focused on the US market here.
Criteria to Consider When Choosing a Baby Stroller
Like any purchase parents will make for their baby or child, or any purchase in general, there are a number of important criteria to consider. These same criteria are also what our reviews are based on. Below, we describe in detail the importance of these different criteria, and why they matter. We also look at how they speak to the overall quality and value of the baby stroller.
Safety
Parents are, of course, concerned first and foremost about the safety of their children. Likewise, baby stroller manufacturers are focused heavily on the safety of their products. There are rigorous federal standards that baby strollers and other childcare equipment must meet. In the US, these are promulgated by the Consumer Product Safety Commission or CPSC. So, in addition to the basic review analysis of whether or not a product appears safe, and feedback from owners of their experiences with the product, we always recommend that parents check the full list of recalls from the CPSC, too. This can help you be sure that a potential stroller you like has not been recalled.
When issues are identified, the CPSC works with manufacturers and retailers to provide remediation or replacements. They also almost always fully explain the safety issue at hand. Even the best manufacturers are sometimes the subject of recalls. So, it should not be a factor that eliminates a particular brand of baby stroller from consideration. One important note, however: if you are looking at vintage baby strollers that haven't been produced in the modern era, they may never have been subject to CPSC regulations or testing. So, you need to be very careful about potential safety hazards in those cases.
Features/Functions
The features and functions of a baby stroller define its utility. They include how children are secured in the stroller, the age range it is designed for (some strollers adjust as the child grows, while others are fixed sizes), how easy it is to push and use, etc. This also includes the ease of use of the product. Factors like how convenient it is to collapse/open back up, how easy it is for a parent to use one-handed (with their baby in the other hand, awaiting being put in place), and so forth. It also includes the additional features and perks that aren't essential to the basic function of the baby stroller but provide convenience or value.
Mobility
Mobility encompasses how easily the product breaks down, and how compact it becomes. Essentially, this measures how easy it is to take with you in the car, on the bus or train, or on an airplane. This includes factors like how it breaks down, the overall weight, bulkiness, and related features. Still, we need to also keep in mind the safety and durability of the stroller.
Durability/Reliability
Durability and reliability are measures of the quality of the construction of the product. This includes its longevity and intended lifespan. It also looks at how resilient and how well it works on different terrains. Things like the quality of the wheels and steering mechanisms are also analyzed. It also looks at how well the product holds up through the hundreds or thousands of times it is collapsed, hauled into a trunk, and re-opened. Additionally, durability includes how well-built it is in terms of holding up against impacts and use.
Consumer Reviews & Ratings
Consumer reviews and ratings are other useful criteria to look at. This is true when trying to find the best baby strollers, or really any product or service. While not absolutely conclusive, as there can be manipulation in reviews, and often people who are displeased are more vocal than those who are satisfied, there's no doubt that consumer reviews play an important role in most people's purchasing decisions. They also provide insight into the quality of the product and end-user experience. Usually, you can't get this information personally until you own the product. Therefore, user reviews are ideal sources of this information before purchase. Common themes in consumer reviews and rating scores across multiple websites are usually good indicators that there is some truth in those points. Therefore, we look at consumer reviews and ratings for developing our own reviews and measuring product quality.
Cost and Value
Of course, the biggest consideration for many people before buying a product is the cost and value. In other words, finding the best baby stroller for the money. All the features and qualities in the world are great, but if they come at an exorbitant cost that no one can practically afford, then that's not exactly a good value. Likewise, a product may lack all the fancy features of a luxury baby stroller, but still, be a great value. This can be because it is reliable, safe, durable, and gets the job done, for a relatively low cost.
Conclusion
Regardless of which stroller you may choose for your child, using the criteria in our guide will help you to find a quality, reliable product to meet your needs. As always, parents should keep in mind that any stroller purchase, like most child care items, is likely a short-term one. Typically the child will ultimately outgrow it. So, while it may be tempting to splurge on a luxury baby stroller model, it may be hard to get your money's worth out of it. Some people like to keep strollers for future children, though. Alternatively, some sell, trade, or donate a used stroller to friends, family, or charity, which we fully support. In all cases, we hope the stroller you choose for your baby, infant, or toddler provides the kind of safety, comfort, reliability, and convenience that you and your child deserve!