New and expecting parents are faced with a whole host of important decisions as they welcome a baby into their lives. Everyone seems to have an opinion on what parents should do, be they family or close friends or – sometimes – even perfect strangers. Wading through all that advice can present an extra challenge.
Immediately after your baby is born, you will be faced with the task of bringing them home from the hospital as safely as you can. The good news is that there are plenty of excellent car seat options at reasonable prices.
Starting from infancy and continuing throughout childhood, discount car seats can offer you the same standard of protection at a lower cost.
Why do you need a baby car seat?
Hopefully, you can figure out the answer to this one. Not only is it a good idea; it's the law. Though laws vary slightly by state, in the United States, children under the age of four or five must wear a child-specific restraint system while riding in a car.
Some people might assert that infants are perfectly safe when held by a responsible adult in a moving car as long as that adult isn't driving. However, arms are not a good replacement for well-designed safety harnesses in the event of a crash. The force of even a minor car accident can overcome the arm strength of an adult.
Experts recommend that infants ride in a rear-facing car seat and until at least the age of two. For maximum protection, the seat itself should be located in the back row, well away from any airbags, which AAA identifies as the safest place for all children under the age of 12.
As your children grow, however, it is perfectly fine to use a front-facing car seat for kids two years and older. After they become too big for that, a booster seat can allow your children to feel like they're growing up while also offering a high standard of protection.
Standard seat belts were designed for the body of a 165-pound man. In the event of a car accident, the same seatbelt that protects a fully-grown adult can do damage to a much smaller body. Putting your children in the right car seat for their age and weight – and only stepping up to the next size when they are ready for it – is simply the best way to protect them.
Now that you've made the right decision to buy a car seat for your child, you just need to find the right one at the right price. Baby car seat prices can actually be lower than you'd think.
Top 5 Infant Car Seat Reviews
Our infant car seat reviews represent a compilation of some of the finest affordable models you'll find on the market. We've picked our top five baby car seats based on their affordability, comfort rating, safety settings, and convenience features, so rest assured – whichever you pick, you'll know that you haven't made a mistake.
We've included models from Graco, Safety First, Maxi-Cosi, and other brands. What follows is detailed information about some of the best-rated car seats these brands have to offer.
Graco SnugRide Click Connect 35 Infant Car Seat
A brief overview of features:
The model we're reviewing comes from Graco and is called the SnugRide. This is a lightweight, comfortable, rear-facing infant car seat that is very easy to transport and use. Graco intended this seat for use by babies who weigh up to 35 pounds and who are up to 32 inches tall.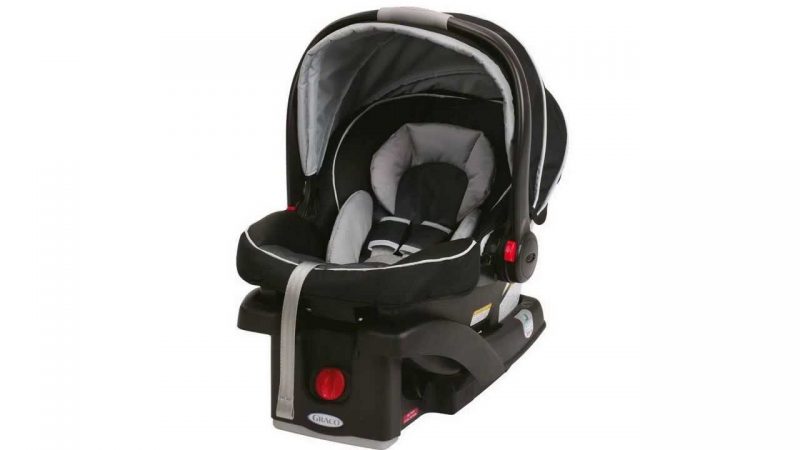 On top of that, Graco's SnugRide features the Click Connect system – it ensures secure attachment to all Graco brand Click Connect strollers, letting you know that the seat is properly joined to the base at the sound of the click.
This seat is decently spacious and has a sleek, modern look. Overall, this is an excellent blend of features and affordability that deserves your consideration.
What we liked about this infant car seat:
The first thing that caught our eye regarding Graco's SnugRide was its appearance. Of course, there are other benefits it brings to the table. At 7.5 pounds, it's one of the lightest seats on the market and it's designed specifically for infants, making it a perfect choice for your baby's very first car seat.
The cover is removable and machine washable, making for easy cleaning. Graco claims that this seat is "certified frustration-free," which is another point in favor of its use for newborns. The last thing most new parents want to do is struggle with a car seat.
Graco has some household name recognition for its products' safety; despite that, the SnugRide is available for a reasonable price. It lands right in the middle of our list of discount infant car seats in terms of affordability.
Even though it's called the SnugRide, some customers have reported that the head pillow isn't exactly so "snuggy," and there's not much cushion elsewhere, either. What's more, the lack of a conventional cover to keep the straps from scratching the baby's neck is another thing that somewhat lowers the overall comfortability rating.
For all its convenient features, this product features a harness that can only be adjusted from the back, making it a bit of a chore. Lastly, the canopy appears to be smaller than most standard-size baby seats, which might be an issue in extremely sunny climates.
Price point category and value:
Graco's SnugRide isn't overly expensive. It belongs in the "moderately affordable" category. It's not the least expensive model in our review, but it holds quite value for the money.
PROs
Lightweight design
Outstanding appearance and available in four color variations
Seat easily snaps into base
Easy to install and transport
High value
CONs
Small canopy
Potentially lower comfort factor
Safety 1st Grow and Go 3-in-1 Convertible Car Seat, Harvest Moon
A brief overview of features:
Even the name of the Safety 1st brand sends a clear message – they are concerned about your baby's health, and they wanted you to have the means of making car rides as comfortable as possible. They offer the Grow-and-Go, a beautiful, comfortable, spacious, and versatile car seat that comes in eight color variations.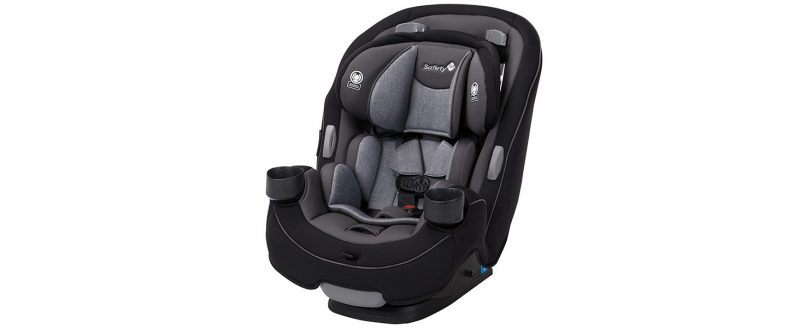 This particular model is a three-in-one convertible, which means that it can be used in both the forward- and rear-facing positions – it serves as an infant or baby car seat and a toddler booster, depending on how you install it. What's really interesting is that it was built to grow – the construction can be expanded as your little one grows, adapting to a new size with ease.
Safety 1st's 3-in-1 features a high impact protection rating on the sides, which significantly boosts its overall durability. On top of that, the harness holders ensure that getting your baby in and out is as easy as possible.
Furthermore, the harness packs QuickFit technology, allowing you to adjust the headrest and the harness at once. Lastly, the Grow-and-Go 3-in-1 cover is machine washable, so you shouldn't fret too much about maintenance.
What we liked about this infant car seat:
When compared to our previous pick, the SnugRide, the Grow-and-Go appears to be significantly more comfortable for babies. It may look bulky, but there's plenty of space for your little one, and the seat will stretch as your child grows.
What's more, there are several convenience features onboard, including QuickFit harness technology and harness holders. However, it doesn't come outfitted with a carry handle. Since it's a three-in-one, it's safe to say that this is one of the most versatile options available.
Lastly, the cleaning process is easy, as the cover is machine washable and dryer safe.
What we thought could be improved:
There are only a few things we didn't like so much about the Grow-and-Go. Firstly, it does belong to the same price point category as SnugRide, but it's just a bit more expensive – even so, it's a bargain if you remember that it can last through much of childhood.
Additionally, the lack of a carrying handle makes transporting this car seat difficult. Convertibles like this three-in-one contain mechanics that allows you to expand them, and that adds weight. However, you should know that this is on the lighter side for a convertible.
The only other thing that should concern you regarding this product is that the installation process is fairly complex – there are plenty of features, and it's easy to get lost if you don't follow the instructions.
Price point category and value:
Safety 1st's Grow-and-Go is a great option if you have the budget for it. In terms of price alone, it's on the upper end of the options listed here, but if what's most important to you is value over time, this is a seat that can grow with your child.
PROs
Exceptionally comfortable
Plenty of convenience features
As safe as can be
Easy maintenance
Great value for the money
CONs
Not portable
Hard to install
Chicco KeyFit 30 Infant Car Seat
A brief overview of features:
Next up is Chicco's KeyFit model. It resembles our first pick, the SnugRide, as they're the same baby seat type, but that's not all they have in common – both of these products boast a sleek appearance, sport a lightweight construction, and come outfitted with premium quality features.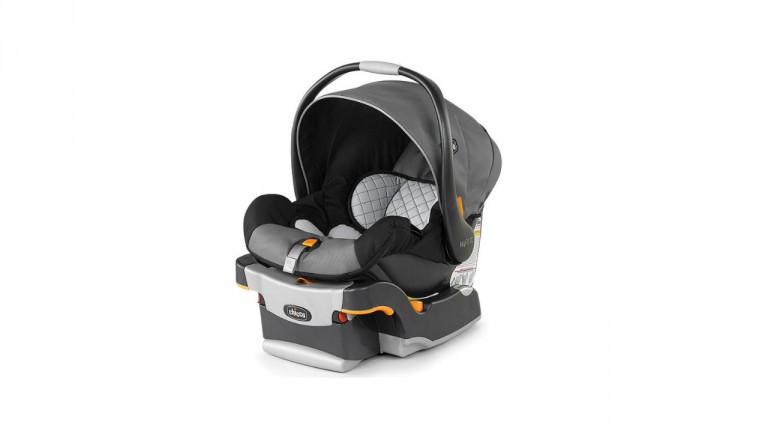 One of the most unique features of this baby car seat is the Recline Sure leveling foot, which allows you to easily raise or lower the seat. Other proprietary features include Ride-Right bubble levels to help you find the proper base angle, as well as the Super Cinch latch tightener to secure it in place. These features combine to make the KeyFit among the easiest to fit correctly.
While the majority of features aim to keep your young one comfortable and secure, there's one feature that greatly helps parents in terms of transportation – the two-position easy carry handle, which comes outfitted with a remarkably comfortable grip. Getting this seat in and out of your car only requires one hand, and it's compatible with Chico stroller bases.
Lastly, this model features removable ergonomic supports in the head and body areas so that even the youngest infants will remain protected. This feature is responsible for the superior comfort of Chicco's KeyFit. You can rest assured that your baby will be safe in the five-point harness, as it's strong, sturdy, and secure.
What we liked about this infant car seat:
The safety and comfort of your child are imperative, and this car seat is more than capable of delivering that promise. It's very easy to install and use, and this model is among the most convenient ones we've reviewed due to parent-friendly features such as the two-position carry handle and one-handed removal.
In addition to four color variations, Chicco's KeyFit is available in a polka dot pattern. Apart from just looking stylish, it comes supplied with top-shelf features such as removable supports, the Recline Sure foot, and others. Considering the variety of benefits KeyFit brings to the table, it's quite surprising that it comes at such a bargain price.
What we thought could be improved:
Chicco's KeyFit is very easy to install, clean, and maintain, and its level of comfortability is something else entirely. However, there are certain aspects that shouldn't be overlooked. For instance, this baby seat is a bit too bulky for smaller cars – it will take more than a single regular space, so take that into consideration before you decide if you like it.
Additionally, it weighs approximately 30 pounds, making it quite heavy for an infant-only seat. Taking the weight into account, the one-handed installation and release might not be as useful as it sounds.
Price point category and value:
Chicco's KeyFit 30 is up at the top of our price range, so if money is a factor for you, take some time to review all the features offered here to decide whether they're worth it to you. For example, having a set of bubble levels pre-installed in the seat is a nice extra, but it's not really necessary. The size and weight may also be an issue for some parents.
PROs
Great looking baby seat
Available in five color variations
Exceptionally easy to install
Numerous convenience features
A variety of safety settings
CONs
Maxi-Cosi Mico AP Infant Car Seat
A brief overview of features:
Maxi-Cosi's Mico AP seat looks great, boasts a high comfort rating, and packs a substantial value for the money. It's the least expensive model reviewed in this list. This car seat is available in black, red, bohemian blue, bohemian red, and milk chocolate.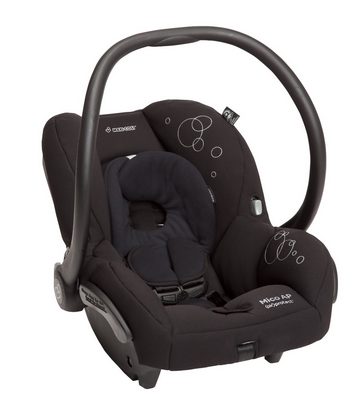 It's among the lightest infant seats and it comes with a convenient carry handle. This means that the Mico AP is among the most portable models we've come across. To increase the portability factor, it's compatible with Maxi-Cosi and Quinny stroller bases, making the transition out of the car a breeze.
When it comes to safety, the "AP" stands for Air Protect – the sides and head area of are cushioned with impact-resistant bubbles. The all-in-one five-point harness and removable head insert keep even the smallest infants cradled tightly.
The squishy fabrics are very comfortable while the reinforced padding ensures ultimate durability. What's more, the flip-out canopy visor can provide extra protection from the sun or the wind. Finally, this is among the lightest infant car seats on the market.
What we liked about this infant car seat:
One of the most appealing factors about this seat is the price, which is the lowest of the models listed here. Apart from its low price, we liked the plain yet convenient design – it's very light, easy to use, and virtually all of its features were introduced with simplicity in mind.
The comfort rating of Mico AP is incredibly high – the seat area is made of ultra-thin fabrics, making this one of the most comfortable models available. What's more, this is a rear-facing seat, but it isn't as bulky as some models we've seen so far.
Better yet, it's lightweight and small in size, making it suitable for cars of all sizes and children that are up to 22 pounds and 29 inches tall. Being light is one thing, but this model also comes with a neat little carry handle – it's safe to assume that you won't have any problems transporting it to and from your car.
What we thought could be improved:
There's just one problem with a seat as small as this one – it's not suitable for toddlers or even larger babies, and you may have to buy a different seat as your child gets older. Furthermore, installing it might be harder than you think, as it doesn't have the same easy-to-use features as some of the other models. Additionally, there's some indication that some of the brightly-colored fabrics available on the Mico AP can transfer their color to your baby's clothes.
Price point category and value:
Maxi-Cosi's Mico AP is the most affordable model in our review. It doesn't lack for safety, and most of its drawbacks are simply a lack of features that would add to the price. It's a great option for budget-conscious parents.
PROs
Very affordable
Comes in five color variations
Superbly comfortable and easy to transport
Great value for the cash
CONs
Suitable for smaller infants and newborns only
Small size makes it hard to set up and maintain
Evenflo LiteMax 35 Infant Car Seat
A brief overview of features:
Don't let the economical price fool you, the Evenflo LiteMax really delivers across the board and is the perfect car seat for those wanting quality without breaking the bank. This rear-facing-infant car seat can comfortably hold newborns and babies from 4 to 35 lbs and can be ordered in pink, green or grey!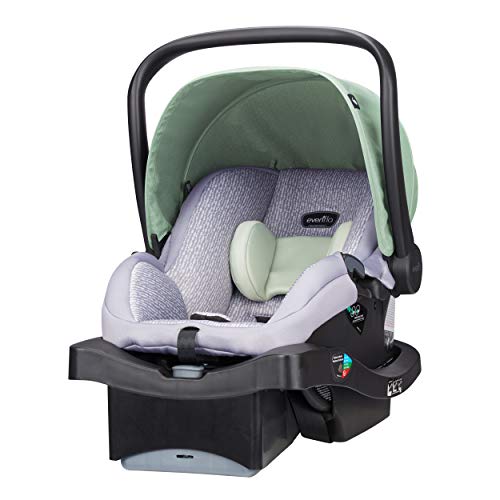 In addition to the standard car seat the only option, Evenflo offers three distinct upgrades for those looking for the best of the best, you can order your Evenflo LiteMax 35 with a baby backseat mirror, infant base, and even a shield and rain cover!
As with all the fantastic car seats on this list, this car seat meets or exceeds ALL federal safety standards so you can cruise with your little one and have complete peace of mind. The car seat has passed the side-impact and industry-leading rollover tests with flying colors.
Last and but not least, this seat is incredibly easy to install and won't require three manuals for you to get up and running. The base can quickly be installed with a two-step lock belt and can be adjusted to four comfortable positions.
What we liked about this infant car seat:
First and foremost, you're going to be hard-pressed to find a better value for this car seat that is just shy of $100. Not only is the car seat comfy and cute, but it's also lightweight and highly adjustable making it easy to carry with you between groceries and errands.
We also liked how easy it was to install and that the washable pads can be thrown in the washing machine after a long week of use. With a weight of 16 lbs, and 18.3 x 17.8 x 30 inches, it can fit comfortably in most cars and isn't too much of a hassle to pick up when needed.
Overall, we found the seat to be a great bargain and most importantly a place you can comfortably seat your child and not worry about his or her safety.
What we thought could be improved:
No car seat is perfect, and that includes the Liteflo Max 35. Because it was of the less pricer car seat options, the material can feel a little less "quality" than the other options. In addition, the seat also seems to be a little narrow compared to the alternatives on the list as well. We would also like it to fit easier into most shopping carts which may cause some issues.
Again, none of these suggestions are deal-breakers, but it would be nice to see improvements in the next model!
Price point category and value:
An incredible value that does what it needs, the Evenflo LiteMax 35 is a fantastic option for those on a smaller budget but not at the cost of safety or comfort. A great entry-level car seat for new parents.
PROs
Incredible bang for your buck.
Comes in over three colors and has multiple upgrades and add-ons if desired.
You can install it in seconds.
Removable head pillow
CONs
Can be a little narrow for larger size babies.
While sturdy, not as high quality as some other premium car seats.
Car Seat Deals
Are you looking to score the best car seat deals with the lowest car seat prices? If so, we're here to help you out. The best place to buy these products is Amazon – it's one of the most reliable online shopping platforms where you can check out comments from verified buyers. Thanks to Amazon's satisfaction guarantee, you can even benefit from return policies if anything goes awry.
It's a generally accepted fact that "you get what you pay for," so you might think that buying a more affordable infant car seat requires you to compromise on your child's safety. However, there are strict federal regulations for these products, which means that even the least expensive options meet certain safety standards.
As long as you make sure your chosen seat is compliant with those regulations, you don't need to feel like a bad parent if you choose based on budget.
Of course, lower prices usually indicate a lack of "nice-to-have" features. A cheaper model may be more difficult to install or remove, or harder to transport once it's out of the car. To make the right choice for your needs, you need to balance convenience with a price.
If you're interested in infant car seat deals, make sure to check out our top five baby car seats selection in the sections above. All of these options offer excellent value for the price. You don't have to worry about where to buy these models, since they're all available at the same place.
How to pick the best-priced car seats for babies
If cost were no concern, picking out a car seat for your baby wouldn't be too hard. Finding a bargain model and striking a good deal, on the other hand, isn't always easy. We've prepared this buying guide with the hope that it helps you find the best value for your money.
Make sure to follow federal and state regulations before deciding on your pick.
Some people might get the idea that laws and regulations serve no purpose but to add to the price, but this is untrue. Height, weight, and age restrictions regarding baby car seats are set by industry professionals who take their job of protecting children very seriously. Choosing to ignore these restrictions is tantamount to rejecting the years of research that goes into car seat design.
If you feel unsure about the laws regarding this topic in your state or country, a quick internet search can enlighten you. If you're more comfortable talking with an actual person about these regulations, most mechanics and dealerships are in touch with services that will be able to provide you with this information if they can't do it personally.
Balance installation and maintenance with a price.
There are two kinds of people when it comes to gadgets like these – some don't mind tinkering with complex contraptions while others don't want to be bothered with intricate installation processes. Similarly, some people don't mind spending a little extra time cleaning and checking the fit of the seat while others balk at the idea of difficult maintenance. Keep in mind which type of person you are when choosing a car seat.
The truth is that some models are relatively easy to install and some are a bit harder, but virtually all baby car seats require no more than ten minutes' worth of maintenance in order to remain perfectly functional. The five models we've included in the sections above are all easy to install and maintain, or at least easier to maintain than most similar products.
Types of Baby Car Seats Available
There are three most common types of baby car seats you can choose from infant, convertible, and booster seats. The type you need depends on the age and weight of your child.
Infant car seats are meant to be used by the smallest babies – newborns that weigh at least 4 or 5 pounds – and thus are the smallest in size. Booster seats help older children make the transition between child seats and regular car seats. Convertible seats are those that transition from rear-facing to forward-facing, and some can even convert into a booster seat.
Safest Infant Car Seat
The model for the very youngest children is called an infant car seat. This type has an approximate weight limit of 30-40 pounds, and most countries' laws indicate that they can be used only as rear-facing seats. This means that their duration of use is somewhat limited since as your baby grows taller, their legs will become too long for them to fit in the seat.
As you might expect, infant car seats are relatively smaller in size and lighter when compared to other types, though they may be outfitted with canopies and carry handles that make them appear bulky. In general, these are the most portable, designed to carry even the smallest of babies without waking them.
Infant convertible car seats
A convertible car seat can be used for both front and back seats – that's just one of the reasons why it's the most versatile type. They convert in both directions – rear-facing to front-facing – and size, allowing them to grow as your child does, typically up to around 80 pounds. This can be the best car seat for a 2-year-old who has recently outgrown an infant seat.
Though convertible seats are designed for older babies and toddlers, many come with "newborn inserts" that allow them to hold very small infants. However, since convertibles are generally larger and heavier, some parents prefer to use a lightweight seat for their infant and then transition to a convertible later on. If you want to use a convertible car seat just after your child's birth, make sure that it is certified for infant use.
Convertible seats that are "three-in-one" can convert from a rear-facing infant seat to a forward-facing toddler seat to a booster seat for slightly older children. When using these types of convertibles, it is important to pay attention to the weight and size recommendations when transitioning between the three modes.
In terms of safety, convertibles offer as much protection as infant car seats and toddler boosters, but they are a bit harder to transport due to their heavyweight and bulky design.
Toddler Booster Car Seats
Toddler booster car seats are often outfitted with a high-positioned back and look much like smaller versions of normal adult seats, but their purpose is a bit different. Namely, toddler boosters should be used for an additional "boost" to your little one – if your child is still a bit too small to ride in a regular seat, boosters will help them bridge that final gap.
These car seats offer the least amount of protection when compared to infant and convertible seats, but they are much safer for young children than standard adult seatbelts. AAA recommends that children use booster seats until they are at least 4'9" tall and between the ages of eight and twelve. Booster seats use chest harnesses that are safe for small bodies.
Height and Weight Restrictions for Infant Car Seats
The height and weight restrictions regarding infant car seats are different in each country – some countries provide a general outline regarding the age a child must be before they can use a certain type of restraint system while other laws are more exact and strict.
Generally, infants and toddlers up to the age of two who are 32-35 inches tall and 35-40 pounds should sit exclusively in rear-facing infant car seats. An older group of youngsters between the ages of two and five who weigh 65 pounds or more should use convertible seats, while kids who are about to start pre-school are perfect for toddler booster seats.
Conclusion
If you feel unsure about the quality of budget-level baby car seats, don't worry. Seats under $200 are good as models over $500 because of laws binding all manufacturers to follow the standards of minimum quality. Of course, more expensive models offer more convenient features, but the fact is the level of protection your child will benefit from is often the same.
We have compiled a list of the best newborn car seats under $200 because we feel that this much is enough money for a quality product that will give you an optimal compromise between comfortability and protection on one hand and price on the other. We hope that you will find the model that is best for you and your little one!