How to Throw the Ultimate Virtual Baby Shower
Many of us have attended a baby shower or two, celebrating a Mom-to-be. Often held at someone's home or an external venue, with lots of guests, food, and baby shower games. In the current climate with social distancing the new norm, a virtual baby shower is the way forward for Moms-to-be! While virtual baby showers have been around for a while, they are becoming more popular now that most of our interaction has moved online. Virtual Baby Shower doesn't have to be only for social distancing. You could plan a virtual baby shower for a Mom-to-be who lives halfway across the country or in a different country from her family and friends. Let's not forget the pregnant Mamas on bed rest, how much could an online baby shower brighten her day?
Virtual Baby Shower Gift Box
If you're planning to throw a virtual baby shower, it can come with a big challenge. How do you throw a virtual baby shower and ensure the guests feel as though they are attending a virtual baby shower and not just another group video call? If most guests are attending on their own from the comfort of their homes, it can feel far from a baby shower celebration. For the Mom-to-be, it can be disheartening to not be in the same room as her guests, that's why everyone needs a Baby Shower in a Box!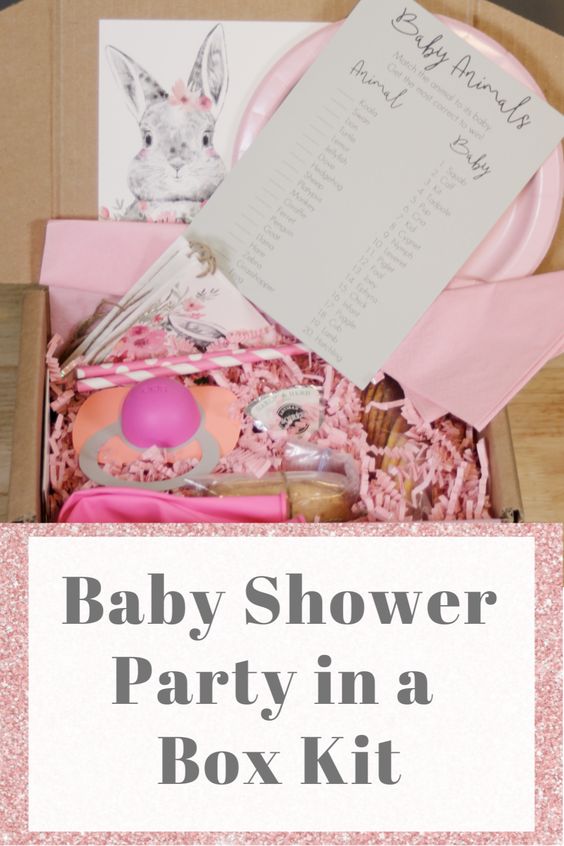 You want the guests to feel as if they are part of something more than just a group video call. Creating a baby shower in a box to send to each guest and the guest of honor prior to the baby shower, will likely get them in the baby shower spirit. Have a look at my Baby Shower in a Box post for the full breakdown of what to include!
The Aim for a Virtual Baby Shower
The main aim is to celebrate the Mom-to-be (or parents) and their baby. However, with the distance between everyone at a virtual baby shower, they can often feel disconnected. You want guests to feel there is a sense of togetherness even while apart. But how on earth can you create a sense of togetherness over a video call? Here's how! By sending each of the attendees a Baby Shower in a Box!
What is a Baby Shower in a Box?
A baby shower in a box is a box filled with goodies that are posted out to the Mom-to-be and each of the guests prior to the virtual baby shower. The aim is to create a celebration box where each of the guests has all the items they need to enjoy their virtual baby shower. By having items that are the same, there's a sense of togetherness. It also comes with excitement in the lead-up and a sense of gratefulness to the host for providing them.
First Things First, Choose a Theme
There are so many baby shower themes to choose from, be it a cute elephant to a single color. Starting off with a theme will guide your choices on what to include.
Decorations
Include some decorations for each of the guests to put up behind them during the call. This can be some baby shower balloons or some cute paper bunting. Make sure to include some special extras for the Mom-to-be so her space stands out from the rest.
Snacks
Snacks are a must at any baby shower, so we naturally have to have some in our Baby Shower in a Box! You could include some chocolates (you can buy these in bulk and divide them out) or you could go all out and gift a luxury mini box of chocolates like these, how exciting would that be? Other snacks to consider would be some pretzels and some cute baby shower cookies. Whatever you decide, make sure they can survive the journey to the guests and won't go bad.
Drinks
Decide if you are going to provide alcohol to the guests or not. If you do, make sure to provide the Mom-to-be with an alternative. If you decide on the non-alcoholic route, you can provide mini non-alcoholic drinks for all. There are many mini non-alcoholic wine celebration bottles out there. These too can be bought in bulk.
Glasses and plates
Although glasses and plates are not a necessity they would be lovely to include in the box. Providing everyone with a themed baby shower plate and a plastic wine glass or a paper baby shower cup will add to the feel of being a part of a baby shower. Show them off with a toast to the Mom!
Game print outs
It will be more convenient if all the prints outs of the games are provided for them in the Baby Shower in a Box. This means no printing issues, no one forgetting, and no technical issues. Have all games which can be printed out, available, and ready for them. Again, keep in line with your chosen theme. If you have any other items which are small and needed for games, pop these in the box too.
Instructions for the Guests
Add a note for the guests with a reminder of the baby shower details and details on how to use their Baby Shower in a Box. First of all, ensure they know the contents are to be enjoyed during the baby shower and not before!
Secondly, provide the guests with a list of photos you would like them to take during the virtual baby shower. These photos can then be sent to the Mom as a keepsake of her special day. Photos of the box, its contents, guests in front of their decorations, screenshots of the group on the virtual baby shower. You can ask for these to be sent to yourself to collate into a nice keepsake photo album or sent directly to Mom.
Card for the Mom-to-Be
Include a nice card for the Mom-to-Be with the same as the above. Remind her to take some photos and have her partner take some photos of her enjoying the shower.
Card for a Message
Provide a card for each guest to write a message or tip for the Mom-to-Be. These can be sent to the Mom after the shower as an additional keepsake.
Favors
Find some baby shower favors adding to your Baby Shower in a Box. There are some great ones over at Etsy! The guests will love all the thought and effort included.
Finally the Box
Gather all the items and pop them in a nice box with some tissue paper, pop a bow on the box and they are ready to go!
Create and Send a Baby Shower in a Box
If you are choosing not to send a Baby Shower in a Box, it will still be lovely to have a few decorations sent to the Mom-to-be. You won't need to add too many as guests will only see the area directly behind Mom. But if you want the Mom-to-be to feel extra special, send her a bunch so she can decorate the room as she pleases.
The guest of honor and the guests will surely love you for all the effort that has gone into making the Virtual Baby Shower something to remember!
Virtual Baby Shower Online
I've put together a great list below of what you should consider when organizing a virtual baby shower. A virtual baby shower that everyone will love! Happy Planning!
Choose a Virtual Baby Shower 'Venue'
Firstly you'll need to choose an online host. There are many options these days for holding online group video calls but some of the most popular are Skype and Zoom. These both allow large group numbers and are pretty easy to use, even for the non-tech savvy. Make sure you do a test run in the days leading up to the baby shower to ensure everyone knows how to join the group. You don't want to wait until the baby shower to run into problems.
Gift Registry
Have your parents-to-be set up an online gift registry. An easy-to-use option is Amazon, which can be shipped to many locations worldwide at ease. Parents-to-be receive a free box of baby goodies when using the Amazon baby registry and not only that, you can add items from any website to your Amazon Baby registry. Take a look on Amazon to check out the other benefits. Take a look at reasons why your Mom-to-be should create a Baby Shower List if she's not sure if she should create one or not.
Guest List
Gather a list of guests, along with email addresses or addresses, depending on how you are choosing to send invitations. Be mindful of the number of guests for a virtual baby shower. If there are too many on the group call, the video call can become a little hectic.
Setting a Time for a Virtual Baby Shower
This is perhaps a little trickier than a usual baby shower. For a traditional baby shower, you're all attending in the same time zone. A virtual baby shower might not be so easy to organize a time for. Once you have the locations of all the guests, you might need to look into time zones. What might be 2 pm for you, could be 8 am for a guest in another country. If you're all in the same or similar time zone then great. If possible, aim for midday at the earliest, for the guests in the earliest time zones, which could then cross over into the afternoon or evening for everyone else. When adding the time to the invitation, specify the time zone (GMT, EST, etc) that you are referring to.
Send Invitations
An online invitation would go with the theme of a virtual baby shower. There are plenty of online invitation providers such as Punchbowl. RSVP's can be done online and it's a good way to send the link for the virtual 'venue'. You may choose to go down the route of a traditional invitation and that is just as good.
Ice Breakers
Starting the virtual baby shower off with an ice breaker is worth it if not all of the guests know each other. There won't be a chance for people to talk individually. You could start off by asking each guest to introduce themselves, how they know the Mom-to-be and an interesting fact about themselves.
Food and Drink
While you won't have to cater to a large group, some snacks and drinks are a must. If you haven't already, I would suggest looking at my Baby Shower in a Box post for a fun way to organize snacks and drinks. However, you might not want the hassle of organizing them yourself. If this is the case, add a note in the invitation asking each guest to have some snacks and drinks ready to enjoy during the shower.
Games to Play Online
Games that guests can be played verbally such as don't say baby or games that can be played on printouts work best for virtual baby showers. Printable games include guessing the baby's weight, baby bingo, and how well you know the mom-to-be. You can either send the digital copies for guests to print at home (ahead of the baby shower) or post them to guests.
Opening Gifts
Gifts can be opened during the virtual baby shower. Guests can be entertained with a game of baby bingo marking off which gifts are opened. It will keep guests engaged and having some fun.
Prizes
This can be as simple as sending a digital gift card right after the baby shower. Gift cards can be purchased on Amazon which can be sent as a physical gift card in a box or e-Gift cards can be sent via email.
Keepsakes
Ask guests to take photos of themselves and their snacks and drinks. Ask her husband to take photos of her during the shower. Some of the virtual 'venues' can record the whole conversation which would be another great keepsake. My post here has some other great ideas.
Even though we might not be able to always get together to enjoy celebrations, I hope this post will give some inspiration on how to create a lovely baby shower, which can be enjoyed by all!