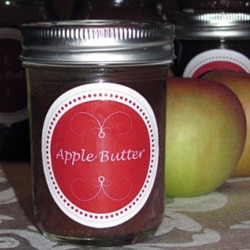 Growing up, we almost always had apple butter in the house. We primarily enjoyed it on hash browns or potato pancakes (if you haven't tried that, you simply must!) I also loved spreading it on Ritz crackers and (don't tell) eating it straight out of the jar by the spoonful. I think my mum bought whatever was at the grocery store — Musselman's probably. But then one day I had the opportunity to try Amish Apple Butter and I was never the same! Take out the high fructose corn syrup and you get a phenomenal flavor! It's kind of pricey though, so I haven't been able to buy it often.
A revelation came to me in the last year when I started reading about other bloggers making their own apple butter. I was intrigued, but a little hesitant to give it a try. I started by making apple jam first. (which, by the way, was delicious) Then I set out to try my hand at apple butter. It takes some time to make, but I was surprised at how incredibly easy it was. Basically, if you can make applesauce, you can make apple butter! It's all done to taste too, so you can make as much or as little as you want. If you have an abundance of apples, just increase your spices. If you're trying to use up some leftover apples, just decrease your spices for a small batch. Just don't try to make it when you have a cold, because you need to have your sense of smell and taste! Trust me on this one!
Any variety of apples will work. I get my apples straight from the orchard, so I asked for a peck of apples suitable for making butter. They filled the bag with winesap, jonagold and a few others. Below is the recipe I used.
Ingredients
about 6 pounds of apples (or half a peck)
½ cup water, apple juice or cider
2 tablespoons vanilla
3 cups brown or raw sugar
1-2 teaspoon ground cloves
4-6 teaspoons cinnamon (I like a lot of cinnamon in mine!)
Directions
Peel, core, and roughly chop apples. Place them in a slow cooker with the vanilla and ½ cup water, juice or cider. Cook on low for about 6 hours or high for 2-4 hours. (Total time will depend on how hot your cooker runs.) Once apples are tender, puree them into applesauce with an emulsion blender. Add sugar, cloves and cinnamon and place the lid back on, leaving room for steam to escape. (I put mine on crooked, but I've seen others who have used chopsticks to leave a crack.) Cook on low for another 4-6 hours, stirring and tasting occasionally. Adjust spices as needed. Once your butter reaches your desired consistency, pour it into sanitized glass jars or an airtight container.
I made these labels for mine. They can be cut with a 2.5″ circle paper punch and fit the front or the top of regular Ball mason jars. You can store it in the refrigerator for 2-3 months, or process the jars in a water bath for 10 minutes to create a seal. Sealed jars will keep in the pantry for 18-24 months. (For more information on canning, visit www.freshpreserving.com or check out this link from the USDA). Yields about 6-7 pints.
Home-made apple butter goes great on toasted whole wheat bread, biscuits, crackers, french toast and most of all, a spoon headed straight to your mouth!