I know pumpkin is top dog this time of year, but apples are one of my favorite flavors of fall. My family goes to the Apple orchard several times a year to pick up apples. They start coming in around Labor Day and can last till about March (just in time for the spring produce to start cropping up.) For me, the orchard is like visiting a winery. Each apple is so different and they vary from year to year depending on the climate. I like to taste a bunch and ask questions before buying. In past years I've opted for Honey Crisp above all else, but this year the Sweet Sixteen, Jonagold and Splendor apples have caught my fancy. The tricky part is knowing how much to buy. Sometimes I panic at the thought of my favorite apple selling out and I buy more than we can handle. This year, I considered making apple chips and/or fruit leather with the abundance of Splendor apples I brought home. But, I ultimately chose to roast them in the crock pot with a tiny bit of brown sugar, a generous amount of cinnamon and a dash of nutmeg. The boys and I devoured them! I especially liked mixing the apples in with my morning oatmeal. Super Yum!
While I was looking for ideas to use up my Splendor apples, I came across this recipe for Caramel Apple Jam. The ingredients are quite similar to apple butter, which is on my list of things to try making. But the process for jam is much less time consuming, so you might imagine why I chose to start with the jam first. Of course, I had to adjust my recipe a bit from the original, based on some of the user comments and my personal experience making jam. I also changed the name, because I didn't think it tasted like caramel at all. But, give it a try and tell me what you think.
Cinnamon Apple Jam
Ingredients
6 cups diced peeled apples (I went with Jonamac and Winesap)
1-2 cups water
1 tablespoon butter
1 box of Sure-Jell
3 cups sugar
2 cups packed brown sugar
1/2 teaspoon ground cinnamon
1/4 teaspoon ground nutmeg
Directions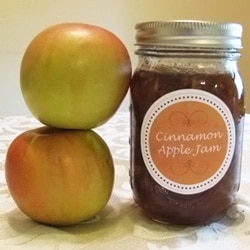 In a large pot, combine the apples, 1 cup water and butter. Cook and stir over low heat until apples are soft. (this is the most time consuming part of the task). When the apples are tender, add up to one more cup of water, if needed, stir in pectin and bring to a rolling boil, stirring constantly. Add the sugars, cinnamon and nutmeg and return to a rolling boil. Boil for 1 minute, stirring constantly.
Remove from the heat and skim off any foam. Ladle hot jam into hot sterilized jars, leaving 1/4-in. headspace. Adjust caps. Process for 10 minutes in a boiling-water bath. After 10 minutes of cooling, I like to shake up the jars and turn them over ever few minutes so that all the fruit doesn't settle on one side of the jar. If you'd like to label them, you can even use these printable labels I created. The size fits nicely on the top or the front of jars and can easily be punched with a 2.5″ circle paper punch.
Enjoy your apple jam on buttered bread, toast, biscuits, and/or french toast.