Have you heard about this website? Omegle.com is a website whose sole purpose is to allow you to connect with strangers via text or video chat.  Their homepage states:
"The Internet is full of people; Omegle lets you meet them. When you use Omegle, we pick someone else at random and let you have a one-on-one chat. You're kept anonymous unless you tell someone personal info (not suggested—safety is important), and you can stop a chat at any time.

If you prefer, you can add your interests, and Omegle will look for someone who's into some of the same things as you, instead of someone completely random."
OK, that's weird enough. But, I "chat" with people I don't know all the time on Twitter, so whatever. The scary part is how easy it is to get on the site no matter your age.
The terms and the warnings explicitly state "Do not use Omegle if you are under 13. If you are under 18, use it only with a parent/guardian's permission." However, there's no policing of the site and nothing that prevents children from accessing the site … including some real-time videos of people doing ahem interesting things to themselves.
On the site you have an option to text chat or video chat. You also have an "Adult" option or "Unmoderated" option. Just to see how easy it was, I clicked on the "Unmoderated" button and received this message: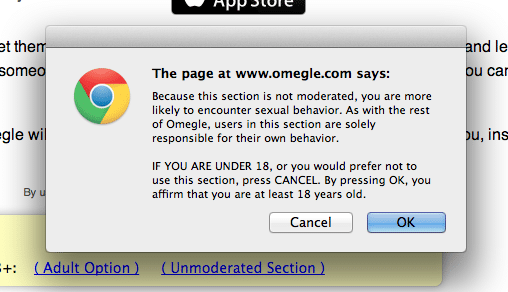 I clicked OK and was immediately taken into a real-time, live video screen of a man pleasuring himself.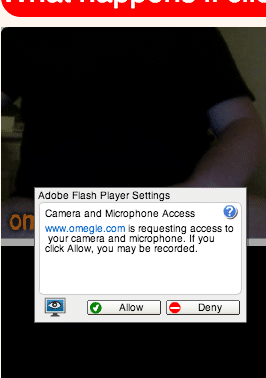 That's it. I connected with a complete stranger pleasuring himself with two clicks of a button. No credit card. No putting in my birthdate or year. No checkbox confirming my understanding of the terms of the site. Nothing. And, if I got in that easily so are our kids. Sure, there's an age disclaimer and we all know that kids follow those completely before accessing a site.
Sigh.
While that should be scary enough for you as a parent, here's something even scarier: the text and video chat functions don't prevent your kids from sharing personal information about themselves. And, users can even link their Facebook likes and interests to the account! (Is anyone else out there getting hives?!)
Please talk to your kids about this. And, when you're checking the home computer to ensure your kids aren't using this site, also check their phones. There are apps for this site for both iPhone and Android, so they can chat with strangers right from their phone…even when they aren't in the safety of your house.
Yikes.