All about Arugula
Also known as rocket, rucola, or roquette, this peppery green has been cultivated in the Mediterranean for thousands of years. With high levels of potassium and vitamins A and C, arugula is a nutritional powerhouse. It makes more of a punch, flavor-wise, than most other leafy greens, which lends itself nicely to a variety of dishes. Click through to check out just some of the ways to use arugula, and see below for some basics on this tasty green.
The best arugula is uniformly dark green, with no yellowing or wilted leaves.
Cleaning Tips
Odds are, you may notice a little dirt or grime on your arugula. That's fine, though, because doesn't say much about the quality of the product. If you've purchased loose leaves, cut off the stems and rinse the leaves in a bowl under cool running water. If your arugula is in a bunch, place it in a bowl of cool water for about 10-15 minutes. Drain leaves in a colander, and rinse.
Storage Tips
Wrap cleaned leaves in a paper towel and place in a plastic zipper storage bag. They should stay fresh for about a week; unwashed arugula only keeps for a few days.
Size Matters
All arugula is not created equal. Smaller, younger leaves have a milder flavor, whereas larger, older leaves pack more of a punch. Get to know the difference when choosing leaves for a recipe — you'll likely find that you prefer one flavor over another. I, for instance, prefer the younger leaves in pesto and salads but would pick older leaves for pizza or soup any day of the week.
1. Arugula & Pesto Crostini
Arugula and pesto are a great base for a fantastic crostini. The key here is to experiment: check out some ideas for add-ons below!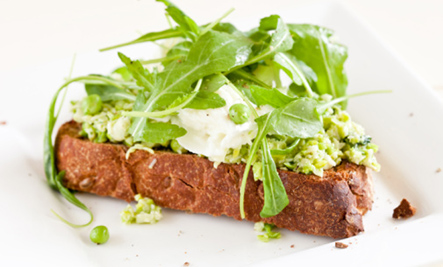 Ingredients:
1 baguette
2-3 tbs. pesto
About 2 cups fresh arugula
Olive oil
Optional Add-Ons:
– Fresh mozzarella, ricotta, or blue cheese
– Tomato slices
– Sautéed mushrooms
– Green peas
Instructions:
1.  preheat oven to 350 degrees. Cut the baguette into about 1/2″ thick slices, and lightly brush with olive oil. Bake for about 8 minutes.
2. After slices have cooled, brush with pesto, top with arugula, and any other desired toppings.
2. Broccoli Arugula Soup
You know when you've been out of town for a while and you can't remember the last time you ate real, wholesome food?  This soup is the perfect remedy for that. As good hot as it is cold, this gluten-free and vegan soup is sure to delight and refresh.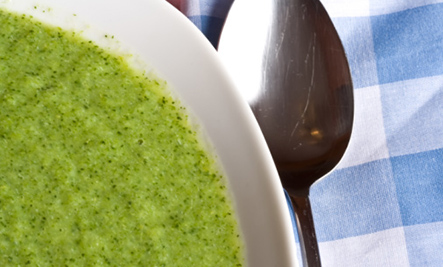 Ingredients:
1 tbs. olive oil
1 clove garlic, chopped
1/2 yellow onion, diced
1 head broccoli, cut in small florets
2 1/2 cups water
3/4 cup arugula
Coarse salt and pepper to taste
1/4 teaspoon thyme (optional)
Lemon slices for serving
Instructions:
1.  In a large saucepan, heat oil over medium. Add onions and sauté until translucent. Add garlic and sauté for another minute or so. Add broccoli and cook until it is bright green, about 4 minutes. Add water, salt and pepper, and thyme to taste. Bring to boil, then cover and lower heat. Cook until broccoli is tender, around 8 minutes.
2. Carefully** pour soup into a blender and add arugula, blending until smooth. Serve with lemon slices.
** If the idea of blending a hot liquid in the blender makes you nervous, you can blend in batches of 2, 3 or 4, and set aside the blended soup in a large saucepan over low heat. You can also if you wish, let the soup cool for 5-10 minutes before blending and warm on the stovetop afterward.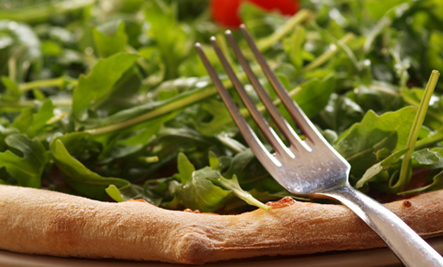 Other Great Ways to Use Arugula:
3. As a pizza topping! Make sure to put it on after the pizza has baked.
4. Use it in a pesto. It's a fantastic (and healthy!) pasta topping, for example. You can also use it as a tasty condiment for a sandwich. Check out the recipe here.
5.  As a punchy alternative to regular lettuce in sandwiches.
6. Ditch the bottle! Check out this fantastic recipe for homemade arugula salad dressing.
7. Want to consume your arugula in drinkable form? Look no further than this recipe for an arugula gimlet.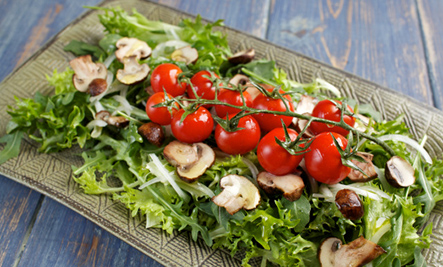 Salads
Perhaps the most popular way to enjoy arugula is in a salad; it is a leafy green, after all! That doesn't mean, though, that an arugula salad has to be boring. No, not by any means. Check out a fantastic variety of arugula salad recipes:
8. Balsamic Strawberries & Arugula
9. Watermelon & Arugula Salad
10. Sweet and Spicy Autumn Salad
11. Warm Spiced Chickpea Arugula Salad
12. Arugula and Grilled Mushroom Salad
13. Grilled Peaches, Bitter Greens, and Goat Cheese Salad
14. Arugula, Pear, Pecan and Blue Cheese Salad with Apple Cider Vinaigrette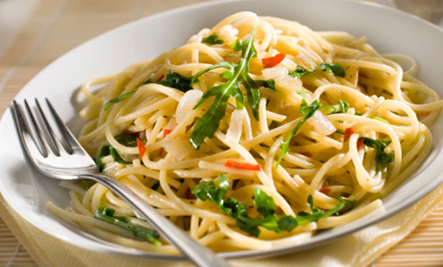 Entrees & Side Dishes
15. Like many other greens, arugula is great sautéed. Add one chopped garlic clove to a tablespoon of olive oil and heat for about 45 seconds. Add arugula and stir constantly until the leaves wilt, which should take less than a minute.
16. Spaghetti Aglio e Olio with Tomatoes, Peppers, and Arugula
17. Wild Mushroom Risotto
18. Pasta with Wild Greens & Olives
19. Summer Vegetable Ragout with Curry Sauce