Frozen Nutella Hot Chocolate
When the film Serendipity was released, frozen hot chocolate from Serendipity 3 in New York became famous around the world. It not only shared the title, but the stars drank it in the film's most memorable scene. Its recipe has since been produced and remade so that everyone can enjoy the delicious irony of a frozen hot chocolate in the comfort of their own home.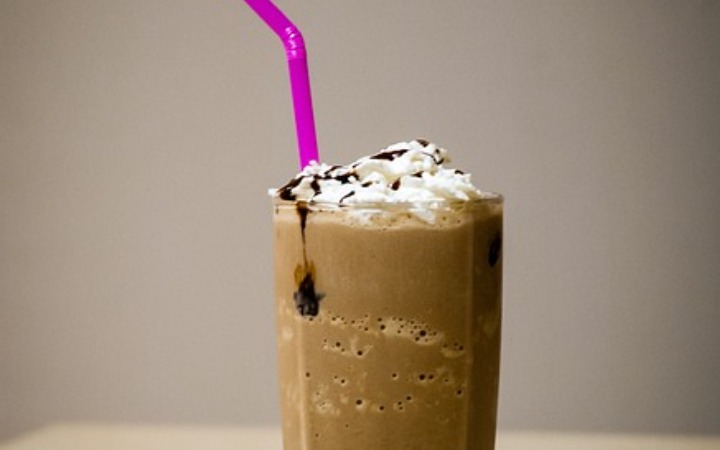 I have to admit that I've been puzzled about why it's called "frozen hot chocolate." Doesn't the fact that it's frozen mean it's not hot, therefore it's not hot chocolate at all. But I soon suppressed that notion because the sheer quirkiness of this treat makes it almost seductive and tends to give you enough brain freeze that you don't philosophize too much anyhow.
I'd seen numerous versions of this drink floating about, and I knew it would be very impossible to make one that tasted exactly like the original given that I hadn't experienced it myself, so I set out to make a quick and easy version using only cupboard products.
Most variations of this will use powdered hot chocolate. The Nutella spread I use in my version has a hazelnut flavor, which I think to be quite intense. If you don't like Nutella or dislike the nutty aftertaste, you can substitute 2 packets of your preferred hot chocolate mix. I just figured since Nutella is all the rage these days, I'd give it a shot and see how it turned out. If you think Nutella is amazing, you'll adore this.
I prepared my own chantilly cream (flavored whipped cream) and substituted rainbow sprinkles for the traditional chocolate shavings. I felt it would add a summery touch to the drink. You can surely put whipped cream and any toppings you like on this.
I hope you find this chilly treat to be just what you're looking for. Enjoy!
Nutella Frozen Hot Chocolate
Ingredients
1/2 Cup cold heavy whipping cream
1/2 Tablespoon confectioner's sugar
1/4 tsp vanilla extract
2 Cups Ice
2/3 Cup milk
1/4 Cup Italian Sweet Cream or French Vanilla coffee creamer
1/4 Cup Nutella Hazelnut Spread
Rainbow Sprinkles
Instructions
Place the cold cream into a large bowl with the confectioner's sugar and the vanilla. Beat on high spread until it forms stiff peaks. Spoon into a freezer bag and place in the refrigerator.
Place the ice, milk, creamer, and Nutella into a blender. Puree until smooth.
Pour or spoon the mixture into glasses.
Snip the corner off the freezer bag containing the cream and pipe it onto the drinks. Add rainbow sprinkles and enjoy.