All too often, Halloween is viewed as a holiday engineered to rob our families of their most recent paychecks through overpriced, poorly made costumes—and all for an evening that ends in a sugar-fueled meltdown. But, while the sugar-induced coma is nearly unavoidable, you can prevent the depletion of your savings by getting creative with your costumes and avoiding the Halloween "superstores."
Growing up, my mom would pack all of us in to our big ol' van and take us to the local Goodwill store. Each of us were given a few bucks and turned loose. I remember turning choir robes into scary witch costumes, old sheets into capes, and used prom dresses into an outfit fit for a queen. Not only did she minimize her expenses, my wise momma encouraged creativity and independence.
I loved creating my Halloween costume as a kid, so when I had the opportunity to work with the Socks4Life.com team to put create a DIY Costume Ideas guide, I jumped at the chance and created something for everyone—from character costumes to clever, funny costume ideas for groups.
Halloween Costume Ideas
Mario and Luigi DIY Halloween Costumes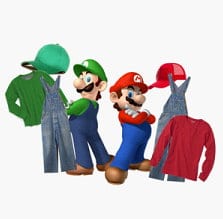 >>Mario: Red long-sleeved shirt and overalls. Wear a red painter's hat; attach a white felt circle with an "M"-shape cut out, to the hate. Finish the outfit off with white gloves and a mustache (paint on or purchase).
>>Luigi: Duplicate Mario's costume, but swap red for green. Instead of an "M", create an "L" cut-out instead.
Rachel from Glee DIY Halloween Costumes
>>White button-down shirt
>>Cardigan sweater
>>Checkered skirt that matches or compliments your sweater
>>Knee high socks
>>Dark shoes
>>Headband
>>Carry a microphone, act overly perky and superior, and randomly start singing.
Orbit Gum Girl Halloween Costume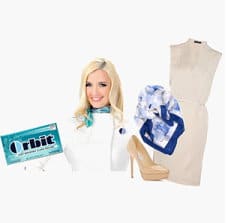 >>White, tailored dress
>>Colorful neck scarf
>>Blonde, voluminous hair
>>Carry around a pack of Orbit gum and act super perky saying things like, "Fabulous," "Dirty mouth? Clean it up!" and "For a good clean feeling."
Chick Magnet Halloween Costume
>>Black pants
>>Black shirt
>>Glue peeps (the candy) all over your body.
Police Officer Halloween Costume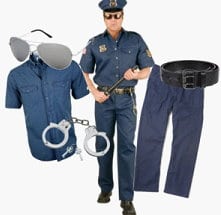 >>Dark blue dress pants
>>Blue short-sleeved dress shirt
>>Aviator sunglasses
>>Leather belt: Stick handcuffs, a walkie-talkie and baton to the belt.
>>Badge and patches: Use construction paper to create or print out templates.
>>Draw on a handlebar mustache and carry a box of donuts.