Aries Flower
Aries first in line – As well known, these people are active, passionate, and enthusiastic. They like red roses, tiger lilies, gerberas, chrysanthemums and dahlias, pink tulips. The bouquet itself should be richly decorated: beads, shiny bezel, gold-plated package. As for pot plants, they should not create difficulties in nursing. Geranium, begonia, azalea, dwarf pomegranate are perfect.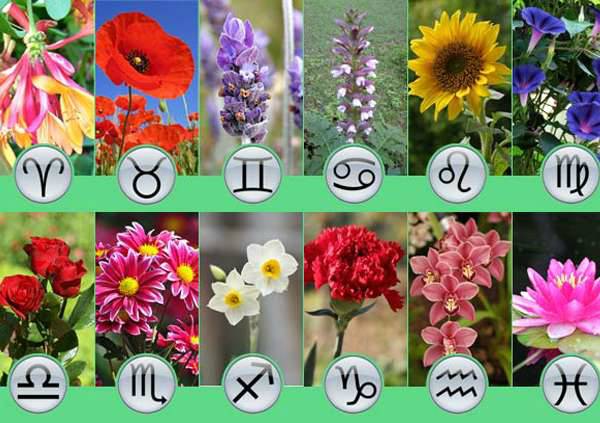 Taurus Flower
Taurus is probably the most "earthy" sign. They are stable, love, and know how to work, appreciate harmony and comfort. When choosing the flowers according to the signs of the zodiac, they should buy the ones that do not have a very sharp natural aroma: white chrysanthemums, lilies of the valley and forget-me-pink roses and daffodils. However, they love to take care of house plants. Violet, hyacinth, myrtle, various types of ivy, kalanchoe will make them happy and help to improve the energy in the house.
Gemini Flower
Gemini is the most movable, light, and changeable sign – Gift them bouquets of mimosa, buttercups and peonies, jasmine, and gladiolus. Grow flowers, that are beautiful to bloom, they like, as long as they were easy to care for. They are particularly suited to bright arrowroot and tender asparagus.
Cancer Flower
Cancers are very caring but have a secretive nature. They have a high level of intelligence and a great memory. White bouquets are ideal for them: lilies, roses and lilacs, hydrangea. If you do choose potted plants for this sign of the zodiac, the cancers like "family" varieties of aloe, kalanchoe, agave, ficus.
Leo Flower
Leo is a fiery and strong personality but in the same time creative and emotional. They fit large flowers: huge roses (white or red), "heavy" tulips, lush chrysanthemums. Leo takes care of the domestic greenhouse, preferring light-loving and rare plants. They suit rose bedroom, Japanese camellia, gardenia, and palm.
Virgo Flower
Virgo With what bouquet can we please a Virgin? This smart, practical and internally rich nature will like soft, but delicate flowers: asters and peonies, white lilies, and carnations. Virgo also like domestic flowers like tsissus, Chlorophytum, Bos, Syngonium. For the beauty and aesthetics should reign on the windowsill
Libra Flower
Libra is charming and sociable, for them you can choose the flowers without thinking. The main thing is to make the bouquet harmonious. It can be carnations and roses, daffodils and hydrangeas, hibiscus and verbena. Indoor plants need to be refined and original: Chrysanthemum, Decembrist, kodeum, Chinese rose.
Scorpio Flower
Scorpio is purposeful, strong and does not tolerate weakness. Scorpions prefer colors blue and purple shades but rejoice, and scarlet, and white bouquets. Give them irises, calla lilies or white roses. The home they like "juicy" plants with spines: cacti, aloe, Python.
Sagittarius Flower
Sagittarius are travel lovers, cheerful and sincere they will be happy to get a bouquet of gladioli, narcissus, tulips, or wild roses. They like flowers, aspiring upwards. At home, they prefer to keep the greenhouse luxury bushy plants such as gerbera, orchids, ficus, dracaena, azalea flowers.
Capricorns Flower
Capricorns are reserved, hardworking, and ambitious. The sense of responsibility is proprietary to them. Please Capricorn with delphiniums, roses, black poppies, or philodendron. They are delighted with the velvety flowers with a strong odor. But Capricorns are not very fond of taking care of home plants. They fit unpretentious flowers: ramp ardiziya, living stones.
Aquarius Flower
The freedom-loving and independent Aquarius, seek to make new discoveries and experiences appreciate cascading bouquets with curved lines. They can be composed of gerberas, tulips, lilies, lilacs. Impatient Aquarians can grow bulbous plants: fern, eskhinantus, fuchsia. indoor plants for signs of the zodiac
Pisces Flower
Pisces, closing the zodiacal circle, considered the most intelligent and subtle sense of personality. They always listen to your inner peace and love to live, dreaming. Lilys are their main favorites in bouquets.