Our four-year-old daughter is obsessed with pirates. She was a pirate at Halloween when all the other little girls we passed were princesses. So, this year for her birthday she wanted a pirate-themed birthday party. If your kid likes pirates, you probably already know that most of the pirate party stuff is mean or scary–skull and crossbones or mean looking guys with swords. This was a preschool pirate party, so I had to come up with some, um, gentler decorations for our pirate party.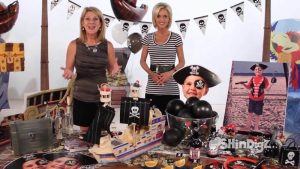 Each year we let our daughter pick the theme of her birthday party and the kind of cake she wants–and then my husband and I make ourselves crazy making her cake each year. Her second birthday was a ladybug. Birthday number three was the request for a triceratops cake–purple. And then came this year, number four, where she requested a pirate princess party with a (wait for it) Hello Kitty Pirate Princess cake.
Since it was a preschool party, we didn't want to have "scary" pirate things and weird food (hello preschoolers!) so we made some adaptations to make things preschool-friendly.
Preschool Pirate Party Food
The first thing to do is come up with some pirate food. I just used my imagination and renamed some party food favorites–I made a fruit salad to look like jewels and called it "Pirate Treasure," some chocolate covered brownie bites and called them "Pirate Cannonballs," chicken tenders became "Walk the (Chicken) Plank" and more. I made them more festive by sticking some pirate flag toothpicks around in the food. I also put the names of the dishes on cream-colored paper and burned the paper around the edges to give it an old map kind of feel.
1. Pirate Pinwheels
The Pirate Pinwheels are really fiesta rollups. It's a super simple recipe that everyone seems to love. It's also a vegetarian option for those guests who prefer that.
2. Pirate Fishing Pond
The Pirate Fishing Pond is ranch dip (sour cream and dried ranch mix) with blue food coloring to make it look like water. You add sides of Goldfish crackers and celery sticks and then the kids can "fish" (the celery as fishing poles and the Goldfish crackers will stick to them with the ranch dressing dip).
Note: I thought this would be a big hit, but many of the kids were wary of the blue color of the ranch dip, so take that into consideration if you're doing this for young kids.
3. Pirate Pond
The Pirate Pond is blue Jello. After the Jello set in the refrigerator, I pushed Swedish fish, gummy worms and sour octopus into and on top of the Jello so it looked like they were swimming in the water. This was a huge hit with the kids.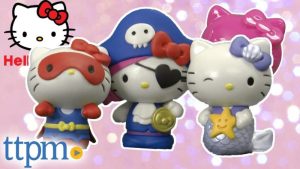 4. Hello Kitty Pirate Princess Cake
My husband and I made the Hello Kitty Pirate Princess cake ourselves. It wasn't as hard as we thought (we made a template out of paper and worked from there), but it was our first time working with fondant, so there was a learning curve.
5. Pirate Cannonballs
Hands down, these were the star of the party. The Pirate Cannonballs were chewy brownies, shaped into balls and dipped in chocolate–super simple and super yummy.
6. Pirate Treasure Salad
The kids loved the Pirate Treasure Salad, also. It was simply melon (balled) and other favorite cut-up fruit–we used strawberries, canned mandarin oranges and canned fruit salad (with the juice). I added star-shaped colored marshmallows and called it a Pirate Treasure.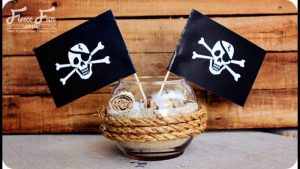 We also made long sandwiches and put "masts" on them to look like ships, a kid punch and called it "pirate punch" and I made chicken strips and called them "Walk the (Chicken) Planks." What you provide at your party is only limited by your imagination!
Pirate Theme Decorations
My daughter actually wanted a "Hello Kitty Pirate Princess Party." (I.KNOW.) As you can imagine, you can't readily find this theme, so I printed off some Hello Kitty pirates, cut them into triangle flags and taped them onto a pirate pennant string. We strung the pennant from each side of our chandelier onto the dining room table covered with a black tablecloth to make it appear like a pirate ship. I scattered pirate coins, pirate treasure rings, and pirate beads all around the table in between the food. I also used some party fishing nets around the room and hung plastic spiders and crabs from them.
Pirate Party Favors
For favors, I provided pirate party hats, and pirate treasure chest, filled with things like pirate eye patches, pirate treasure maps, pirate coin necklaces, and treats.
Pirate Party Games
We did a couple of games that the kids of all ages (and even the adults) really had fun playing. Instead of pin the tail on the donkey, we did a pirate version of pin the treasure on the map. The biggest hit of the party, though, was the pirate scavenger hunt game. You can easily make your own treasure scavenger hunt.
Do you have great tips from your own pirate party? Share them in the comments!