My husband recently changed jobs and he's having trouble with it. Namely? The business casual clothing environment.
If you're over 40, you probably worked most of your professional life in the "dress up" stage–where "put on your Sunday clothes" was every single day of the week except Saturday. (Remember?) It was pretty much suit and tie all the time–no matter if you were going to a business meeting or flying for half the day.
Well, most business environments aren't like that any longer. Many go for business casual through the week and casual on Fridays. Or, they are even going for casual all through the week now.
So, if you're a man over 40, how are you supposed to dress for business casual at work?
7 Business Casual Looks for Men Over 40
The good news is that you probably have a lot of these pieces in your closet if you've been dressing up at work (or church or anywhere else). You just need to know how to put them together so that they're less on the stuffy spectrum and more on the casual cool level.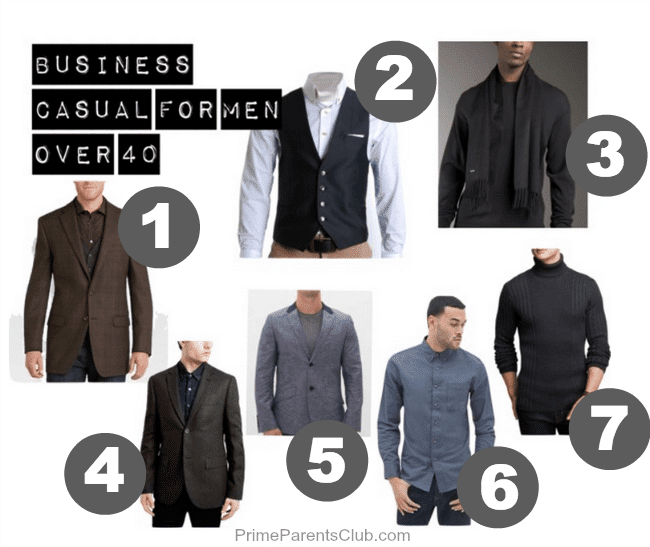 Business Casual Look 1: Blazer and Vest
Again, if you've been dressing up for work, you probably already have something like this in your closet. Keep the button down shirt and vest with the suit, just lose the tie. Keep the top button unbuttoned and you have more casual.
Business Casual Look 2: Lose the Blazer, Keep the Vest
You don't need a blazer for your style to still stay "business." Just be sure that you keep the button down shirt and nice stiff collar with the vest over it and your look will still say "look out."
ALSO CHECK OUT: 5 Items Of Clothing That Dads Should Get Rid Of (Before Mom Does)
Business Casual Look 3: Sweater and Slacks
A monochromatic sweater and slacks can send a sleek business casual look. However, it has to be a nice, fitted sweater (leave those bulky, ratty ones from college in your closet) with no insignia or emblems. For a look like you didn't spend hours figuring all of this out (we won't tell!), add a nice cashmere scarf to say, "Sure, I was just chillin' and decided to come to work. I look like this all the time!"
Remove the vest and keep the blazer and button down and you have another business casual look! You can leave the top button open or buttoned, it's up to you. Pair this look up with some updated khakis of any color to match the blazer.
If you are in an office environment that leans more toward "casual" in the business casual style, you can probably get away with the next three looks, too. However, if you're going for an interview and they've listed "business casual," probably best to stay away from the next three looks.
Business Casual Look 5: Blazer and T-shirt
For this look, you can pair up a blazer with a nice t-shirt and some khakis or slacks. Just don't wear that Aerosmith concert tee under your jacket. Go for a nice t-shirt that you only wear for work.
What makes the untucked button down look more business casual and less like you just rolled out of bed after a night out with the guys is the condition it's in. To be able to pull off the untucked dress shirt it must be pressed and fitted and paired up with fitted slacks. A bulky, wrinkly casual shirt won't work here.
Business Casual Look 7: Turtleneck and Slacks
A nice turtleneck and slacks can also be used to rock business casual. However, just like before, stick with one color for the turtleneck and slacks and it will look a little more business than casual.
ALSO CHECK OUT: Easy (and Painless) Over 40 Fashion for Fathers