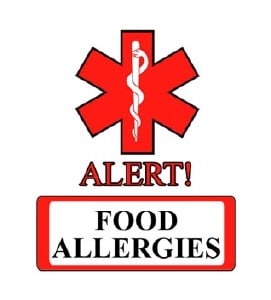 No question about it, sending your child with food allergies to school can be a terrifying proposition. After all, it's estimated that 1 in 4 allergic children will have a severe reaction while at school. It almost makes me want to send my child in his protective bubble. But, of course, there are all kinds of challenges that present. I'm not even sure if a protective bubble would fit through in the car. Plus, I think they're pretty expensive, and I guess there's the potential it could pop. That idea isn't very practical. So the next best thing is to devise a plan to keep him safe. Here are some tips I've found through research and personal experience working with our school.
Meet with school principal and nurse
I was amazed at how much more at ease I was when I learned the school's procedures for dealing with food allergies. The principal explained to me what the process would look like, where they keep the EpiPens and how they will ensure my son's safety. However, not all schools will be equally prepared. Taking a handful of printed resources could help your case for providing the safest environment for your child.
Devise an emergency allergy plan
Having a plan in writing helps everybody to know the severity of the allergy and exactly how to proceed if a reaction should occur. A generic policy can be found online here. Fill out the form (with or without your physician,) attach a picture and give it to your child's teacher and the school office. These forms can also be made in duplicate for grandparents, babysitters, and friends who might be responsible for your child's safety. If your child participates in extracurricular activities, make sure the sponsor or coach also has a copy.
Meet with the teacher
Schedule a time to talk with your child's teacher to discuss what accommodations need to be made in the classroom. i.e., hand washing for each child after eating (hand sanitizer DOES NOT prevent accidental exposure, hand wipes, or soap and water are necessary), special snack box for allergy-friendly foods, teaching the other children how to keep your child safe.
Deliver medication to the school office with your emergency allergy plan. Make sure to label your child's medication clearly and have plenty for the school office to keep on hand. In my experience, we keep two EpiPens and two doses of Benadryl in the office and an asthma inhaler in my son's backpack. Then we pray they'll never have to be used.
Keeping a food allergic child safe can be a huge responsibility and create some stress for the child. Food allergic children often experience anxiety and feel left out when they can't experience everything with their friends. Ultimately, it's the responsibility of parents and caretakers, but, as parents of non-food allergic kids, there are things you can do to ease these situations. Here are some steps you can take to support an allergic food friend:
Understand the severity
While many children experience both food allergies and intolerances, it's important to note the difference. Both can be problematic and cause extreme discomfort, but a food allergy can be life-threatening. A severe allergic reaction, known as anaphylaxis, can include itching in the mouth and body, hives, asthma, watery eyes, vomiting, diarrhea, swelling of the face and airways, inability to breathe and even death. It's important to note that anaphylaxis can happen immediately or as much as three hours later; and once the reaction begins, the airways can swell shut in less than five minutes. Food allergies are also challenging to predict. A child can have little to no response one time and go into anaphylactic shock after the next exposure.
Be aware of the symptoms
Young children are often unable to recognize the signs of anaphylaxis, and older children might not be able to vocalize their condition. If you're a regular volunteer in a classroom with a food allergic child, it can be helpful to learn how to recognize the symptoms. You can view a list of symptoms here and can even go here to take an online course designed to make sure you're "allergy ready." The class is designed for educators, but anybody can benefit from its material.
Help food allergic kids fit in
Most allergy parents are used to prepping our child's food to ensure safety. But, kids tend to notice that. It's an incredible gesture when other parents offer to bring food that's safe for everybody to enjoy together. Two years later, my son still talks about a birthday party where the mother made him special cupcakes he could enjoy. If you're in charge of food for a school party, ask the teacher if there are any allergies you need to be aware of and touch base with the child's parent for guidance if you're unsure.
Help your children understand food allergies
FoodAllergy.org has some great resources for helping kids understand food allergies. I recommend this one-page handout that explains to children what it means to have a food allergy and how they can be a good friend to kids who are managing food allergies. You might also check out the Food Allergy Bullying section to learn how you can prevent bullying based on food allergy. And for the little ones, check out Binky Goes Nuts: Understanding Peanut Allergies, an episode of the favorite PBS show Arthur. You can view the episode online and access additional resources to help little ones understand food allergies.
When your child is old enough to understand, talk to him or her about being an allergy buddy to a food allergic child. An allergy buddy is one who knows how to recognize when their friend is sick and acts to get medical attention.
Food allergies are scary. But if we all work together, it can be a little easier for everybody. For more information, visit FoodAllergy.org or KidsWithFoodAllergies.org.