Organizing Toys
Recently over on Facebook, we asked our community what questions they most need answering when it comes to organizing toys in the home. I felt like some of my answers may end up too long for an Instagram story, so here they are in full…
Toy rotation seems like a lot of effort. Is it worth it?
Short answer: yes! Toy rotation does indeed seem like a lot of effort, especially in the beginning. It does take a while to sort out the toys you have, then there is the dilemma of where to put the items that aren't on show (more on this later). However, the benefits are worth the initial time it takes to set up. First of all, it will make your children more independent in their play. They will be able to see what is on offer on the shelves and take out items of their own choosing. Toy rotation also makes it a lot easier to tidy away too – not only because there is less out in the first place, but because the children find it easier to help.

We first introduced it when I found out I was pregnant with my third child. She was around 18 months at the time and I really wanted to help her become more independent with her play. By the time E was born, she was really good at choosing items to play with from the shelves without having to ask me for help – this was so valuable during the early days of breastfeeding when I seemed to be glued to the couch for hours on end!
Where is the best place for a play space?
This really depends on the type of space you have available! Some people dedicate a spare room but if that isn't possible, a corner of the living space is just a good a choice. We have three children and as we live away from the rest of my family, the spare room has never been an option for us, so we have divided our main living space into three sections (play space/ lounge area/ dining room) This works for us because I can easily see the children – my youngest has just turned one so with our set up, I can still keep a close eye on him whilst he plays more independently.
Here is a great one. I've placed 3 young ones in there and had tons of fun. I would recommend keeping an eye on your littles – like you would do anyways. The balls are definitely a plus and add-on. Amazon has a to of PlayScapes to choose from. I really wish I would have gotten the one below since it is so much bigger then the ones I have.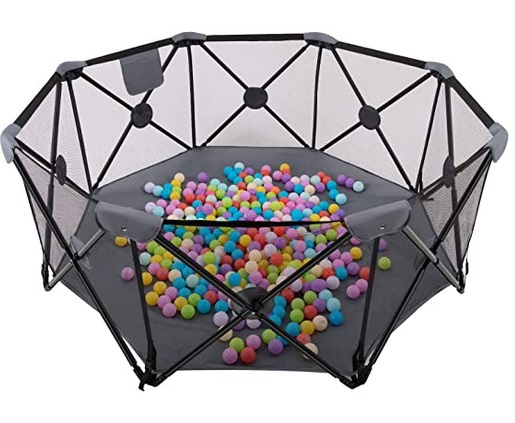 When choosing where to locate the play space, I would carefully consider how old your children are, the size of the intended play space (the bigger the better really as children like to spread out) and the flow of your house – you don't really want to put the play space in an area where there is a lot of 'traffic.'
How do I get started?
The first thing you really need to think about is shelving! Do you have any that you could move to the play space or do you need to order some? We have the IKEA box shelves (Trosfast) that work really well for both toys and books, however some book shelves would be just as useful. Don't go out and spend money on new shelving unless you really need to. The one thing that really needs to be taken into consideration when buying shelving is how many children you have – we have three which is why we have a larger space dedicated to play. If you are a childminder reading this, then you are likely to need more shelving than I have. You can get these cabinet organizers on Amazon.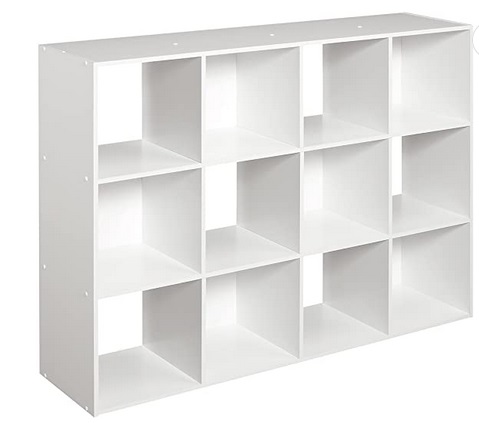 Once you have bought the shelving, get out all of the toys you have and really think about what gets played with. Are the ignored toys ones that have been outgrown or has your child simply forgotten about them? Whilst minimalism is the current trend (and I do think it's a good thing) there is also absolutely no need to throw out toys* unless they are either broken or outgrown. Please note that whilst I am a fan of the open-ended nature of wooden toys, I do not advocate throwing out plastic toys that are still perfectly good for play.
For your very first set up, put out a mix of toys that would be considered old favorites and ones that haven't been played with in a while. Carefully monitor over the course of the coming days what is being played with and what is being ignored and switch out accordingly.
Another thing to carefully consider when first starting is your child's current interests – is there a particular book you could make a theme out of? or perhaps they are now obsessed with animals after visiting the zoo? I tend to dedicate a few of the shelves at least to her current interests.
Don't cram the shelves full either. Just stick to one toy per box (if you are using the same storage units as us). This will make everything altogether easier to tidy up and will also help your children to really see what is on the shelves.
Finally, you have to put toys out on the shelves that will still safe for the youngest child that will be playing. My youngest is just 1, so anything that would be a choking hazard has been put away until he is older. With the best will in the world, I could not expect my three year old daughter to only keep her toys on the top shelf of the play space shelving, so we just get items out for her to play with when my oldest is napping.
*If you can, I strongly recommend passing toys down to friends and family, selling them at a 'car boot' or donating to charity rather than simply throwing them away.
Where do you store all of the toys that aren't being used?
We are pretty fortunate to have a lot of storage space around the house. Just to the left of our play space is a set of drawers where anything 'baby safe' is kept. In the hallway, we have two large bookcases on Amazon containing children's books, placed low on the shelves so that they are accessible, then some of my educational resources (that could pose a choking hazard) at the top. In Miss 3's room, there are more shelving units which are used to store more of the toys that aren't in use and finally, in the utility room, we have another shelving unit where art supplies are kept!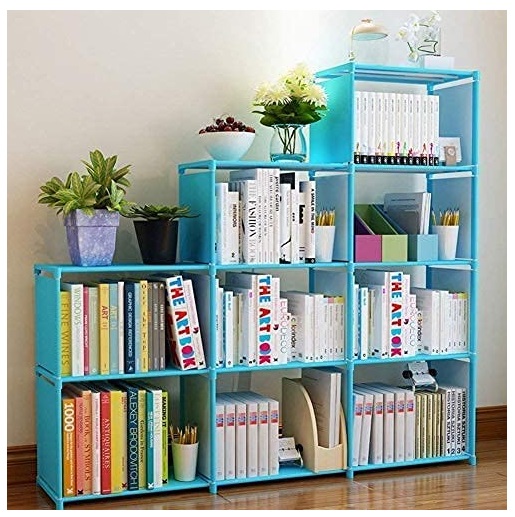 Really, where you store toys is going to depend on your home. In our previous house, we actually stored toys in boxes in the linen cupboard so think about the space you have. Can you store toys in wheel out boxes under the beds in the children's rooms or is there space in the hallway for a shelving unit?
How do you stop a toddler from pulling everything off the shelves?
This really depends on how old the child in question is. My youngest is now 13 months old and is fully in the phase where all he really wants to do is empty out baskets onto the floor! This isn't him being naughty – he is simply exploring. In this instance, put toys on the shelves that will help them explore. Some examples from our own play space include a 'posting box' with Grapat rings and coins, wooden blocks and a ring stacker.
With older children, get them involved with the tidying up of the play space right from day one. They need to know that they are responsible for tidying away the items that they have played with. If you need to, try implementing a rule where they have to put one item back before playing with another.
However, if the toys simply aren't being played with – perhaps just dumped and then ignored, think about whether its time to change up the shelves and switch items around.
How often do you rotate the shelves?
I change up the play space every 1-2 weeks. I closely monitor what is being played with and what has just been left ignored for a few days. Sometimes I even change items around after a few days if the children haven't taken an interest!
If the toys are still being played with after a few weeks, I keep that current set up in place. There is absolutely no point in changing items around if they are still popular – save yourself a job! Case in point, our 'coffee van' mini role play area has been up for months as it is still a big hit with my daughter.
My child is obsessed with … how do I get them playing with other items?
Children do tend to get fixated on one particular type of play for a while so my advice is to introduce items that will expand their interest. I'm going to use the example of play food here because this was essentially the question asked over on Instagram stories!
If your child is only interested in playing with toy food, try introducing a few other items that might expand that interest – for example, a cash register (made or bought), a toy / real landline telephone (with the cords cut off) or a small table and chairs to play 'restaurants'.
Other than providing items that will help expand their play, try making other items visible on the shelves as well. Maybe even play with the other toys yourself to see if that captures their interest. Most of the time, these phases do eventually die down!
How do I arrange a play space for a range of ages?
This can be really tricky but always put toys out that are suitable for the youngest child in your care. With the under threes this means avoiding anything that could be considered a choking hazard. This is something we've had to get used to since Miss 3 was born – my eldest 6.5 years at the time is (and was) Lego obsessed so we had to move it all to his room and impose strict rules around keeping it there.
I know that this might not be an option, particularly if you are a childminder or have a family daycare so I would advise keeping the shelves filled with open-ended items that could be used by a variety of age groups. Alternatively, is there a way to segment the room? With child gates for example or is there another room that can be used by the older children for more independent play? If these aren't real options for you, try keeping the small items in small storage boxes for table top play.
Whatever you decide here, impose some ground rules so that small chokable items aren't in reach of your littlest learners.