Do you feel it too? School is beginning again and so many of us are already feeling the pinch on our family time together. Those lazier warm Summer days felt so much more carefree and provided hours upon hours of unstructured time together. But now that our schedules are beginning to form and time seems to have lessened, we need to be all the more intentional with how we spend the time we DO have together as a family.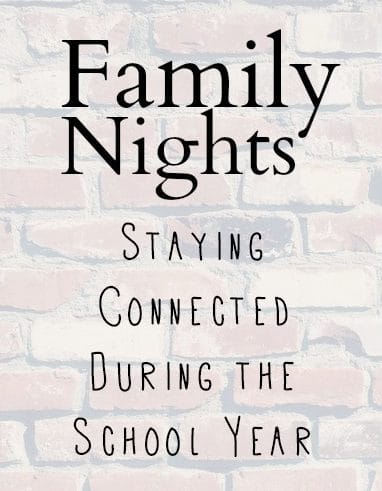 Enter…Family Nights…A time set aside, when all distractions, homework, iPhones, etc. are put away and the focus is squarely on your family.
Now, this may take a little bit of forethought and preparation, but really, the quality of the time spent together will be so very worth it. Here are some of our favorite things to do on Family Nights:
Family Movie Night
Many of us now stream movies and shows on Netflix, Amazon Prime or Hulu Plus. We love having so many movie options at our finger tips. (By the way, Amazon Prime offers a free 30 trial if you don't already have it and want to check it out. You really get so much for your money.) Some of our best family time together happens while enjoying a great movie together, sharing a couple of big bowls of popcorn and then discussing it afterward. If you're interested in finding some great kid-oriented movie discussion guides, be sure to check some of the one we pinned on our Family Nights Pinterest Board and follow us there as we will be adding many more resources for you there.
Family Game Night
We have four boys ranging in age from 4 to 10. So, finding games to accommodate all of us can be a little tricky. But it is possible and when we learn to let go of some of those ideals in our mind of what Game Night should look like, it's a lot more fun. Seeing the smiles and hearing the laughter and banter that only our family is familiar with around the table over a boisterous game of Yahtzee is the best! With younger kids, we find that the typical board games take longer and usually cause frustration among our crew. Some of our favorites include:
Spot It!: There are lots of Spot It! varieties and this is one of our kids' favorite games. It never gets old.
Jenga: You could get two sets and have two games going at the same time or put them all together for a taller Jenga tower.
Uno: The classic game that all ages can play.
Pass the Pigs: Roll the pigs (instead of dice) to see which way they land, add up your points and then pass the pigs. Loads of fun!!
Headbandz: This one is such a fun and entertaining game that always keeps us laughing.
Apples to Apples: A card game of hilarious comparisons. This one is another one that creates non-stop laughter.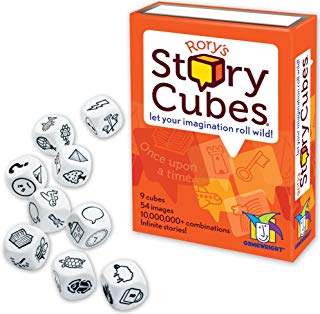 Story Cubes: We love the way this little dice game sparks creativity in our family story telling together.
Operation (seriously!!): Another classic that never gets old. How steady is your hand? Can you avoid setting off the buzzer? It's more challenging than we thought, but so fun.
Farkle: Roll the dice and take a risk, every time. We love this game!
Yahtzee!: This is probably the most played and well-loved game we own.
Family Conversation Night
A few years ago, I ran across an idea online that I fell in love with…they were these little slips of paper in a jar that had questions on them to use as writing prompts for kids. I decided very quickly that these would also make GREAT conversation starters. At the time, our boys were all very young, so this just made more sense for our family. Four years later, and we've come up with many more conversation starters that we still enjoy to this day. In fact, we decided to put together a little eBook just for you filled with every conversation starter we've written down so far.
This is one of those timeless tools because with each passing month and year, our kids are growing, which means their answers will change. We love to hear about their dreams and what brings them all manner of feelings, their favorite things and what they'd do in certain situations. This time, intentionally conversing with our kids is priceless and really grows us in our faith and strengthens our relationships with one another.