How to Make Magnesium Lotion
Did you know there are over 300 types of cells in your body that rely upon Magnesium to stay healthy? And that most of us walk around with a pretty serious deficiency? I was astonished when I read this. But it's true.

So, in light of this, I've been researching all the things Magnesium is good for and the best ways we can get more of it. What I'm finding is that this amazing mineral is like a miracle worker for our bodies. When levels of Magnesium are lower than they should be, our bodies will be low on energy, making us feel more tired. Anxiety, tension, and even heart palpitations are all signs of a Magnesium deficiency.
Benefits of Magnesium
There are many, but here's a list of conditions that have been scientifically proven to improve with the use of Magnesium, according to Dr. Carolyn Dean MD ND, author of The Magnesium Miracle.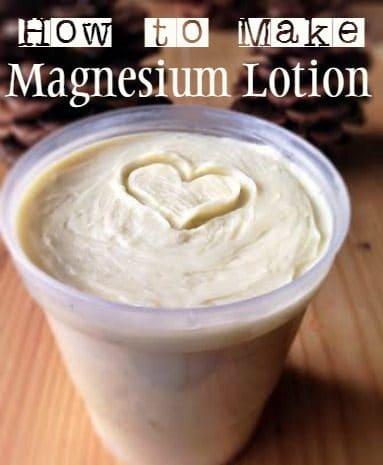 Acid Reflux
Adrenal Fatigue
Infertility
Panic Attacks
Depression
PMS
Menstrual Cramps
High Blood Pressure
Diabetes Obesity
Fibromyalgia
Cystitis
Constipation
Morning Sickness
Heart Disease
IBS
Inflammation/Sore Muscles
Insomnia
Kidney Stones
Seizures
Tooth Decay
As you can see, Magnesium is good for what ails us, in all sorts of ways.
I began learning as much as I could about this miracle mineral mainly because I get migraines. But what I soon realized was that there are a whole host of other reasons why I've decided to continue taking Magnesium daily. Not only have my migraines decreased, but I sleep better and my energy levels during the day have drastically increased. I just feel a whole lot better!! I'll be sure to update you all with any other positive effects as I realize them.
Our favorite way to take Magnesium is transdermally…through the skin. It's also one of the most effective ways for your body to absorb Magnesium. So, in an effort to save money and come up with a lotion my whole family would like, I created my own recipe.
How to Make Your Own Magnesium Lotion (with added emulsifier as an option)
Ingredients
1/2 Cup Double Strength Magnesium Oil (see instruction below to make your own…it's very easy!)
1/2 Cup Coconut Oil
1/2 Cup unrefined Shea Butter
2 Tbsp. Bees Wax
1/8 tsp. Cinnamon or a few drops of Cinnamon Bark Essential Oil (optional)
20 – 30 drops of Essential Oils (optional, but we love Lavender and Peppermint)
**If you have had trouble with your ingredients separating, you can add 1/2 tsp. Borax Powder to help prevent this from happening.)
Instructions
To make a batch of Double Strength Magnesium Oil (which is what we use), bring 1/2 Cup of distilled water to a boil in a small saucepan and remove from heat. Then add 1 heaping Cup of Magnesium Chloride Flakes. Stir until the flakes have dissolved. Now you have your Magnesium oil.
**If using borax, stir this in until it completely dissolves and set aside.
Turn the heat down to low, put all other ingredients into a separate small saucepan and stir until everything is dissolved into a liquid. Remove from the stove to let cool until the oils turn an opaque color.
Next, whip your oil ingredients in the saucepan with a stick blender while slowly pouring in the Magnesium Oil you made. Whip all ingredients until well blended into a thick consistency. Scoop into an airtight container and voila, your homemade Magnesium Lotion is complete. This recipe makes about 10 oz of lotion and keeps it for about 6 months.
If you'd rather use a regular type blender just pour the oil ingredients in first, turn it on low, and slowly pour in your Magnesium Oil mixture while whipping. This method works well too.
A Note About Borax as an Emulsifier (and how you can keep your ingredients from separating)

We all know, that water and oil don't easily mix. Although I still love our original recipe, I wanted to provide you with the option of adding something extra that would further help keep your Magnesium Lotion well blended. After researching the different options available, I settled on a beeswax/borax emulsifier because it was inexpensive, works very well and I feel confident that borax is a safe option. Here is a link to a resource that helped me in my decision-making: All Natural Beauty. I've made my lotion with and without borax and although borax (mixed with beeswax) DOES help to keep the oils and water emulsified and a bit creamier, I do still prefer to make our lotion without it…keeping it as natural as possible.
If you are having emulsifying issues with your lotion and choose NOT to use borax, try this… After you've completely blended all of your ingredients together, put them in the fridge for a half hour, and then blend them all together again. This should help!
How We Apply This Lotion
Our favorite way to apply Magnesium Lotion is to rub it into the soles of our feet just before bed. I like to use about 1/2 to 1 teaspoon per foot, rub it in and then wear socks over them so my sheets don't get oily. (The soles of your feet absorb anything you put on them really well and your feet will be SO smooth!) It takes about 20-30 minutes for this lotion to completely absorb into your skin, so if after that time you'd like to rub the lotion off with a wet cloth, feel free to.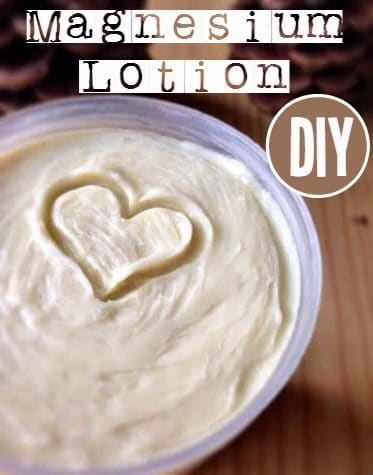 For those of you who are wondering, you can put the Magnesium Oil, made in the very first step of this recipe, into a spray bottle and spray it directly onto your skin too. For some people, it can cause a bit of skin irritation though, which is why we prefer to use the lotion instead.
Don't be afraid to experiment with different essential oils or adjust the amounts in this recipe to achieve the texture and aroma you are looking for. We really hope you love this lotion as much as we do.
If you would like to learn more about the benefits of Magnesium and how it can positively impact your health in amazing ways, be sure to check out The Magnesium Miracle.
Do you supplement your diet or make Magnesium oil or lotion? We'd love to hear about your experiences with this mineral and the health benefits you've had.