It's getting that time of year when the weather is warming up and we like lighter dishes and grilling out — corn on the cob, asparagus salad and light pasta dishes. A few days ago, I saw this corn and black bean salad recipe on the Farmer's Almanac Facebook page and immediately knew that I had to make it. Fortunately, my kid will eat pretty much anything (or she's at least up for trying new stuff) and she loves vegetables. When I showed her the picture of this salad, she wanted to make it immediately.
You may also hear it referred to as corn and black bean salsa where it is used as a dip for chips. We tried it both ways — plain as a salad and as a dip with chips — and it is fabulous no matter what. This will definitely be our go-to salad this summer — and, it's fast and super easy so it's good to take to cookouts, too.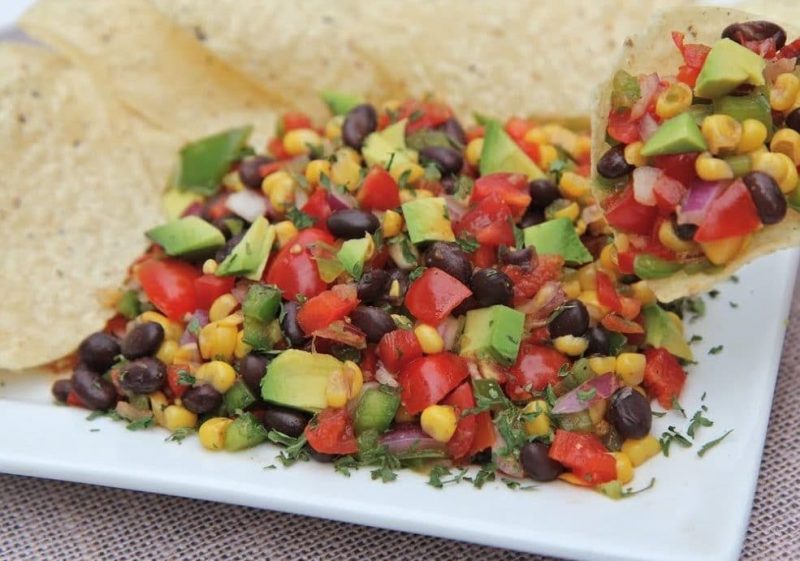 We made some modifications to the original Farmer's Almanac recipe and love how it turned out. It's an easy recipe to change up, so don't be afraid to try it with other ingredients. (The next time we make it, I'm going to add fresh tomatoes.)
Corn and Black Bean Salsa
Ingredients
2 15-ounce cans black beans, rinsed and drained
2 cans sweet corn, drained OR 3 to 4 fresh ears of corn*, kernels cut off
2 red bell peppers, diced
2 cloves garlic, minced
2 green onions, chopped
¼ cup chopped fresh cilantro
2 teaspoons salt
¼ teaspoon cayenne pepper
¼ cup extra virgin olive oil
1 teaspoon lime zest
Fresh lime juice from 2 limes
Avocados, sliced
Instructions
In a large bowl, combine the black beans, corn, red peppers, garlic, onions and cilantro. Set aside.
In a small bowl, combine salt, cayenne pepper, olive oil, lime zest and lime juice. Whisk until combined. Pour over the salad mixture in the large bowl. Toss until coated.
Refrigerate until ready to eat.
Dish individual portions and top with sliced avocado immediately before serving.
Notes
*Sometimes I like to leave my fresh corn on the cob uncooked when I'm adding it to a salad or salsa like this. It preserves the sweet, crisp flavor of the kernels. However, if you are using fresh corn on the cob, you can use it cooked or uncooked.