Do you ever get sucked into those late-night infomercials? I know, me too. I have insomnia, so I always seem to get annoyed by them while watching TV in the wee hours and then the next thing I know I'm convinced what a great idea that product is and we really do need to try it!
Most of the time I refrain from purchasing. However, there are some times that I've picked up an item or two or received one as a gift. Here are my all-time favorite "As Seen On TV" gifts that we have at our house. (Don't judge.)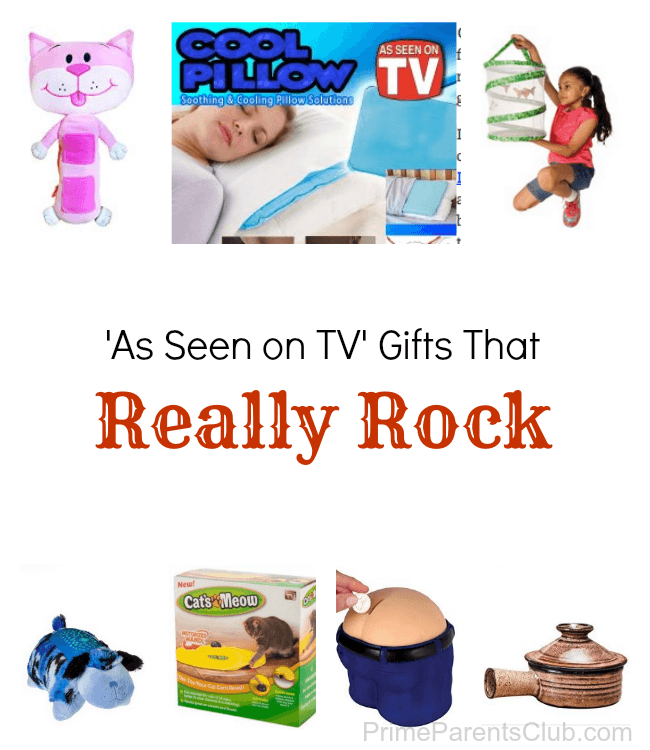 7 Must-Have 'As Seen on TV' Gifts
Ok, out of every "As Seen on TV" gift we have in our house, the "chill pillows" are by far my favorite of all time. I am one of those cold pillow sleepers, so I will spend all night flipping a regular pillow over and over trying to find the coolest spots so I can go back to sleep.
I received the cool pillow last year. When I asked for one, my husband thought I was crazy. However, after he did some research, he liked one "chill pillow"–the Sleep Innovations Reversible Gel Memory Foam Pillow
–that was different than the one I asked for originally. So, he got both of them for me. And, for the record, I love them
both! I do use the gel memory foam one the most, though.
(PS: If you have a woman in the house that is in any stage of peri-, pre- or menopause, you will win super bonus points for this gift. It really helps with those awful nighttime hot flashes.)
OK. In full disclosure, two years ago we got this Undercover Mouse Toy for our Ninja Kitty and I thought he would love it. (READ: I thought it would distract him from hating/biting me.) We got it out and he chased it for like 2.6 seconds, grew bored with it and moved on. I was really disappointed. (Seriously, it was like buying your kid a toy they hate.) I guess it got put away with some Christmas stuff, because I found it this year and (hopefully) got it out again.
We now have a new kitten that wasn't hear at Christmas last year and both cats love this thing now! When I turn it on, they will actually play with it for an hour if I leave it on the whole time. So, we love this one now. My recommendation is that if you're cat doesn't love it at first, give it a little time. Maybe they'll come around.
My kid loves "runny" (sunny side up) eggs. She would probably eat them every single day if I would make them for her. However, I really suck at making eggs and not breaking the yolk. (If you break the yolk while cooking it, then it's not as much fun–or so I've been told.)
I actually got this egg cooker during one of those gag gift exchanges during Christmas last year. My husband and I laughed in that "Oh well, Goodwill donation" way. However, we decided to try it and it was one of the best gifts ever. (FOR REAL.) It was so good that we bought another one so we could do two eggs!
It took a little playing around to figure out the best time to keep the yolk runny enough, but after that we loved it. Also, you can cook any kind of egg (or anything else) in this. The runny egg is just what we use it for the most!
Ok, I didn't want to get this gift AT ALL. My daughter begged for it last year and I was sure it was just going to be another thing that collected dust in our basement. But, my mom and dad decided to get it for her and she really loves it.
The "pet" hooks onto the seatbelt and the head acts as a pillow (that stays put!). Also, there are pockets and zippers to store books and toys. It's perfect for trips and is pretty easy to take on and off.
This one was a thumbs up!
There are also different types and colors of pets. This pink cat is just the one that my daughter liked.
Last summer, I watched my niece for a couple of weeks during the day. Since I homeschool, I decided that I was going to have "camp" for my daughter and niece to incorporate some learning and outdoor things (so they weren't sitting around watching TV all day).
The favorite thing we did by far was the "Butterfly camp." We read awesome books, I had some butterfly models that showed the different stages and then I got each of them this live butterfly garden and it was a HUGE hit! The great thing is that even when it goes through the cycle, you still have the "cage" for other things. My daughter has used it over and over for nature walks and collections. In the summer, we'll definitely get the "refill pack" to watch the butterfly cycle again. (You release them after you observe them.) It was super interesting for all of us.
My kid might need a 12 step program for Dream Lites. For real. She's obsessed with them and she uses them all of the time.
If you're not familiar with them, Dream Lites are part stuffed animal and part night light. At bedtime, you can click through a series of colors to get to the one you (your kid) wants and then the light projects a series of shapes on the ceiling and wall. It's pretty cool and works wonders if you have kids who are afraid of the dark. After a period of time, the Dream Lite will automatically turn off (hopefully after your little one is asleep).
There are all different styles and types, and even mini Dream Lites that you can click onto a backpack or in the car.
OK, before you think I've lost my mind, let me explain. We started a family gag gift exchange a few years ago at Christmas–you know the ones, where you can keep the gift you picked or "steal" someone else's. Well, I brought this gift and it ended up being the hit of the party. People fought over this butt bank. People stole the butt bank from others and, in the end (heh), my mom got it. (Yes, it was awesome.) The next year? She brought the butt bank as her gift and it started the tradition all over.
So, don't dis the butt bank. For real.
Do you have any favorites (or catastrophes) that you've ordered from TV?