Vegan Recipes for Teenagers
What do you do when your teen wants to go vegan? Do you stress about what tasty vegan dishes to prepare? Do you worry that going vegan will impact his health negatively?
What Is A Vegan Diet?
According to the NHS: A vegan diet contains only plants (such as vegetables, grains, nuts, and fruits) and foods made from plants.
Why People Choose To Be Vegan
The Vegan Society lists a few reasons for this choice:
to protest against animal cruelty and animal exploitation'
for better health
to lower their carbon footprint and help the environment
More and more young people are becoming aware of the ways animals are raised for our food production. So, eating vegan or vegetarian food is on the rise. An increasing number of people including teenagers and children prefer to eat vegan foods. Many restaurants and cafes all over the world have caught onto this trend and have added healthy and tasty vegan dishes to their menus.
Benefits Of A Vegan Diet
Recent research documents many benefits of switching to a vegan diet. 6 Science-Based Health Benefits of Eating Vegan states that a vegan diet:
has more fibre and antioxidants
lowers blood sugar levels
improves kidney function
lowers the risk of heart disease
reduces pain in some forms of arthritis
offers protection against certain cancers
When Your Teen Goes Vegan
First off, don't panic. Vegan food is quite delicious. Check out the tempting plates attached to each recipe below. It is wise to call a family meeting to discuss the consequences for the teenager and the rest of the family.
This would be the ideal chance to build awesome family bonds by holding a family meeting to weigh the pros and cons of your teen going vegan. Check out this YouTube video which highlights some things to consider when going vegan
Our daughter had a stint of wanting to eat only vegetarian food and before we let her do that we asked her to let us know how she was planning to replace the animal protein. This meant that she had to be adventurous and try food she never wanted to eat before.
She lasted 3 months as a vegetarian but did try new foods like pulses and mushrooms. Amazingly mushrooms are now one of her favorite foods. If you're worried about your teen lacking protein in his vegan diet, BBC Good Food's great article on The Best Vegan Protein Sources.
How To Involve Your Teen
Brainstorm together about possible healthy vegan recipes. It is no good to replace a ham and cheese sandwich with a vegemite sandwich every day.
It is an easy way out but it not the healthiest option. French fries are vegan but not great as a daily option. The best thing to do is to involve him in the planning and preparation stages of vegan food. The easiest step to take here is to search Pinterest for tasty vegan recipes.
Make a selection from there and draw up weekly or monthly menus together. Another option is to take a vegan cooking class together to learn how to cook tasty vegan recipes. This will develop a greater awareness of what it means to be a vegan.
Planning and commitment will result in success. For instance, I know a family in Dallas that changed to a vegan diet when their daughter was 11. She is now 19 and it has been a success for the whole family. In fact, the parents are currently more convinced of the benefits than the daughter is.
Many vegans do not have healthy eating habits and replace meat with ingredients that do not give them the same nutrients as meat and fish do. It is a myth that you can't get enough protein from vegetables and pulses. There are countless bodybuilders and athletes who follow a vegan diet and have perfectly healthy bodies.
Vitamin B12 only can be found in animal protein so it will be necessary to take a supplement to be in optimal health.
3 Surprisingly Easy Tasty Vegan Recipes To Wow Your Teenager
Here are 3 delicious easy vegan recipes guaranteed to be so awesome, your teen will be begging you for more.
1. Smashed Avocado On Sourdough
This is a breakfast option. Our kids grew up in Texas and we pride ourselves on high-quality avocados. And that is what you need – big, fat, creamy and tasty avocados without black bits and fibers.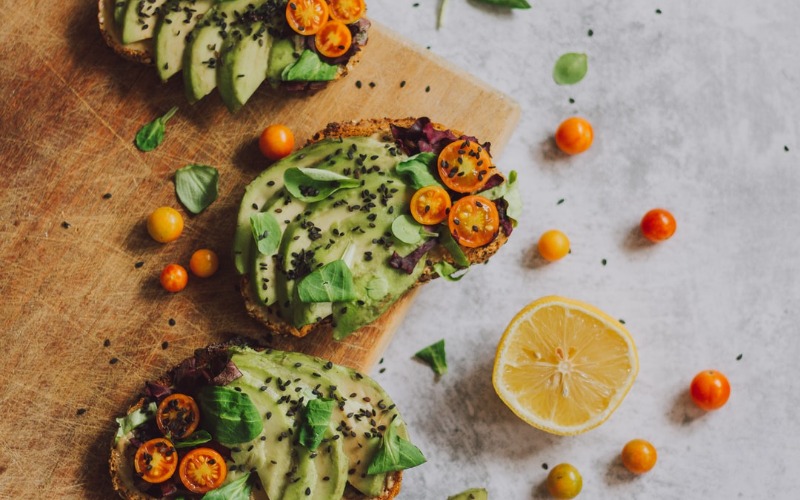 Add to that some tasty Roma tomatoes, a crusty favorite bread, and a good quality Balsamic vinegar or reduced dressing. With these 3 ingredients, your teenager can prepare a tasty vegan dish that will please even the most seasoned 'weekend' cafe regular.
Ingredients
Serves 4 people. Preparation time 15-20 minutes
4 slices of good quality bread – sourdough or rye
2 large ripe avocados
4 -6 Roma tomatoes
lemon juice
sea salt
freshly ground pepper
Salad leaves such as rocket and basil leaves
a Balsamic/olive oil dressing
Method:
Mash the avocado with a fork until smooth. Add salt, pepper and lemon juice and mix well. Slice the tomatoes and toast the sliced bread.
Divide the avocado mixture over the slices of bread. Place the tomato on top.
Finish off with dressing, salad leaves, and basil. The dressing is simply a good quality olive oil, Balsamic vinegar, salt, freshly ground pepper, and an optional crushed garlic clove.
Serve with a drink of choice and Bon Appetit!
2. Caramelized tofu with stir-fried vegetables
This has been my daughter's favorite since she was 5 or 6 years old. It must be the sweet flavor of the Tofu dressing but she has always liked eating tofu. This is an ideal replacement for a vegetarian or vegan.
Ingredients
Serves 4 people. Preparation time 20-30 minutes
1 block of hard tofu, not the creamy type
2-3 tbs of sweet soy sauce
sesame seeds
2 tbs oil
1 garlic clove
1-2 red onion
1-2 red capsicum
2 sweet peppers
carrots
green beans
mushrooms
noodles optional
handful of fresh herbs
Method:
Cube the tofu and fry quickly in some oil until crispy. Add the sweet soy sauce and slowly simmer until they are caramelized. Add sesame sauce.
In another pan, heat oil and fry chopped garlic, onion, capsicum, and sweet peppers.
Parboil green beans and sliced carrots. Add spices and sauces that are compatible with a vegan lifestyle.
Add the cubed tofu and mix well. Serve with chopped herbs such as parsley or coriander.
If you have teenagers with a large appetite add noodles or rice to the dish.
3. Vegan Spaghetti Bolognese
This is a vegan variety of the good old 'Bolognese' but uses lentils instead of mincemeat.
Any type of spaghetti can be used as long as it is not prepared using eggs. We like it with thin spaghetti and serve 85 grams of pasta per person although teenage sons may have a much larger appetite.
Ingredients
Serves 4 people. Preparation time 20 minutes
Pasta for 4 people
olive oil
1 clove of garlic, chopped
1 Spanish or purple onion, chopped
2 carrots
1 red capsicum
2 tins of chopped tomatoes
1 small tin of tomato puree
250 grams of brown lentils
fresh thyme
salt and pepper
Vegan Parmesan cheese if you can find it
Method:
Boil pasta until 'al dente'. This means that there is still a bite to the pasta, but it is cooked.
Heat the olive oil in a deep pan. Add thyme and chopped garlic and fry gently for a couple of minutes.
Add the onions and let them turn soft before adding the chopped carrot, capsicum and the lentils. Fry for 5-10 minutes
Add the tomatoes and puree. Put a lid on the pan and simmer for at least 30 minutes or until the lentils are cooked.
You can serve this dish with grated vegan cheese.
There you go! Three simple, tasty, healthy and fast vegan recipes. So delicious, your teen will be sharing the recipe with his vegan friends. Try these recipes with your vegan teenagers and I bet they ask for seconds.  Bon Appetit!
Final Word
This quote sums up the choice to go vegan perfectly:
Everyone has to find what is right for them, and it is different for everyone. Eating for me is how you proclaim your beliefs three times a day. That is why all religions have rules about eating. Three times a day, I remind myself that I value life and do not want to cause pain to or kill other living beings. That is why I eat the way I do. – Natalie Portman
So, what do you do if your teen shocks you with a going vegan announcement?
Let's recap on the steps to take:
don't panic
discuss the impact of going vegan for your teen and the family
allow your teenager to design his menus
involve him in cooking tasty vegan food
take the leap and join him by going vegan once a week
Do you have any successful vegan recipes that teenagers rave about? Share them in the comments below.
If you enjoyed this post, please help to share it on Pinterest, Twitter, and Facebook because I need your help to spread the word about the awesome benefits of going vegan.