Starting a Vintage Fashion or Thrift Store Business
Starting any business, including a second-hand clothes store, is going to be fairly difficult. Many people will, however, claim that starting a used clothing store is a touch easier. This is because it is one of a few businesses which is 'recession-proof. After all, people are still going to need clothes. Even when the economy is flourishing, these stores do very well by attracting trendy youth, eco-friendly kind, and stingy parents. For people who are short of funds, these stores are a blessing in disguise.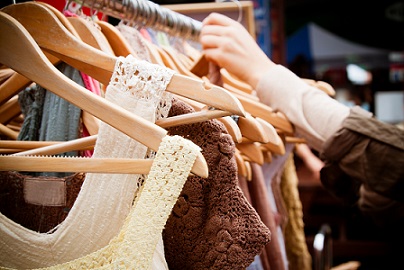 It's fun to run a second-hand clothes store, especially for those who love accessories and clothing. Just like any other business, you need to have the proper talent to run a business and business acumen. If you have worked earlier in the retail business then it will be an added asset. Launching a clothing thrift store is not as costly as a normal clothing store, as it is quite simple to create an inventory. If you belong to the fashion industry then it will be ideal to launch your own used clothing store.
On this page, we are going to take a little look at how you can start this type of store. It is not a complete guide by any stretch of the imagination. However, it will certainly point you in the right direction.
1. Pick a Niche in Used Clothing or Vintage Fashion Business
If you wish to run a successful business, you have to pick a niche. In fact, choosing your niche is one of the most important parts of the process.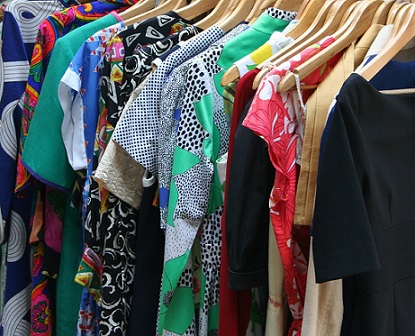 Let's take a little look at how you can go about picking a niche for your clothing or fashion business.
So, What is a Niche?
Well, the simple definition is that it is a segment of a much larger market. Let's say that you are in clothing retail. You are not just going to focus on selling everything, right? Of course not! You will want to sell one specific line of clothing. Let's say, for instance, children's clothing. By selecting a niche, you will be able to focus on one specific area of the market and do it incredibly well. You won't be trying to sell many different products. It would be tough to focus your advertising.
Be Different
When you choose your niche, you need to make sure that you stand out. You want to be sure that the market does not have too much competition BUT you also need to make sure that the sales are there. Sure, a business that caters to clothing just for people who love leopard print is going to stand out, but are there really going to enough people out there who are looking to buy products from you? Can you stay in business?
Understand Your Niche
It is also important that you actually understand the niche that you operating in. A lot of people out there have gone on to put businesses together simply because they believe that there is money to be made. You are only going to be able to make money if you actually understand what you are selling. If you do not understand children's clothes, do not sell them. People will be counting on you for advice. People will be counting on you to source the right products for them. If you do not have knowledge of that particular niche, both of these things will end up being incredibly difficult.
Of course, you also want to choose a niche that fits the area that you are in. Let's say that you are planning on opening in the middle of a fairly rich neighborhood. Do you really want to be selling clothing that has been targeted towards people who are trying to be frugal? I am willing to wager that the answer to this question is no. So, therefore, you are going to want to avoid it.
Available Stock Level
Finally, make sure that whatever niche you select, you need to be able to source the clothing fairly easily. You are going to want to have a decent amount of stock in your store. If you do not have the stock that you need, you will find that people do not visit you. If people do not visit you, you will not be making any more and it will be difficult to keep the doors of your business open!
2. Define Your Target Audience
Whilst you could, in theory, start up a second-hand clothes business without knowing who your target audience is, it is not generally recommended. It makes marketing difficult. It makes planning your stock difficult, and it makes the design of the store difficult (including pricing). Therefore, before you even start to find a location, you are going to need to decide who your audience is. Will it be families? Will it be those who are interested in retro clothing? Are you looking for high-end clients? This all needs to be thought about.
It will also be beneficial to visit similar stores to see which designs appeal to the customers. Take a note of what works along with the price range, the client flow, how things are being managed, how they are displayed, how they cross-sell or team up various items. Pay your attention to the target customers and look out if you have overlooked any particular group.
3. Develop a Business Plan
The next step is to start on your business plan. Thankfully, there are plenty of guides out there in cyberspace which will give you hints and tips on doing this. You will need to factor in who your target audience is into your business plan. A business plan will help you to determine what your expenses will be, how much you may be selling products for, and ideas for market research. A good business plan will constantly be worked upon. Most of your time during the early stages of starting up your second-hand clothing store will be focused on the development of your business plan.
The most important part is to plan the budget well. Include the cost of inventory, rents, deposits to be paid, space, and other essential overhead. Do not forget to keep some amount aside for advertisement and other unexpected expenses, which you may have overlooked.
If you plan to appoint additional staff then you also need to maintain the accounts related to payroll along with tax records. Having a well-chalked-out plan will help you to be successful in the long run. Conduct a proper market survey to know the way of the world and be up to date with the latest styles and the changing trends.
As we already mentioned above, perhaps one of the most important aspects of your business, at least at the start, will be your business plan. As you may well know, it is your business plan which will govern everything that you do with your company.
It is your business plan which will help you to check whether you are doing things right or not. Let's discuss a few of the things that you are going to need to put into your retail business plan.
Your Niche
This is where your business plan begins. You need to decide what type of clothes you wish to sell. You can, of course, start a rather broad clothing shop. However, this is going to be expensive (think how many clothes you will need and how much space you will need to store them!). In addition to this, it will be tough to market your company. Really focus on what you want to sell, and make sure you stick to that plan. We will talk more about how to pick a niche later.
Employees
Do you need any? Do you have plans to recruit any going into the future? I am pretty sure that during the early stages of your business, it is unlikely that you will need too many staff. You may be able to get by on your own. However, as popularity starts to pick up, you will need to look into getting other people to work for you if only to give you a small break.
Funding
Where are you getting your funding from? Are you paying for it out of your own pocket? Do you expect to be paid back? Are you borrowing from the bank? What are the chances that they are going to be willing to lend to you? All of that needs to be thought about.
Location
This is vital. The location of your business can mean the difference between success and failure. Think about whether the location that you select is right for your particular niche (i.e. you do not want to be selling clothes aimed at families in the midst of a trading estate). You should also think about whether you have the money to afford your selected location.
Your Brand
Your clothing store needs a brand. What do you want your clothing store to say about your business? Do you want to be known as the 'go-to' place for cheap clothing? Do you want to be known as the company which is 'reassuringly expensive' (the slogan of a famous beer). You want to be known as the company that provides brilliant customer service, right?
Marketing
How are you going to spread the word of your business? Will it be through the newspaper? Radio? How about word of mouth?
Pricing
Finally, think about the pricing of your company. Think about what you wish to sell your products at. You should bear in mind how long it is going to take to break even here i.e. how long it will be before you anticipate making your investment back.
4. Remember to Choose the Location for your Vintage Clothes Store Wisely
This is where everything starts to come together. Your target audience is going to be important here. You will want to choose a location where your target market will be. For example, if you are looking to sell to low-income families then it is unlikely you will want to place your business in the center of an incredibly wealthy area.
You should also try and find out about the footfall around that particular location. The more people walking by, the better.
Rent is also going to be an important factor. Choose something which you can reasonably afford and that is not too over the top.
And another thing, you will have to make provisions for a fitting room and a room for storage. If your second-hand clothes store has large front windows it will be ideal to display your products in order to attract window shoppers and potential customers.
How to Choose a Location
Perhaps one of the most important decisions that you are going to need to make when opening up a second-hand clothes store is where the shop is actually going to be placed. The location of your store will determine the clientele coming through the doors. It will also determine the amount of money your business has the potential to make. Get the location wrong, you will greatly hamper your chances of running a successful business. On this page, we are going to go through a few tips on selecting the right location for your company.
What is the demographic for the location? This is going to be important. Let's say you are looking to sell clothing to families and the like. Do you really want to open up on an industrial estate? We are sure that the answer to that question is; no. You will want to choose a place where your target market actually is. Before you even so much as think about a property, head to various areas and do a headcount. You want to ensure that there is a lot of traffic passing through.
You need to make sure that the site is accessible. In an ideal world, you will have a location in the center of town. After all, passing traffic is some of the best traffic around. However, this is going to be expensive. If you do opt for something outside of town, make sure it can easily be reached by car or public transportation. If people are coming by car, you also need to know that there will be somewhere that they can park without the fear of being clamped or towed away.
You should try and locate your business in a place that is highly visible. In fact, being visible in a row of shops is some of the best advertising that you can do. The vast majority of your trade will be from passers-by, so you need to know that they can find you!
Try to choose a place with a low crime rate. The last thing you want to do is choose a location that will regularly be targeted by shoplifters or other people breaking into the property.
Think about your finances! You need to be able to afford the location. You could find the best location in the world, but if you do not actually have the finances to hand to pay for it then the location should not even be looked at.
Try to choose somewhere which is close to your home. It is likely that you will be tired after a long and hard day at work. You do not want to be driving miles and miles home, only to need to make that journey again in the morning. Choose something which is no more than a short bus ride or car trip away.
Remember; choosing the right location is a lot of the battle when it comes to opening a successful business. Make sure that you put a lot of effort into it.
5. Do I Need to be Licensed?
In some places, you may need to be licensed. It is worth doing your research to find out whether you need to be licensed in your area. Find out more about legal obligations.
6. Purchase Inventory
Plan if you intend to sell specific used clothing items such as formal clothing, maternity dresses or you just want to limit yourself to the usual clothes. If there is a dearth of specialty stores then it would be quite ideal for you to plan a specialty section as well. Although all second-hand stores will have something for children, being the only one catering exclusively to the needs of children can be an advantage.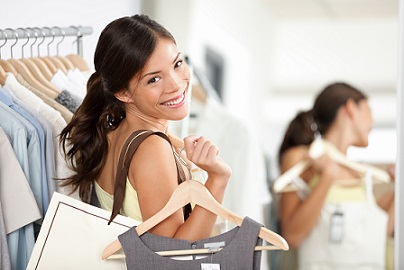 Great, so you are well on your way to having your store set up. Now for the most important part; clothing. You are going to need some. You are a second-hand clothes shop after all. Now, if you are not a charity then you should not really be asking for clothing donations. Most people will not give them to you anyway. Instead, you are going to need to go out there and buy clothing. Look at local flea markets. Look at garage sales. Check eBay. You will even find a multitude of vendors who are looking to offload their clothing in bulk. If a clothing store closes down in your local area, head there too. You may be able to secure some pretty decent deals.
Remember, you are going to want to choose clothing that suits your target market (this is why it is so important!). Do not buy clothing just because it is cheap. If it won't sell in your store, it is not exactly going to make you much money is it? No matter how cheap it is.
7. Set-up Your Second-Hand Clothes Store
A well-maintained used clothing store with a variety of appropriately priced products will go a long way to pave your success story. Maintain the ambiance of the store and keep it in line with the target customers.
It is now time to start kitting on your store with equipment. If you can do so, purchase temporary changing rooms (many shopfitting vendors will sell them). In addition to this, you are going to need a cash register, perhaps connected up to a computer system. You may need a card terminal for payments. You will certainly need clothing rails, and you may also wish for a few mannequins to show off some of the best clothing that you have in stock.
If need be then invest in a security system as well. Give customers enough space to move around freely between the racks.
Decide on how you are going to price your goods. Some used clothing stores will price by the rail (i.e. everything on a certain rail is a certain price), although this can get confusing for both you and your customer. It also leaves very little leeway when it comes to pricing.
Plan the pricing system which uses color coding or marking the older items. Keep signage that reveals the markdown process so that it is visible to the clients and they can compare the prices of the products easily. Perhaps the best option is to price every product that you have in stock individually. This will ensure customers (and you!) know the price of that item.
Maintain the standard of the clothes and accessories which you are planning to sell. Second-hand clothes or accessories which are torn or look stained will reflect badly on the reputation of your store. Hence stick to the standards you have set and never compromise on them. You will have loyal customers only if you provide them with quality products.
Additionally, you can provide dry cleaning and alteration services at your store. You might also need a sewing machine to alter the clothes or to mend them at times.
8. Additional Services in Used Clothing Store
Businesses exist to make as much money as possible, right? Now, you may be trundling along, quite happily, with just the retail of clothing. However, you will be surprised at just how much money you are potentially leaving on the table by not offering additional services. Now we are going to take a little look at some additional services that you may wish to introduce into your clothing store.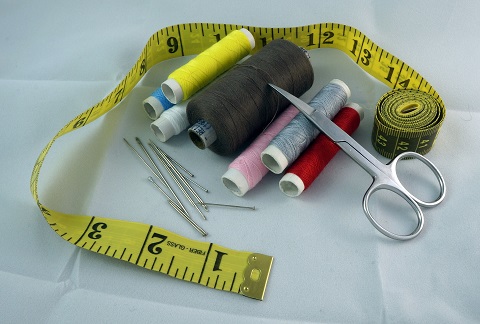 Before we begin, however, it is important to think long and hard about whether you really have the time to introduce additional services into your clothing store. If you are a one-person operation, you won't get far. The last thing you want to do is spend all of your time on additional services and absolutely no time on actually ensuring that your clothing store is running perfectly. In an ideal situation, you will most likely wish to get a dedicated staff member in to deal with all of those additional services. This will cost you a little bit of money, obviously, but if you do things properly then you will be surprised at how much value the staff member brings to the table.
Now, let's say that you run a second-hand clothes shop, maybe selling vintage clothing. There is a fairly decent chance that a particular item of clothing may not fit the person in question. They may still want it, however. So, what do you do? Well, you can offer a clothing alteration service. They pay you a fee, you still sell the item of clothing, and they end up with something that fits them perfectly or close to it at least. This is money that you would not have had in your pocket if you did not offer that clothing alteration service in the first place.
Of course, this service is not just going to be limited to those who purchase from your store. If you offer high-quality clothing alteration services, and I have every belief that you will do so, then you will end up getting a decent amount of people through your door when word starts to spread.
Don't just stop here either. People want to know that their clothing is going to be well looked after. They want to ensure that it is in the best possible hands. This is why you should also if you can afford the equipment, offer dedicated dry cleaning and ironing services. People will be willing to pay a decent amount for this service (you will be surprised at how much people will be willing to pay you for ironing!). This will result in a decent income stream. Remember, both of these services are something which people will require on a fairly regular basis, so if you do a good job the first time around then they will coming back for more and more. Many clothing stores actually make the vast majority of their profit by offering services such as ironing and dry cleaning.
9. Do You Need Staff?
Even if you plan to keep the store open for only 5 days per week, it would be a good idea to hire an assistant to help you. Try to hire someone who knows a little bit of everything and can substitute at the counter, display, help in cleaning, and other day-to-day duties.
Generally speaking, you should have at least two people working in your second-hand clothing store. One of these people should be dedicated to helping out customers whilst the other staff member will work the cash register. You may not actually need staff right at the start. Your business may be quiet enough not to. However, eventually, if all goes to plan at least, you will want to start taking people on to work for you. Remember, check local laws about employment.
10. Market Your Business
The final step is to get the word about your business out there. Newspaper adverts are going to be fantastic for this. It is fairly cheap to advertise in local newspapers nowadays. If you have a bit more of a budget, you can also look into radio advertisements.
Organize a show or an event, or if you can afford then sponsor a fashion competition. You can even start your own website and promote your business through social media. Moreover, you can donate second-hand clothes that didn't sell to a non-profit or a shelter, as this will only help the word to spread.
Do not forget the most important form of advertising, however. This is word of mouth. If you keep a good selection of products in stock and treat your customers well then they will tell their friends and family about you. This will, of course, lead to even more customers in your store and even more money in your pocket! Good Luck!