So, you've got a room overflowing with baby junk and you have no idea where to start.  As Julie Andrews would say, "Let's start at the very beginning, a very good place to start…"
We will get your baby's room in order in no time!  It just takes 3 steps!
Categorize.
Prioritize.
Organize.
Categorize
First thing's first.  If you're a mommy-to-be, shout it from the rooftops,  then head over to your local dollar store and get yourself some baby hangars and clothespins.  (These are usually by the laundry/cleaning products)  Spend a few dollars to keep you organized from day one!
Second thing's second.  Scout Pinterest to find some adorable printable clothing separators or head to a Hobby Lobby, Michael's, JoAnn, etc., and get yourself some size separators.  This way, from the start, you can have all baby clothing divided by size.
Pro Tip: When you have size 3M and 3-6M.  I suggest keeping those ALL in your 3 month category in your closet.  It's better to have those 3-6M clothes where you can see them and consider them.  If you have them in the 6 month category, they may be too small by the time you get there.

I made this mistake because my baby was a Preemie size and I didn't think she'd be getting into those clothes until much later on… she went from 4 pounds 15 ounces to almost 20 pound in less than 9 months!

Fortunately, I am constantly going in and re-organizing and realized that I had made this fatal error with my pregnancy brain and we didn't end up outgrowing things we had never even had the chance to see!
You'll be able to see what you have very easily and know if you'll need to go out and get certain items that you'll need (much later on).  If clothes come with receipts, use those clothespins to keep them with the outfits they are for.
If you have an outfit with several pieces and don't want to hang them on separate hangers, link the hangars together or put those clothespins to work!
Hold off from washing clothes or putting things into drawers just yet.  I know the temptation to nest.  Washing and getting things put away and ready. I washed everything and threw away all the receipts…BIG mistake!
Prioritize
Now is the time to make your life convenient!  Figure out what you will be needing the most immediately and what you will be using the most often.
Pull out a portion of your huge Newborn section. Sleepers, onesies, pants, etc.  Maybe 10 of each if you have a lot.  De-tag, wash, and fold.  Then place what you will be using the most often in the most convenient spot for you.
This is how our dresser is laid out.  (My husband and I went around to the vintage furniture shops and found this dresser for $100 and refinished it and added some fabulous knobs!)
Organize
We have a changing spot designated on top with our handy-dandy diaper genie close by.  We keep the drawer right under the changing pad well stocked with diapers, wipes, and cream.  That drawer is open at all times unless we have company over, so we keep the drawers beneath it as more diaper/wipe storage.
If you do not have 9 drawers or have one of those fancy cribs with a built-in changing table, consider decorative baskets for diaper storage or use your closet floor space.
We have medications at easy reach in the top middle drawer. I also keep the travel bag with them so we can easily pack before a trip.
Below that is a small drawer of teeny tiny socks. I put the pairs together by shoving one itty bitty sock inside of the other so you can see what the socks look like and they can't get easily separated (our dog is a sock thief!)…and, heck yes, there's Christmas socks in there year round!
The bottom middle drawer is where we keep swimwear and drool bibs (things we hardly use)
Our onesies are used the most often so we keep those at easy reach in the top drawer. Our baby runs hot, so when at home, she rocks a diaper and onesie most of the time.
Below that are sleepers and rompers. Our baby lived in sleepers for the first three months of her life because she was preemie sized (which gave us VERY limited options for wardrobe) and sleepers are convenient as all get out!
I used to keep rompers hung in the closet, but it's summertime in Texas and it is a scorcher! So we brought those out to the drawer once we were using more onesies than sleepers and had the space.
The last drawer of our dresser holds her pants, shorts, and skirts for when we go out in public.
Are you asking yourself, but what about the shirts and dresses? Shoes? Hats?
Clothes are hung in the closet until needed.  Her shirts and dresses for fancier occasions reside in here in their labeled size section.
Clothes in her current size that have yet to be washed and can be exchanged for bigger sizes also reside here for if she decides to go up a size overnight…which has happened.
I got this fabulous door organizer at Target but there are tons of places you can get them.  Lowes, Bed Bath & Beyond, and Amazon.  It was about $30 and I adore it.  (I have one in my pantry as well!)
I have constantly exchanged what has been in it.  Baby accessories are tiny!  I kept shoes, hats, bath supplies, towels, diaper genie refills, labeled bags for daycare, swim diapers, wipe boxes, etc. in there.
Something VERY VITAL I would like to point out is the tub (with lid close by) I keep at the bottom of her closet.  When you go to put something on your baby and they look like a stuffed sausage, fold it and put it in an "outgrown bin".

This way, you have a place to immediately place things that you have washed… and now look half the size of your ever growing baby. Once it's full, place the lid on it and put it in whatever type of storage you desire and replace it with another empty bin!

(I keep a small piece of paper in there along the side that has what sizes are in this box… if you wind up with 10 boxes and another baby shows up, you want to know what is what!)
But what about headbands?
Should I be making one of those adorable Pinterest-worthy oatmeal canister headband holders?
Sure you can, but I went a little coo-coo on the Wish app and bought 3 or 4 huge packs of headbands that I could personalize and would have to have 12 of those headband holders to display them all.
I have them neatly folded in a bin so that I can move around and match the perfect headband to her outfit of the day.
How do you fold such tiny little clothes?
First of all… could this onesie BE any more true?
Folding tutorial coming up!
Now you can line them up in the drawer and easily see which is which! You can also roll them if you'd like, but that takes a lot more time and effort! But, you go Glen CoCo if that's your thing!
(I roll and place each outfit – complete with headband into a ziplock sandwich bag for travel… but more on that for another post!)
Pants! But what about itty bitty pants?!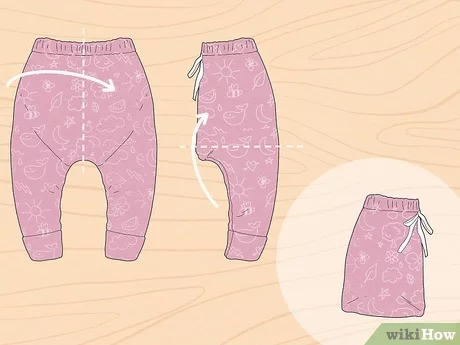 And there you go! Teeny tiny folded pants that can be placed in a line or two (or ten) so you can easily see what's what and grab a pair without messing everything up!
If you have more categories that you'd like advice on if you have a dresser only or a closet only and would like advice, please feel free to comment or e-mail me and I'd be happy to help you get organized!
Good luck and happy organizing!