Tips to Pick the Best Airbnb for the Money
In my recent travels I have been staying at Airbnb around in the US and in Mexico. At first I was nervous about choosing an Airbnb, as a mom traveling alone it made me a little anxious: How do you know it's a safe neighborhood? How can you tell if the Airbnb host will be genuine and not some creeper? How do you know if it will actually be clean and comfortable?
Here is how I have begun qualifying which Airbnb I like. I hope that the tips within this article will help you to choose your Airbnb confidently, book safely, and have you enjoying the perfect launchpad for your next adventure out in the world.
Start at the Beginning
Ok, first step: set up an Airbnb account. You can use this link to get $40 off your first stay and $15 off your first Airbnb experience! I have my account hooked up to my Facebook for easy login, which means it pulls my picture automatically. This isn't an issue for me, but just a heads up in case you have any concerns about those sorts of things.
Research First, Book Second
Research comes first. It's time to figure out the neighborhoods of your destination. This is so, so important – especially as a woman traveling on her own. It's so easy to think, "Wow! What a great deal!" and book something, only to find out you are 8,000 miles from the area of the city where you want to explore or that you've landed yourself next to the state petitionary…. Do your homework, get to know where the museums, fun nightlife, and best neighborhoods in the city are located then cast your Airbnb net.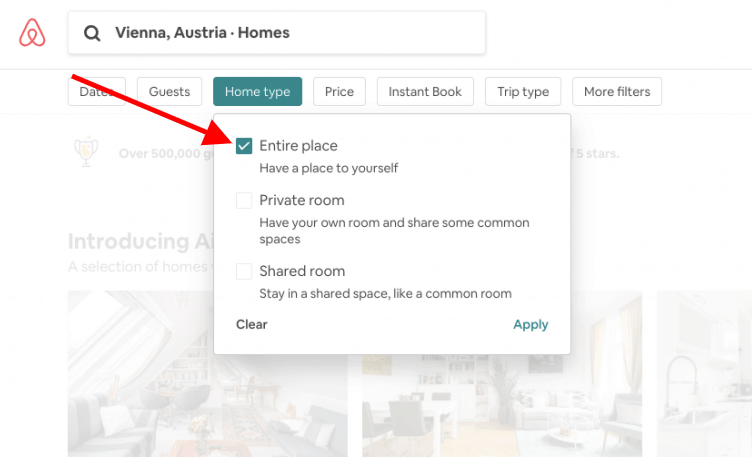 To do this, I usually start by finding the tourist zone through a Google search for "top 10 things to do in XX city" and then hop over to Google Maps. Where are the main attractions that you will be visiting on your adventure? Where are the public transportation hubs, the airport? Do you want to be in a city center or in a quieter suburb with a little longer travel to the main areas? Once I've done that initial search, I will look for high-end shopping areas or neighborhoods. By the very nature of the beast, these areas are going to be safer, better patrolled, and make me feel much more confident that I will feel comfortable walking around on my own.
Pro Tip: If I am traveling somewhere where I know someone, I always will ask for their advice. Not only are they more knowledgeable about the safety or each neighborhood, but sometimes after my initial search it turns out that the neighborhood I liked is "ok," but I really need to stay in the adjacent neighborhood because the restaurants are "so much better!". Little local tips like that go a long way, use your network!
Use Your Filters
Enter the city you are visiting into the search field and choose 'stays'. Enter your dates and hit search. You can then start applying filters to help narrow down the selection to be more applicable to you and choose your Airbnb. I usually choose to filter the results to only include 'entire place'; some great experiences can come from shared lodging, but personally I find it more comfortable to have the space to myself – more room to stretch out and less chance of an awkward roomie situation. When I'm traveling with friends, I also choose how many 'beds' or 'bedrooms' we will need.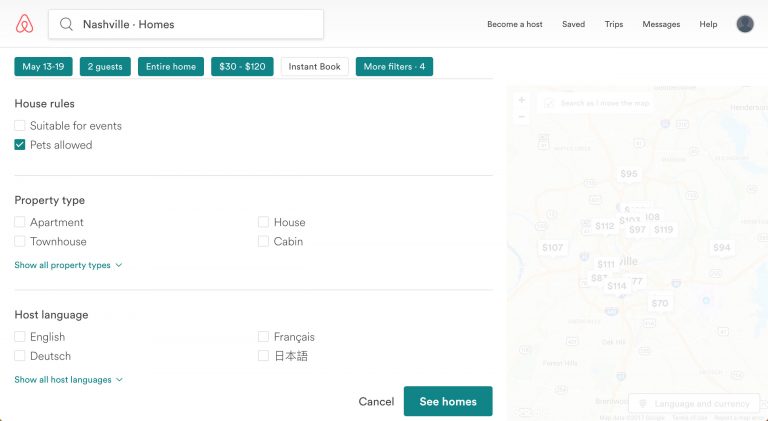 When I'm traveling with my dog, I check the 'pet friendly' filter option. If it's a longer stay, I'd also make sure you are getting a full kitchen by turning on the 'kitchen' filter.
Pro Tip: Beds vs. Bedrooms – If you choose 'beds', that means you will see places with a combo of actual beds and fold-out sofas or cot. If you know you and your travel buddies will want your own private rooms, I recommend filtering with the 'bedrooms' option – that way you are getting actual separate sleeping quarters.
Have fun! Zoom around!
Now is the fun part! Start clicking around the map and checking the images to see what you like. A few things I personally look for in the photos:
I like bright, clean spaces with lots of windows. Something about dark rooms and photos is a total turnoff.
How new is the furniture? The appliances? Is the room decorated nicely or bare?
How many bedrooms are actually showing up in the pictures? How many bathrooms?
Is there a full kitchen pictured? (as needed)
Does the bed look comfortable? How about the living area? Can you picture yourself at the dining room table?
Look at the space – is it full of someone's personal belongings? Or more similar to a hotel setting? I prefer to go for the guest Airbnb space that is only an Airbnb, versus someone's personal home that they let out while on vacation, etc. I prefer to have my own space.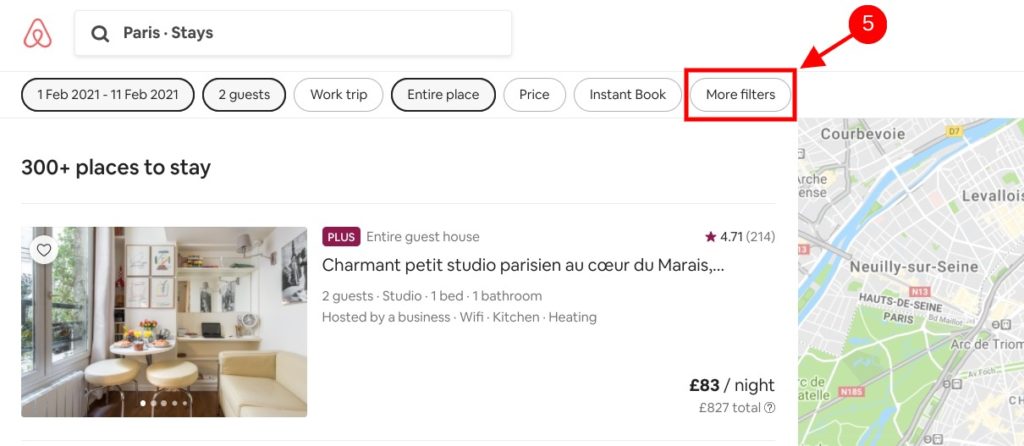 While you are going through the listings, save them by clicking on the little heart in the corner of the listing. This will prompt Airbnb to ask you if you want to create a list – yup, you do. I like to name the list "City – Date", example: Milano, Italy – 2022. Start saving any of the listings that speak to you, you can go in and clean up the list later if you feel like it.
Pro Tip: You can share the Airbnb list with friends, which is really helpful if you're doing a group trip and you want input from your fellow travelers.
Read Reviews & Check Amenities
Once you've created your list and have pretty well exhausted your options in the search, it's time to start checking out those reviews and the amenity details before you choose your Airbnb. When you're reading the description, usually you can get a pretty good feel for whether or not you're going to 'vibe' with the Airbnb host. Is it easy to understand? Have they taken the time to personalize it? Are all of your questions answered? Then dive into the reviews. I usually take things with a grain of salt, but pay attention to your gut feeling – noticing a lot of complaints about tidiness? Don't book it. Noticing that every single person mentioned how sweet Magdalena is and that she makes the best tamales this side of the equator? Book it.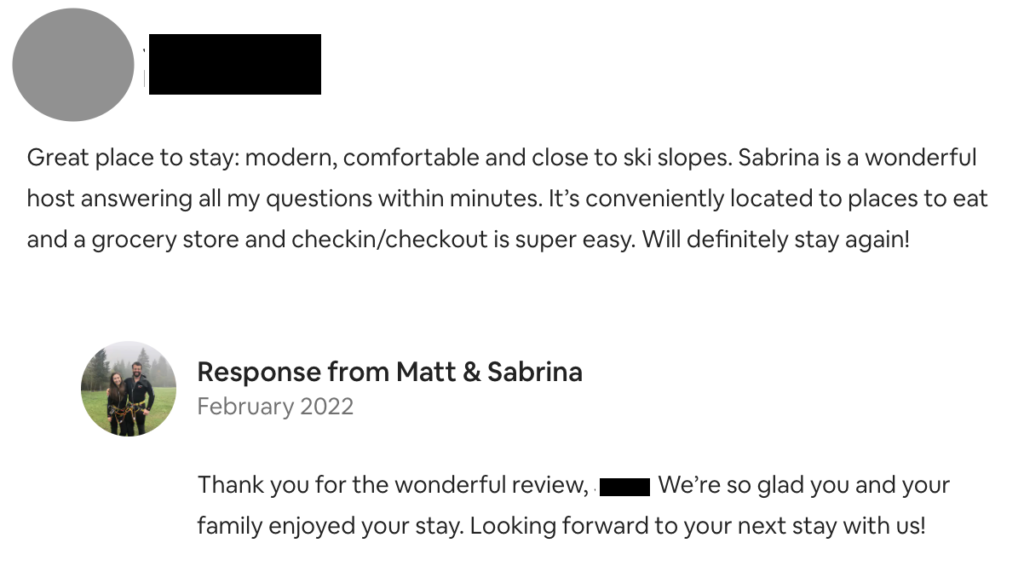 Along with the reviews, there is a section that outlines the amenities included. Make sure you will have what you need to create the best experience, please don't assume anything will be provided just because it's what you're used to at home. This is particularly important to remember when traveling internationally. WiFi and AC are not in every home, do your checking before booking to make sure you will be comfortable.
Keys to Safety
We've talked a little bit about how to choose your Airbnb in a safe neighborhood, now I want to also talk about picking the actual unit. If you're booking an apartment, I will always go for one in a building that has a doorman. That way you have security, there will be someone to greet you with the key if needed, and they can be a great resource for things in the area!
If you're booking a whole house, really examine those photos and pull up the address on Google Earth street view (do this with any Airbnb booking!!). What is the neighborhood like? Does the house have a fence? Do you see locks on the doors? Is the neighborhood looking well-maintained with a sense of pride in ownership from the neighbors (versus trash, bars on the windows…etc.)? All of these are critical things to look for to make sure that you are setting yourself up for a safe, easy Airbnb experience.
Time to Book
You've done your research on the city, you have your neighborhood picked out, you know how far it'll be to get from your Airbnb to the attractions, you love the Airbnb you found, the price is right, it has all the amenities you want, the reviews are glowing, and you are ready to book. Awesome. Airbnb requires you pay a certain amount up front and the remainder at the time of the stay, so whip out that card and book away, babe!
Pro Tip: Each Airbnb has its own cancellation window, so make sure you know what yours is when you choose your Airbnb just in case something comes up. They will also usually include a cleaning fee in the price.
Things to Remember
Great, you're booked! Here are a couple really important reminders for information you'll need from your Airbnb host in advance:
What is the exact address of the Airbnb? Is there an apartment community name or building number you need to know?
How will you gain entry into the Airbnb? Are they leaving a key in a lockbox? Is there a doorman?
What time is check-in/check-out?
What are the house rules? Anything you need to be aware of before arriving?
You can also use this conversation to ask the host for recommendations in the area – where to eat, what to do, things you can't miss. Who knows, maybe there is the world's best cappuccino waiting for you just across the street in that dinky little shop you totally were going to walk past. Ask the locals, always. You'll be glad you did.
Be a Great Guest
Airbnb isn't a one-way street. These are homes and special lodgings offered by real people, please be a great guest and be respectful of the space. Read the house rules and actually do what they ask, please. Take the trash out, strip the sheets off the beds, run the dishwasher – whatever you can to leave it in good condition. This will help guarantee you a great review from the host (which will help you later down the road with future Airbnb bookings!) and is a kind thing to do. Be a good traveler and have respect for your surroundings.
Pass It On
After your trip has come to an end, please spread the love and write a review for your host. Just as you used those reviews to make your decision and choose your Airbnb, it's important to pass it on and share your experience. One of my favorite things about my Airbnb in Mexico City was that I could sleep with the window open and wake up to beautiful birdsong. You better believe that went in my review!
I also believe in being honest with the host if you did not enjoy your stay. Send them a direct message or add it to the review versus blasting them in the public comments section. Once I had a stay where it very clearly was her full-time home and I felt it had not be properly advertised, plus there was dog hair everywhere and there was no heads up about that in the description. The dog hair doesn't bother me, I have a dog after all, but if someone with allergies had booked that house they would have been in serious trouble. It's important to be honest and share in a kind way to help the Airbnb host and hopefully the next traveler.
Now you know how to choose your Airbnb! Travel safely, confidently, and enjoy every minute of it.