Prime Wardrobe Review
You know what sucks about shopping online? Not knowing what size to order, the quality of the item, if the color is going to look okay, or if it fits your body type. Basically having no idea if the item is going to work before you bought it. So you're paying and praying it all works out, right? And if not, you're going through each company's return process to return it in store or through the mail to get your money back. It can be kind of a bummer.
Amazon Prime Wardrobe is a solution to this bummer.
Amazon Prime Wardrobe was a simple and convenient way for me to get clothes, shoes, and accessories delivered to my door.
Doesn't it seem like everything looks different in your own mirror?
You're also only charged for what you keep, so if you don't keep anything, you won't be charged anything. Amazon covers both ways of shipping.
What is Amazon Prime Wardrobe?
Amazon Prime Wardrobe's tagline is "Try before you buy." Because that's exactly what it is!
Items that are Prime Wardrobe eligible can be shipped to your house, tried on at home, and then charged to your account once you decide what you want to keep.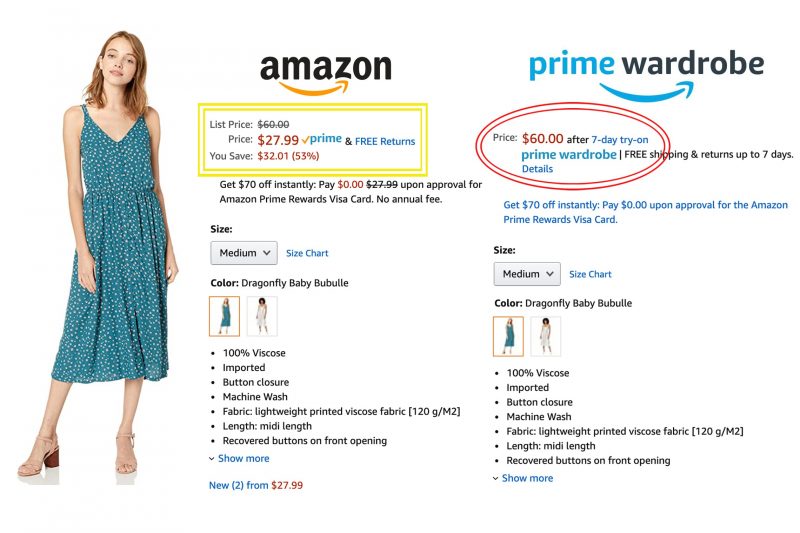 This is great because if you're trying an item in several different colorways and sizes, you don't have to pay for each item. You'll get charged after you decide what one works for you. Are you not sure if you're an 8 or 8.5 in a certain style of shoe? Order both sizes and then only pay for one if you end up decided to keep it.
Amazon Prime Wardrobe removes the hassle of being charged for items you end up not wanting, and removes the wait time for a return refund.
How Does Prime Wardrobe Work?
Subscribe to Amazon Prime. Amazon Prime is a paid membership program that grants you free shipping on Amazon as well as the ability to stream video and music, among other benefits. The membership includes several Amazon-specific services and deals, such as Prime Reading.
Choose eligible items. Go to Amazon and look for pieces that are Prime Wardrobe-eligible (they will have a 'Prime Wardrobe' badge). You must choose at least 3 items and may select up to 6. There are over a million apparel options available from various brands. There are items in the categories of women's, men's, girls', boys', baby clothing, shoes, and accessories. Unless you keep the item, you will not be charged for it.
Try Out Your Choices. Once you've made your selections, Amazon will ship them to you in a resealable return box with a prepaid shipping label. You have seven days from the time your package arrives to try on everything and decide what you want to keep and what you want to return.
Unwanted items can be returned. Return the items you don't want in the resealable return box to the returns method in your country, such as UPS in the United States or Royal Mail in the United Kingdom. The items you aren't keeping must be in their original packaging, with tags still attached. If you change your mind after seven days, you can still return the item as long as it is within 30 days and the tags are still attached.
Ordering Through Amazon Prime Wardrobe
Not everything in the clothing/shoes/jewelry/handbag section of Amazon is eligible for Prime Wardrobe. But you can find out easily what is by shopping through the designated Amazon Prime Wardrobe page or filtering your regular search with the "Prime Wardrobe" checkbox on the left hand side of the screen.
Generally I find that well known, name brands (Calvin Klein, Levi's, Nine West, etc.) and Amazon brands have eligible items. But it depends on the size and color of each item you're interested in. If it's eligible, there will be an option to add it to your Prime Wardrobe cart instead of the regular one on the right hand side of the screen.
Here are a few other things you should know about ordering with Amazon Prime Wardrobe:
You must be a Prime member to use the service.
You need a minimum of 3 and a maximum of 8 items to ship your order.
There is no minimum dollar amount for an order.
You can't order two of the exact same item (must be a different size or colorway).
You can only have one active Prime Wardrobe order going on at one time (you must return your first box before ordering another).
Shipping and returns with Amazon Prime Wardrobe are only through UPS (you cannot return through USPS like other Amazon returns). You have 7 days from when you receive the item to go to your order online, tell Amazon what you want to keep, and then postmark the box back to Amazon.
See more answers to FAQs here.
My Amazon Prime Wardrobe Order
I decided to try out Amazon Prime Wardrobe with a large order of denim shorts. I searched and searched for Levi's 501 shorts in store, and none were to be found, so I had no idea what size I would be or what styles I liked best when ordering online. I ended up ordering 4 pairs of 501 shorts in 3 different washes, two different sizes, and two different waist styles.
Here are the ones I ordered: High-Rise "Bring to Light" (reg size), High-Rise "Caught in the Middle" (size up), Mid-Rise "Festival Go-To" (reg size), and Mid-Rise "Festival Go-To" (size up).
I ordered on August 4th and received my items on August 9th. In comparison to other Prime orders I make, I would say it was on the longer end for shipping, but nothing unreasonable.
Ordering two different sizes and waist styles helped so much because I ended up only keeping one pair.
Here's a comparison of the high-waist style with the size up on the left and regular size on the right. I like the slouchier look of the size up on the left, and sitting down in the regular size was not a good look for my thighs!
I ended up not liking the mid rise style of the other two pairs, and was disappointed when one of those pairs came with black stains (kind of looked like grease) splotched in different areas of the shorts. This was a big disappointment considering I've had good experiences in the past with Amazon orders. I'm not sure if the fact that this was a Prime Wardrobe order had anything to do with receiving a damaged product.
After my try on session I went to my Amazon order online and selected what items I would be keeping and what I would be returning. I was immediately charged for the one item I was keeping.
P.S. I ended up keeping this pair.
Auto Amazon Links: No products found.
The order comes with a return label already, so I just repacked my box and dropped it off at UPS the following week!
The Verdict: Is Amazon Prime Wardrobe Worth It?
Amazon Prime Wardrobe is a great service if you like to shop for clothes, shoes, and accessories with the flexibility of being charged after a try on session.
If it doesn't bother you to pay up front and be refunded later, then this probably isn't the service for you. Also if you don't care for many of the brands currently eligible for Amazon Prime Wardrobe, I would wait it out until they expand further.
For me, I can say this is definitely a service I will continue to use in the future. My husband and I keep a monthly budget of all our spending, so previously tracking orders and returns was a pain that could cross over several of our monthly budgets. Only being charged for what I have tried on and know I want to keep reduces some of that hassle, as well as gives me the ability to try different sizes and colorways in items I'm interested in.
Some scenarios where I can see using Prime Wardrobe are: finding a special dress for an event (get a few colors, styles, and sizes), testing out different trends for an upcoming season, or even trying out a brand you're not familiar with and need a few sizes to get yours right.
Would you try Amazon Prime Wardrobe?