Nanny: a Fulfilling Career?
With more than 4 million babies being born each year in the United States alone. With approximately 55% of mothers in the workforce, it's no wonder according to the U.S. Department of Labor, Bureau of Labor Statistics, the employment of childcare workers is projected to grow by 20 percent between 2010 and 2020, faster than all other occupations.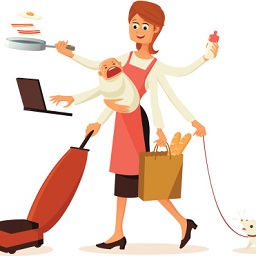 While pinpointing exactly how many nannies are employed in the United States is nearly impossible to do, given that industry tax and payroll experts cite that about 90% of nanny employers pay their nannies illegally which prevents accurate tracking, it's loosely estimated that a 1.3 million nannies care for the nation's children in their private homes.
Although statistics and data can be hard to track given the number of nannies that are employed off the books, the nanny industry does a fair job of gathering and reporting its own data. Each year the International Nanny Association (INA), a non-profit educational association for the in-home childcare industry, conducts a Nanny Salary and Benefits Survey. According to the 2012 survey report, full-time live-in nannies, about 89% of the nanny population, earn on average, $652 gross per week while full-time live-out nannies earn, on average, $705 gross per week.
Nannies and employers may talk about weekly salary figures during contract negotiation, however, nannies are non-exempt employees protected under the Fair Labor Standards Act. As such, nannies are required to be paid at least minimum wage for every hour worked and live-out nannies, and some live-in nannies, depending on the state, are entitled to an overtime differential at the rate of 1.5 times their hourly base wage for all hours worked over 40 in a 7-day period. For nannies who work more than 40 hours per week, which is standard in the industry, their employers must break down their weekly salary into a base hourly wage and an overtime hourly wage and both must be compliant with the Fair Labor Standards Act for them to be compliant with applicable labor and tax laws.
Many believe that nannies are independent contractors but according to the Internal Revenue Service (IRS), nannies are employees of the families for whom they work. As such, nanny employers have specific legal and tax obligations. While a nanny's gross pay is subject to income taxes, nanny employers can expect to pay an additional 10% of their nanny's gross annual wages in required payroll taxes. Fortunately for the 10% or so of the nanny employers who do pay legally, there are tax advantages and breaks available for doing so that can offset that cost.
Although nannies work in the private sector, they are the highest paid of any childcare workers, typically outearning teachers, daycare workers, and other early childhood educators. As with any profession, the more education and experience a nanny has the greater her earning potential. In addition to education and experience, a nanny's annual salary also varies significantly depending on geographical location, skill set, and references.
Like many employees, nannies receive standard employment benefits. Nannies typically receive 2 weeks of paid vacation, paid time off, sick days, personal days, and full or partial contributions to their health insurance premium. Contributions to retirement are becoming more common, with easy-to-manage IRAs and 401K becoming more readily available and accessible to nannies and nanny employers.
When it comes to finding nanny jobs, the trend is moving away from using local nanny placement agencies and word-of-mouth referrals. While a July 2019 report in INAVision, The Official Newsletter of the International Nanny Association, reported that 33% of its website visitors found their current nanny positions through an online nanny recruiting site that number is still rising, reaching almost 40% as of September 2019.
Nannies are employed by parents to provide childcare for the family's children in their private homes. They are responsible for providing high-quality customized, personalized, and attentive care and partner with parents to meet the physical, social, intellectual, and emotional needs of the children. They are also responsible for all the tasks relating to providing childcare, including doing the children's laundry and keeping the children's areas neat and clean. While nannies can be employed to care for any age child, a majority, more than 90%, care for children who are younger than age 9, according to INA.
Nannies can also find specialty jobs within the industry. Nannies who have extensive experience and training working with newborns may take jobs as newborn care specialists. Nannies who prefer to work with high-needs children or multiples, may care out a niche for themselves and exclusively take jobs that require caring for high-needs children or twins, triplets, and higher order multiples.
And while most people assume that nannies are only for the rich and famous, the reality is that a majority of nannies, more than 70%, work for a professional couple, while less than 5% work for a celebrity, according to the association.
While there is no licensing required for nannies, there are minimum standards widely accepted within the industry. Nannies should be at least 18 years of age, in good health, have at least 2 years of verifiable childcare experience, and have current CPR and first aid certification. Nannies must also be legally able to accept employment in the United States. Nanny employers must confirm their nannies' eligibility by completing form I-9 from the U.S. Department of Homeland Security.
Nannies seeking jobs can also expect to undergo an intensive evaluation. Nannies typically must submit to a background screening, including a social security number trace, criminal history check, driver's record check, and sex offender check. Nannies typically must also provide at least two verifiable childcare references and two character references.
For nannies who desire formal training, there are a limited number of nanny schools and training programs across the United States. The American Council of Nanny Schools is a coalition of schools whose graduates earn the title of Certified Professional Nanny. The International Nanny Association also offers a Nanny Credential Exam and Nanny Basic Skills Exam. Those who pass the credential exam earn the title of INA Credentialed Nanny.