Finding Child Care Centers
The quest to find the best Austin daycare center for your child should be a well-planned and researched process. With some daycare centers being exceptional and others simply being bad, it is critical to choose a center that allows your child to grow and develop his skills while also having fun.
There are numerous benefits to enrolling your child in a daycare center. A good center will have a variety of activities that will teach various skills. Projects that encourage creativity, storytelling, dancing, and singing all assist the child in learning rather than simply playing all day. Children also have the opportunity to socialize with other children, which they would not have if they were at home with a nanny. Finally, centers are more stable and consistent than nannies because the center will keep an eye on your child even if a teacher is absent.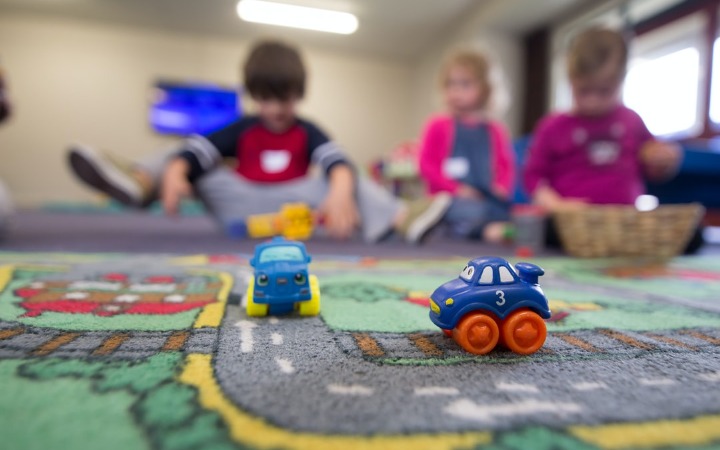 However, there are a few drawbacks to daycare centers. Children and babies are rarely given the one-on-one attention they would receive at home with a parent or nanny. Children are also more likely to become ill because they are exposed to more germs from other children. While centers are usually very structured and have clear rules for parents to follow, such as those regarding picking up your child, a disadvantage is that you may be charged if you pick up your child late, have to find a place for your child on holidays, or find someone to watch your child if he or she becomes ill and is sent home by the center.
Finding a good daycare center
To help you find the right daycare center, we've put together a list of steps that will walk you through the process of finding a good daycare center, noticing the signs of a good daycare center, and recognizing the signs of a bad daycare center.
Make a list of what's important to you.
Make a list of what matters to you. Do you want a center that is close to your home? Close to your workplace? Do you want your children to be in large groups or smaller groups?
Research all your possibilities.
Investigate all of your options. Inquire with your friends, family, doctors, and referral services about centers they would recommend. Look for other possible centers on the Internet and in the phone book. Remember to keep your list of important topics in mind as you conduct your research. Is the center accredited by the National Association for Early Childhood Education or the National Association of Family Child Care? Is the center the recipient of any local awards or recognition?
Call and ask preliminary questions.
Once you've narrowed down your list of potential centers, call them and ask some preliminary questions. This is an extremely important step. Make a note of your initial reaction to the conversation and write down whether you had a positive or negative reaction, as well as what caused you to feel that way. You should inquire about their policies, hours, fees, activities, and teaching philosophies. Are they willing to work with you on your schedule? Will they honor your special requests? What is the teacher-to-child ratio there? Do they switch between activities frequently? Do they have qualified teachers?
Visit and interview the center.
Remove the centers from your list that you have a bad feeling about. Next, go to the center about which you have a good feeling. Make a list of the activities and take a look around the facility. Is the center a warm, clean, and safe environment where your child can learn and have fun? During your visit, pay close attention to the actual teacher-to-child ratio to confirm what they told you over the phone. Also, ask any additional questions you may have, and ensure that the director allows you free access to everything you want to see or know about. Again, your gut instinct is crucial.
Start checking references.
Reduce your list once more, then begin checking references. Call the parents of children who are currently at the center or who have previously been at the center. Inquire about their thoughts on the center and whether they would recommend it to you. Inquire as to why their child is no longer at the center.
Take you child to the center for a visit.
Visit the center with your child. Examine how your child behaves in the classroom and around the teachers. Does your child appear to be at ease? Do you believe your child would be content at the center?
Enroll
Enroll your child once you've found a daycare center that meets your requirements and that you believe your child will enjoy. If there is a waiting list, add your name to it and find a temporary caregiver until a position becomes available.
Signs of a good daycare center
Having the time to research is one way to ensure you get the best daycare for you and your baby, but what else should you consider? Here are the characteristics of a great daycare.
Reputation
The references you speak with should be extremely pleased with the center. If they are unsure or have doubts, you will most likely be as well.
Caring and qualified staff
The staff should be enthusiastic and interact positively with the children, demonstrating that they genuinely care. The staff should adhere to your philosophy regarding discipline, feeding, and sleeping. Employees should have at least two years of college education, a background in child development, first aid training, and knowledge of CPR. The American Academy of Pediatrics recommends the following child-staff ratio.
| Age | Child-Staff Ratio | Maximum Group Size |
| --- | --- | --- |
| Birth-12 months | 3:1 | 6 |
| 13-30 months | 4:1 | 8 |
| 31-35 months | 5:1 | 10 |
| 3-year-olds | 7:1 | 14 |
| 4-5-year-olds | 8:1 | 16 |
| 6-8-year-olds | 10:1 | 20 |
| 9-12 year olds | 12:1 | 24 |
Safe, clean facility
A good center has clean floors, walls, restrooms, kitchen, and changing stations that are well lit and ventilated. Policies should be established regarding how to keep things clean, when and how often hands should be washed, and how to keep toys and equipment in safe working order. The center should have an emergency plan in place, including first-aid kits, fire extinguishers, and child-resistant storage areas. All general child safety precautions must be taken.
Established rules and policies
A good center will be flexible, but it will also have set hours, enforce rules on sick children, and require checkups as well as immunizations to prevent illness spread. The center should have an open door policy, allowing you to drop by unannounced. If they do not have this policy, it is possible that they are concealing something.
A full activity schedule
A good center will have a schedule that includes play time, quiet time, individual activities, meals, snacks, and group activities. TV and video games should not be included in a good schedule. A good center teaches a wide range of topics while also teaching topics appropriate for the age group. Look for toys that are appropriate for your child's age as well. These toys should be enjoyable while also allowing the child to be imaginative and creative.
A valid license
While a license does not guarantee that the center will work for you, it should be licensed by the city services department in your area. Examine the center's accreditation with the National Association for the Education of Young Children. State licensing regulations differ. The ChildCareAware website lists your state's child care regulatory agency as well as other useful information.
Signs of a bad daycare center
Be cautious when researching daycares and look for signs of a bad daycare facility. Here are some daycare danger signs to be aware of. Choosing a daycare provider for your child is both an exciting and intimidating task. Keep these red flags in mind when selecting or switching daycares, and trust your instincts.
Reputation
If you have heard negative feedback or have questions about the daycare center, it is not for you.
An unqualified staff
A staff with no formal child training, no college education, and no emergency training is not one you want around your child. If there are more than three or four children to each teacher, it is possible that the teachers are overworked, underpaid, and dissatisfied with their jobs. This situation may result in high employee turnover, which will not provide your child with the best daycare available.
Unsafe, dirty facility
Do not use a center whose facilities are rundown, have poor lighting, dirty play or food preparation areas, toys and equipment in need of repair, or have dangerous items within children's reach. This is not a safe place for your children if there is no emergency plan, first aid kits, fire extinguishers, or child proof storage areas.
No set rules
A center with no policy and no set rules is not for you. This will result in confusion, misunderstandings, the spread of disease, and an overall unsafe environment.
No daily schedule
If the center does not provide a daily program of activities for your child, he or she will not have the opportunity to learn and grow. Your child requires stimulating, imaginative, and creative activities in order to be educated. Don't use them if the center only allows the kids to play and watch TV.
Expired licenses
Do not use the center if it has an expired license or no license at all. This means they are either doing business illegally or are unable to meet the requirements of your local city services to operate as a safe, quality center.
Find a Day Care Center Near You
Daycare Center Discounts in Austin
Discount for siblings. Sibling discounts were the most common type of discount we saw in Austin. The sibling discount ranged from 2% to 40%, but 10% was the most common.
Discount for one-time payments. Preschool and daycare are both costly. However, if you can pay the annual fee in one lump sum, some schools will offer you a discount. If it isn't on the website, make sure to inquire. We usually saw it listed with a discount of 1-5% off.
Closures and absences. Daycare Providers appear to be split on this one. If your child will be absent because of illness or vacation, or if school is closed down due to holidays or inclement weather, you may be wondering if you will receive credit for those days. Make sure to read your handbook – or simply ask the school. Typically, a school's policy will be that no changes will be made. However, we did come across a few schools that provided vacation credit or pro-rated certain weeks.
How to Get Free Child Care in Austin
Workforce Solutions Capital Area Child Care Services provides subsidized child care help and support to Travis County families who qualify. Check their website to see if you're eligible and to join the waitlist. If you have already applied, you can check your status by calling their office at 512-597-7191.