Everything You Need to Know about Cosmetic Tattoos
Ever wished your makeup would just last forever? Imagined waking up with your brows, liner and lips looking filled-in, fresh and flawless? Well, you can! The secret? Cosmetic tattoos – also known a semi-permanent makeup – applied using a super precise process called nano-needling.
Until a decade ago, cosmetic tattooing (aka permanent makeup or PMU) had a bad rap. Early adopters faced thick, fuzzy lines and off-key pigments that developed tell-tale blue or red hues over time.
It was the 2010s that took cosmetic tattooing next level. Artists riffed off traditional tattoo techniques, adapting tools and styles for finer lines and believable colors.
With the promise of perfectly filled, fluffed, and symmetrical brows that won't sweat, rub, or wash off, it's no wonder so many of us are queuing up to go under the needle. As pigments eventually fade, most artists use the term 'semi-permanent makeup' to manage expectations. How long your tattoo lasts depends on skin type, pigments used, the area tattooed, and your commitment to aftercare – but with color taking up to 7 years completely disappear, face tattoos require serious trust.
Are Nano Brows the Same as Microblading?
The main difference is in the technique. While tattooing has been around in various forms for centuries, Microblading (aka Eyebrow Embroidery) originated in China and became a popular treatment over here about 6 years ago. Microblading uses a U-shaped hand tool with lots of tiny needs to cut uniform hair strokes into the skin.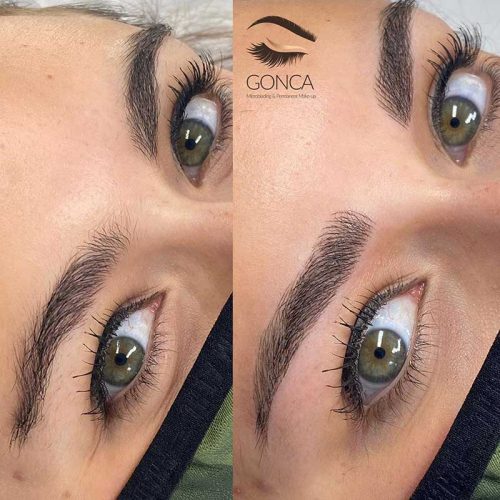 Cosmetic Tattooing uses a single needle and lightweight tattoo pen, a combo sometimes referred to as Nano Needling. It perforates and deposits pigment into the upper part of the dermis, letting me create really dynamic diverse hair strokes. This freestyle method allows a tattooist to embrace the wildness of each client's natural hair pattern, while giving sparse brows believable structure, balance, and a hint of her trademark 'floof'.
And, unlike microblading tools, single needles can be turned to just about any kind of cosmetic enhancement, including freckles, eyeliner, lip liner, and even hyper-realistic areola restoration.
Is NanoNeedling Better Than Microblading?
The answer is determined by the look you desire as well as your skin type.
Nanoblading creates more exact and meticulous appearances. Because each stroke is unique and thinner than a microblading stroke, they blend in better with natural brows and allow the artist to modify the arch with greater precision. Nano-needling also appears more natural on people who have thin brow hairs.
Furthermore, because thin strokes are more durable, nano brows are better suited for clients with oily skin and large pores, as well as clients with alopecia who have no brow hairs, as nanobrows tend to look more organic than microblading.
What Is Nano Needling And How Does It Work?
Nano Needling uses a lightweight tattoo pen with a sterilized single-use needle cartridge, to deposit pharmaceutical-grade pigment into the upper part of the dermal layer of skin. This technique comes from traditional tattooing, but the depth of the needle is shallower to allow for finer detail and gradual fading.
Nano needling is quite similar to microblading, they both get the same kind of results, but it's a different mechanism. Microbladers are limited to brows whereas I can do brows, freckles, lips, eyeliner, anything!
Will A Cosmetic Tattoo Last Forever?
The ink will eventually fade – which is a positive thing! While you may want to continue having permanent make-up throughout your life, your tastes and features will likely change between now and 30 years time.
Some pigments take longer to fade than others. This depends on the specific pigment used, which area is treated, your skin type and lifestyle factors. For example; light blonde brows applied to someone who has oily skin will fade much faster than black eyeliner applied to someone with a normal skin type. Other factors can speed up fading, such as your metabolism, if you sunbathe, or if you are deficient in iron.
Generally, it will take 3-7 years for any color to completely exit the skin. In order to maintain your look, it is recommended to have a color boost treatment every 9-15 months.
It's Less Painful Than Waxing
Most cosmetic tattooists apply an anaesthetic cream before they get started and top up as needed during the treatment, so discomfort is minimal. To keep the face as still as possible,  clients are asked not to talk as she's tattooing so you might even find you drift off mid-treatment.
What If I've Already Had Brow Tattoos?
For blonde brows, the old color needs to be 90% faded, for brunettes there can be a little more color present but only if it's appropriate to go thicker. This lets me extend the shape and create some hair-stroke fluff around the edges while hiding the old color with shading in the middle.
What's The Best Way To Avoid Getting A Permanent Tattoo That You're Not Happy With?
Always check the artist's portfolio online. If their work is of a high standard, this generally suggests that they are certified, experienced and working in a clean and licensed location. It's also good to check that the immediate environment in which your artist is working is sterile:
Is their equipment covered in plastic sleeves?
Are they wearing gloves?
Have they taken their sterile disposable needle cartridge out of an individually packaged unit?
If the answer is "no" to ANY of these, run. Simultaneously, if an artist is particularly cheap, they might be inexperienced or cutting corners with the quality of their equipment. As with most things in life, the price usually reflects the quality of the service provided.
Will My Brows Always Look This Good?
Stick to the aftercare and your brows should look perfect for between 9 and 15 months with a gradual fade .
After your appointment, swerve sweaty exercise for 7-10 days and sun exposure, swimming, and saunas for 2 weeks. The pigment will appear darker immediately after treatment and become flakey for up to a week, so plan your appointment around holidays and special occasions.
Don't freak out, by the start of week two you'll be fully obsessed with your new brows. The sun is a tattoo's worst enemy, so even after the healing window, protect your brows with a high factor SPF every day.
Also, go easy on Retinol and AHA/BHAs, as any ingredient that increases skin cell turnover will decrease the longevity of permanent makeup.
Older pigments used to fade out to a salmon pink, but I don't see that happening a lot lately. If it does, it's likely due to iron deficiency (as the body will draw the iron oxides from your brows in desperation), or prolonged and repeated sun exposure.
You may still want to tint your natural brow hair and tend to the shape with your usual tweeze, thread, or wax routine. But other than that you can set 'em and forget 'em with a quick brush and a little clear brow gel.