Christmas traditions are big in my family. I love to make magical memories for us all to enjoy over the Christmas period to make it that little bit more special. From the way our Elf arrives at the beginning of December, to writing letters to Santa, to the way we celebrate Christmas Eve, it's all planned out carefully. I love planning and creating so it's a lot of fun for me and the whole family benefits from these special touches.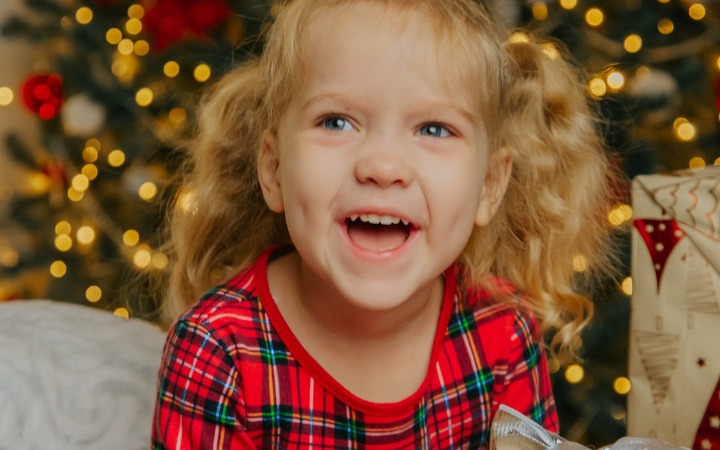 One of the first things we do on Christmas morning is going through our Christmas stockings. I think that no matter how small or inexpensive a gift might be, it should always be something I genuinely think the recipient will enjoy. Christmas stocking fillers can sometimes be a little boring, so I've compiled a list of my favorite toddler stocking fillers. These are all ideas that I think many toddlers would love, including my own!
Torch and Projector
These torches are really great to use at bedtime to project different images on the wall. There are a variety of themes such as space, nature, cute & cuddly, and sharks.
Stacking Animals
These stacking forest animals are a lot of fun. Stack them up as high as you can before they fall over. It's great for cognitive and motor skills. I love that these animals can be used in pretend to play too. They come with a little carry bag to keep them all together when not in use. Le Toy Van has some other fun stacking toys such as stacking veggies and stacking Andes animals.
Chunky Crayons
Chunky crayons are great for toddlers to use for mark-making. Big enough for them to grasp before they are able to use a pincer grip. These Honey Sticks crayons are made from beeswax and food-grade pigment for the color, meaning they are safe for toddlers.
Wooden Lacing Apple
A wooden lacing apple is a lot of fun for toddlers and is especially great to keep them entertained when on the go.
Play-Doh
One of the easiest options for toddler stocking fillers is Play-Doh. It's great for their imagination and color recognition. The list is endless for the creations they can make. Have you seen the sparkle Play-Doh tubs?
Sticker Books
What toddler doesn't love stickers? You can grab packs with their favorite characters such as these Peppa Pig stickers. There are over 700 stickers in this pack, so it will keep your toddler entertained for plenty of time.
Wooden Camera
This wooden camera is the perfect toddler stocking filler idea! It has a flash which goes off when you press the button. A camera noise when you press the button and a kaleidoscope view. My toddler has lots of fun pretending to take photos around the house and telling us to say "Cheese!" This is a must-have toy for any stocking this year!
Lego Duplo
Lego Duplo is great the perfect size for toddlers. You can get these mini packs which are perfect as a toddler stocking filler. They come with just the right amount of pieces for a toddler to make and play with.
Hat & Gloves Set
Sometimes a practical gift is all you need for a stocking filler. A hat and gloves set, is ideal for those winter months. Have a little fun and grab a design that your toddler will love.
Magnets
These magnets from Melissa and Doug are perfect. The magnet covers the whole back so it's ideal for toddlers. There are no small magnets and they are ideal. My kids have loved these magnets for years now.
Remote Control, Phone, and Keys Set
If your toddler is anything like mine and wants anything they shouldn't have, a pretend remote control, phone, and keys set is a great idea! Although this box is on the big side for a stocking filler, you can take them out of the box and pop them in the stocking.
Color Bath Drops
This is probably a fun stocking filler for all kids and therefore a great addition to a toddler's stocking. Change the color of the bath water with these fun Colour Bath Drops to make bath time that little bit more fun!
Toothbrush
A practical but fun gift. You can grab a character toothbrush, or once they turn 3, an electric toothbrush could be even more interesting.
Sippy Cup
A new sippy cup is always an interesting gift. I have loved these sippy cups for my two. They don't leak or spill and come in a variety of colors. You can buy them with or without handles and in different sizes. I really love the stainless steel version.
Water Painting
These Water Magic painting books are a lot of fun. They come with a pen that you fill with water and as you color over the pictures, the colors appear. Once dry the picture will be clear again, for your toddler to use over and over again. These books are made of thick cards, so they are very durable. These books are good to take out on the go to keep your toddler entertained when out and about. I love to pop them in my kids' travel activity bags to keep them entertained on long journeys.
Fun Socks
Christmas wouldn't be Christmas without some new socks! Grab a few fun pairs to pop in your toddler's stocking this year.
Toddler Stocking Fillers Final Thoughts
Whichever toddler stocking fillers you choose, I'm sure your little one will have fun going through their stocking! Check out my 30 Family Christmas Traditions for some ideas on additional ways to spend the Christmas period. Do you have any toddler stocking fillers that your little one has absolutely loved? Let me know in the comments below.