Personalized Wine Charms – Mark your drink with this party favor
I love wine! Who doesn't?
But, I'm not a big fan of plastic cups at parties, especially a bridal shower.  You know the drill – you pour, take a few sips, and set it down.  It inevitably goes missing or you can't decipher yours from the others.  So, for this bridal shower, I thought, "Why not use real wine glasses and make favors with personalized wine charms?" I've become a pro at making wine charms.  I have made them for just about everyone I know.  So that part was easy.
I also wanted real glasses.  No plastic.  I was able to find inexpensive wine glasses for about $1 each.  I bought large goblets so they could be used for wine, water,  iced tea or my special Bridesmaid's Punch (recipe to come tomorrow).  I already had plenty of colored beads and the supplies — I just needed some alphabet beads so that each guest's name would be clearly displayed on her wine charm.
Here is how you can create your own personalized wine charms aka "Name Charms!"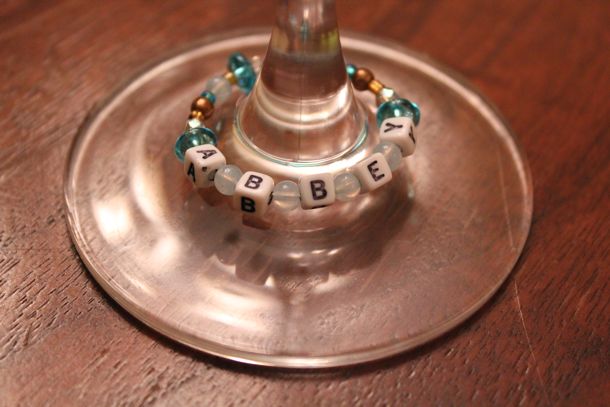 Name Wine Charm Supplies Needed:
Wire Hoop Rings – Found in an assortment pack at any craft store. I went with the large size for these charms to allow for long names to fit around the ring.
Alphabet Beads – Its best to get two packs so you don't run out of "E's" – it's apparently the most popular letter!
Beads in an assortment of colors and sizes
Round Nose Pliers
A felt bead holder – or a cookie sheet (so your beads don't go spilling everywhere!)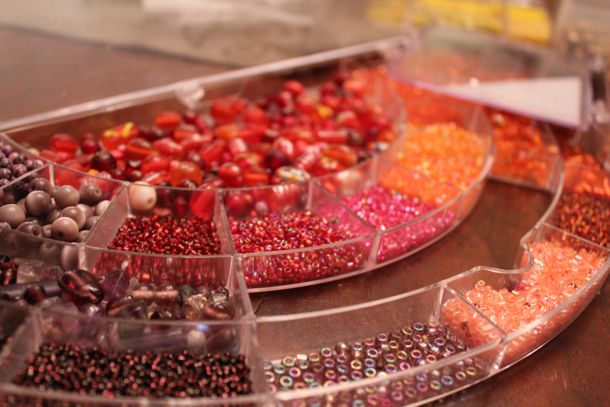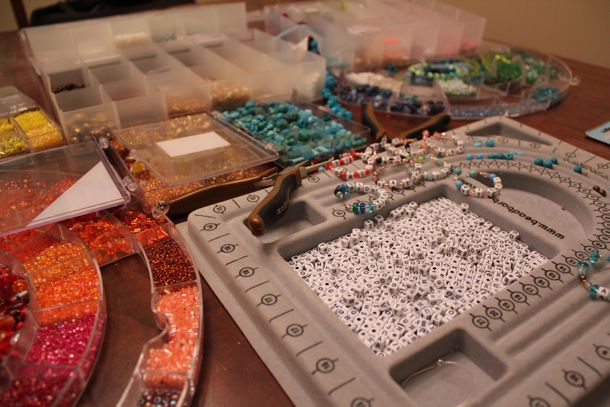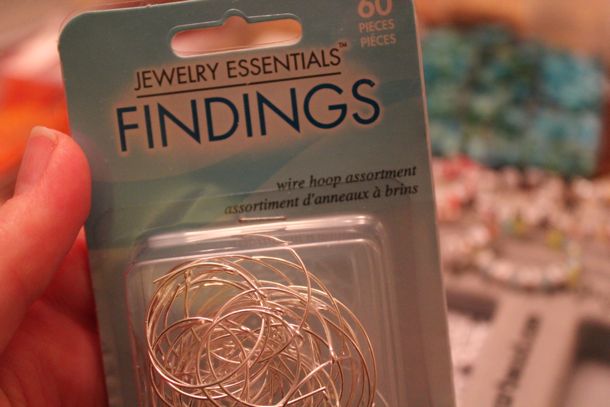 Preparation Steps:
Select your names. I found that having my guest list printed out was helpful.  Then select the letters needed for the first name.
Select a color palette for each charm. You can go with any combination you'd like. If you know the guests, keep their favorite colors in mind when customizing their charm. Make sure you have a variety of colors and sizes. I also think its best to make them as unique as possible so the guests don't mix up a red "Julie" with a red "Julia."
Once you have your beads and supplies, pick and lay out a pattern on your bead holder or cookie sheet for each charm. You can pretty much go with any pattern you wish. I like to make the pattern match on each side of the name. It takes some practice, and the first few you may want to redo a few times. It's no big deal … you're not committed until you finish the end and clip it off (and even then you can always snip the loop and start over on a new ring).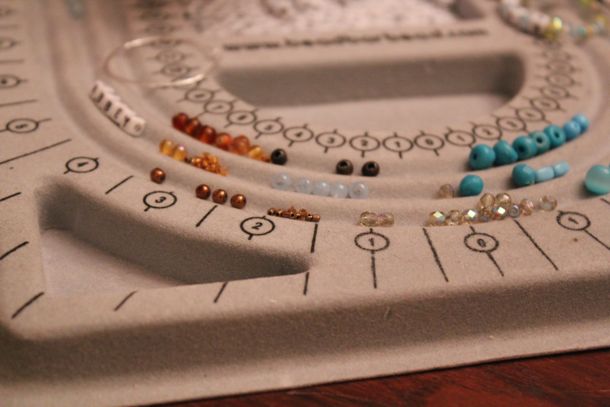 With these Name Charms, the pattern is on the sides and the letters are in the center with spacer beads in between each letter. The spacer beads can be the same or vary. If you vary them it's best to just vary the color and not the size so the name is easily read.  Remember, your guests will be drinking, so make it easy for them to find their glasses!
Tip: You will have to adjust your pattern with each Name Charm, depending on the length of the name.
Assembly Steps:
Place several beads in a pattern of your choosing on the loop.  Next, begin with the first letter of the name.  Make sure all the letters are all going in the same direction. As I experienced, you may have to go back and switch a few around.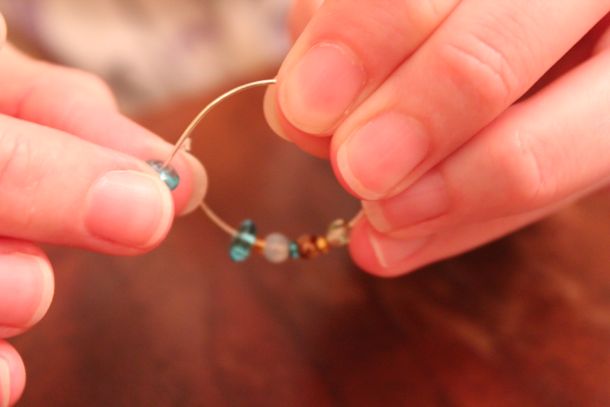 Place a spacer bead between each letter and, once you get to the last letter of the name, begin the side pattern, but in reverse.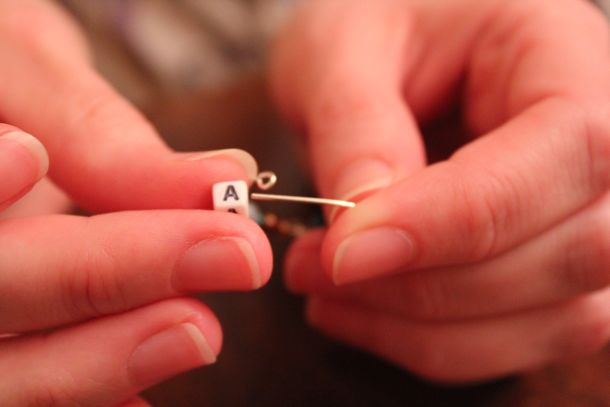 Once you get to the end make sure you have about a ¼" – ½" of wire left.
If you have too little wire you'll need to remove a few beads. I have found that it's best to have an extra loop close by to move the beads to a new loop as you remove them. This time, cut 1-2 beads or, as needed, from the sides and place the letters on in reverse from the first loop. This way you don't lose your pattern that you created (you've just cut it down a bit).
If you have too much extra wire at the end of the loop, use the same technique, but this time add a bead or two or as necessary to the pattern after placing the beads on the backup loop.
The first few charms take the longest but you'll get the hang of it.  I find it helpful to group names of similar length together.  Use your last five-letter name as a guide for your next and so on.
Closing Your Charm:
Once you get to the end of the wire loop and have added all your beads, take a pair of round-nose pliers to the end of the wire loop and turn until you have a closed loop.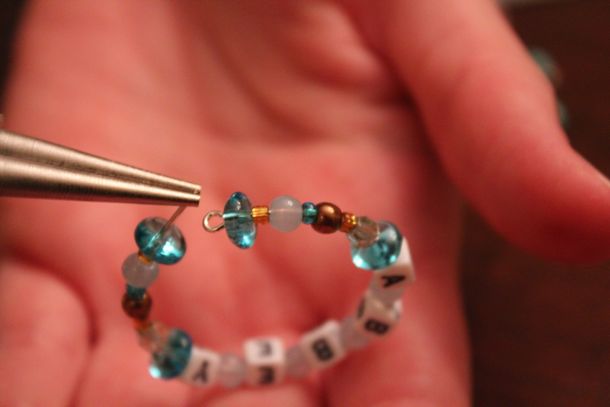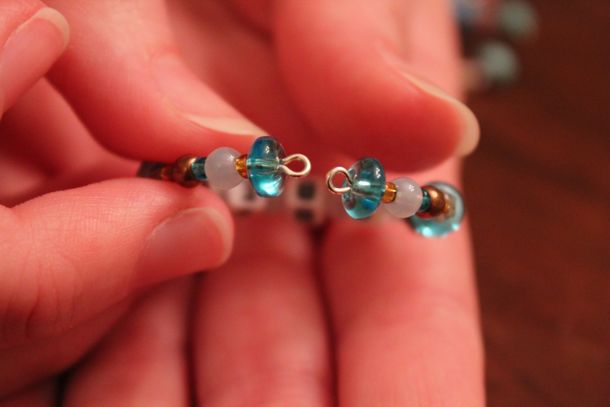 Voila – You're done.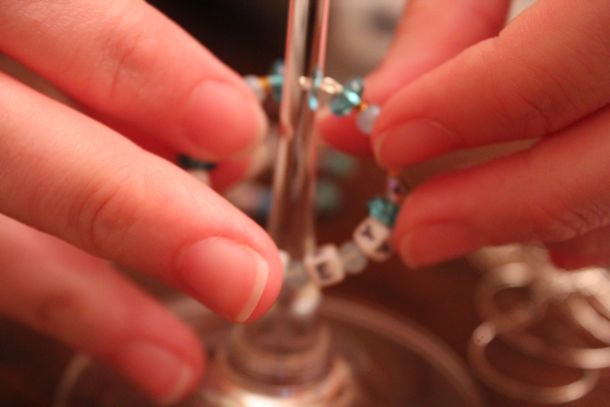 These are really a great gift for your guests.  They can keep it and use it again and again (you can't do that with candy almonds or chocolate kisses).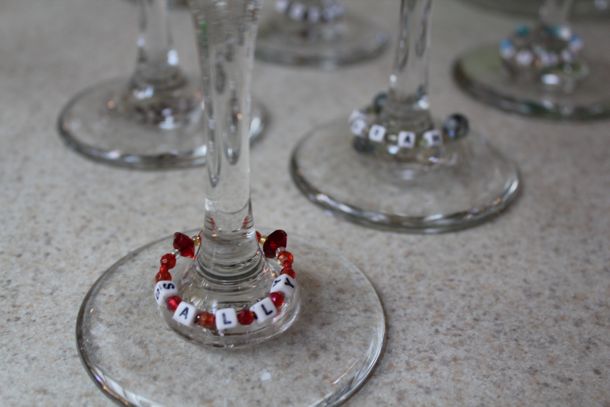 It's really not that complicated, but, please if you are going to stick with plastic cups for your party, at least provide a Sharpie!