Best Monster truck Toys
Radio-controlled vehicles are toys children love at any age. The feeling of being able to move an object around with one simple hand device brings excitement and joy. Children love making these controlled vehicles drive over hills, rocky surfaces, grass mounds and anything that looks like the pair of remote control wheels can drive over. Some of the most popular remote-control vehicles children adore these days are the remote control monster trucks.
Hot Wheels Monster Jam Mohawk Warrior Die-Cast Vehicle
One of the coolest and biggest radio control monster trucks kiddos love playing with is the Hot Wheels Monster Jam Mohawk Warrior Die-Cast Vehicle. The Die-Cast truck has a 1:24 scale size, huge durable wheels, a high-flying structure with a car-crushing appearance, and a classic monster truck design. The truck itself is about 8 inches long and 4 inches high, which makes this toy easy to store away after playtime is over. Parents love how well this toy is built and its durability of it. However, they do not like that you have to buy the batteries separately.
Maisto Radio Control Rock Crawler Vehicle
With its two-motor functions that have low gearing for rugged off-road action and high gear for speed, the Maisto Radio Control Rock Crawler Vehicle is one that provides long hours of entertainment. It even comes with rear and front-wheel suspension, a tri-channel transmitter, and a radio controller. However, you do need to purchase 6 AA batteries for the vehicle and 2 triple A batteries for the control since this neat toy does not come with these accessories.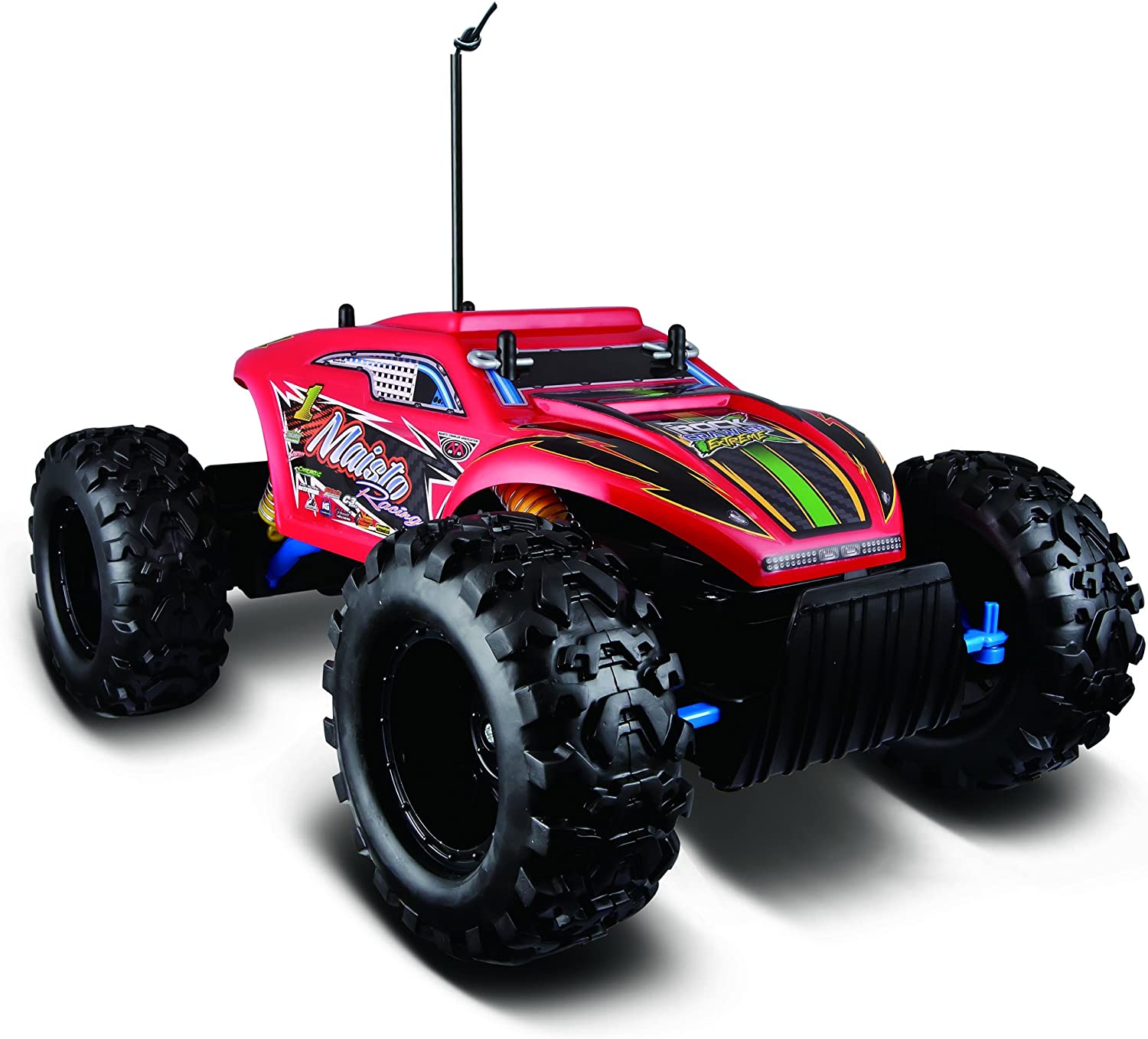 Best birthday gift for any child who loves monster trucks or likes to have remote control cars. Lightweight so it moves fast. Can take this on vacations and keep the kids entertained and does not take up that much room in the car. The cars can even go over gravel or somewhat tough terrain. So this is perfect for camping or going to the condo on the lake.
Thankfully, this toy is easy to store away since it is only 12.5″ long and weighs around 4-pounds. Best of all, you do not have to worry about kiddos fighting over this remote control monster truck since it does allow three kiddos to play with it at one time. Parents who have purchased this cool toy for their children love that it goes over all kinds of areas with ease such as grass, pavement, gravel areas, sidewalks, and hills, but they do not like the whining noise of the motor of the toy makes. Parents also love that this toy is durable, simple to use, and steers with ease.
Maisto Tech Red Radio Control Rock Crawler RC Remote Control Race Truck
If you are looking for a radio control vehicle that is rugged and drives over rocks with ease the Maisto Red Radio Control Rock Crawler Remote Control Race Truck is the one for your kiddo to play with outdoors or inside. The truck comes with a full-functioning remote control with different speeds and gears, different suspensions, four rugged wheels, and a bright red color to it that is easy to spot when the truck is stuck.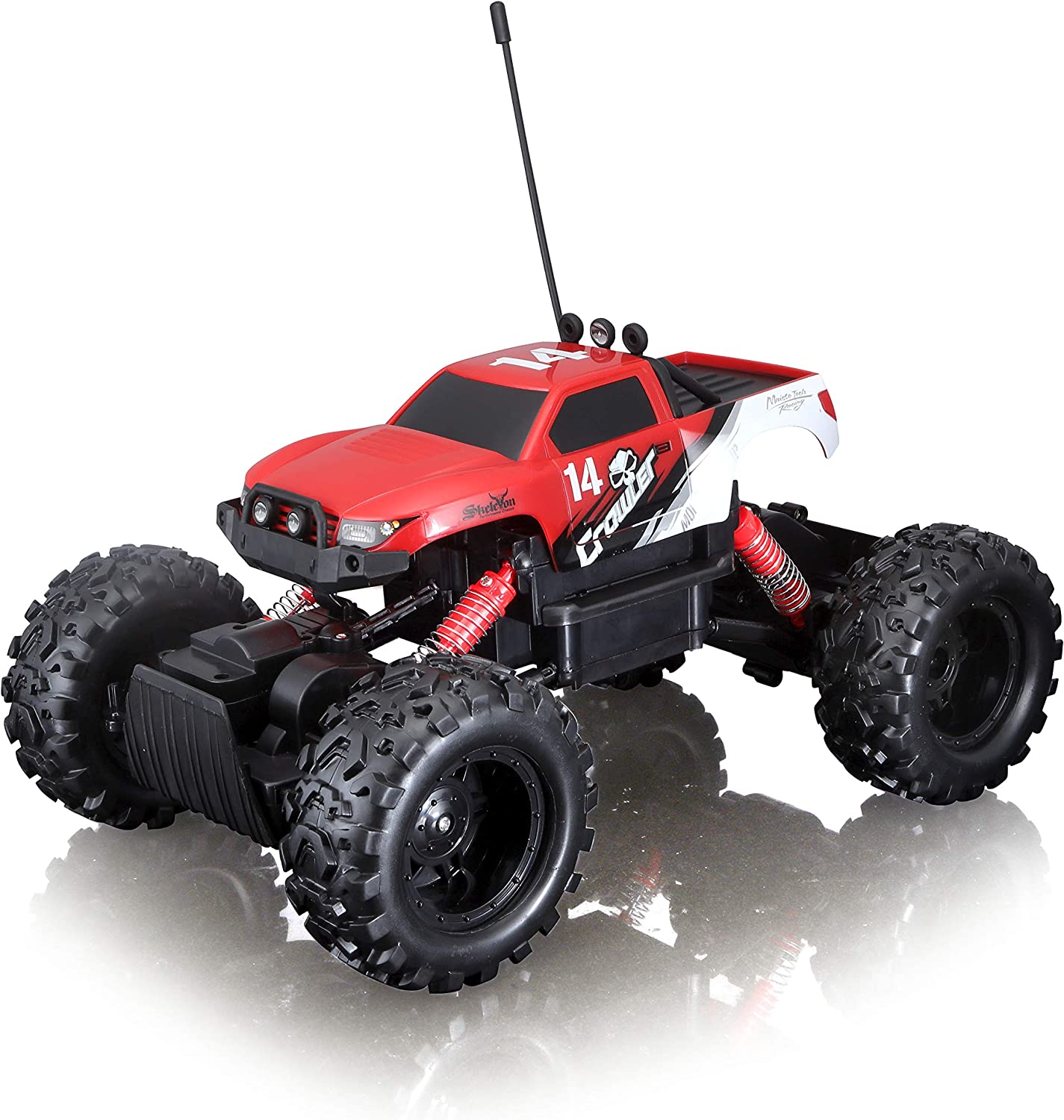 Two motors… not one but two. Yeah! So take this bad boy on rugged off-road adventures and see what it can do. You won't be disappointed. It has articulated front and rear suspension – just like the monster trucks you see on the tracks in the shows. The remote has a tri-channel transmitter – so you can have hours of fun seeing the limitless moves it has. Just like the real deal – but you are safely behind the remote and not the wheel.
Maiso Rock Crawler with Remote
This toy however does need 6 AA batteries for the monster truck and a single 9-volt better for the radio controller since this toy does not come with it. Some of the things kids and parents love about this truck is it drives over pavement and gravel areas well but has a difficult time driving in the grass since it does not have a high-powered motor. Kiddos and parents also do not like that it has slow steering, but others say it steers just enough to the right and the left when necessary. Other than those cons, it is a fun simple, easy-to-work radio control monster truck to play with by a child of any age and even adults that love being a big kid sometimes too.
Final Thoughts
With these three reviews, finding a radio-controlled monster truck for your kiddo to have and play with outdoors or indoors should come with ease. All you have to do is figure out which style and kind are best for him or her. After, choose one, bring it home, add in some batteries, and have some monster truck fun together as a family.