Fall is coming and the cool, brisk night air is upon us. And since we like to spend a lot of time in our backyard as a family, it is only natural that we create a crafty DIY fire pit to add to the fun.
About a week ago, this tutorial came up on my Facebook feed and I loved the simplicity of it. The fact that the supplies were priced out at about $50 was very appealing and since I had a $50 Home Depot gift card hanging on my refrigerator just waiting for the perfect project to come along, surely was a sign that it was meant to be.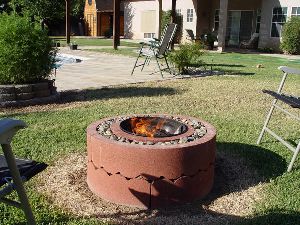 I love how sturdy and solid it looks, and the fact that it isn't a cheap, metal pit that will fall apart before Fall is even over is awesome. So the hubby and I headed out to Home Depot, with the directions in hand.
Now, I had to alter the plan a bit. We were unable to find the smaller, inner tree rings. So instead, we decided to go with a larger charcoal grill, only use the outer tree rings, and fill it with river pebbles. By altering it, we did end up spending almost $100, but I was okay with that.
Once we decided where to place the fire pit (we decided on the corner of our concrete patio since we would be guaranteed a flat surface. We couldn't count on any of our backyard being 100% level.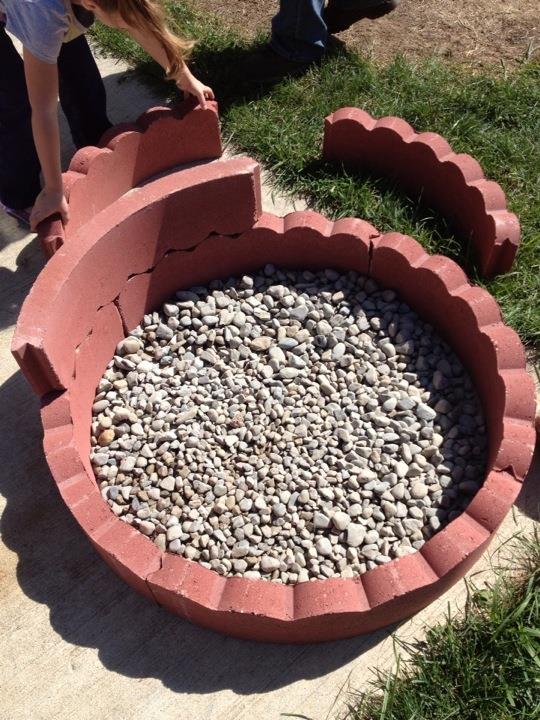 We set up the first 4 tree rings, linking them together with the grooves so it was s smooth and tight fit.
Secondly, we laid 3 bags of river pebbles down and leveled it out as much as possible. Then, we placed the remaining 4 tree rings upside down on top of the bottom ones. With each bag we added we placed the grill inside to see where it would be in relation to the tree rings. I wanted it to be just a hair shorter than the tree rings, but you could certainly set it at whatever level you'd like.
 I made sure to try to line the "seams" up alternating the top and bottom pieces (you can see this well in the above picture). I felt like that would provide a better fit with less chance of falling apart. At this time, we decided NOT to mortar the tree rings together. We are going to see how it goes and if we have to do it in the future, it is certainly a simple fix.
At this point, it was a two-person job. I held the grill level and centered while my husband poured the remaining bags of rock around the outside of the grill. Obviously, if you didn't have a second set of hands there is no way this would really work unless you added in the original step and had the inner tree rings.
By the end, we had about half of a bag of rock left (which we just added to our landscaping since we already had rocks there). I filled in all of the little gaps with small handfuls of rocks until I was satisfied. And here is the finished product.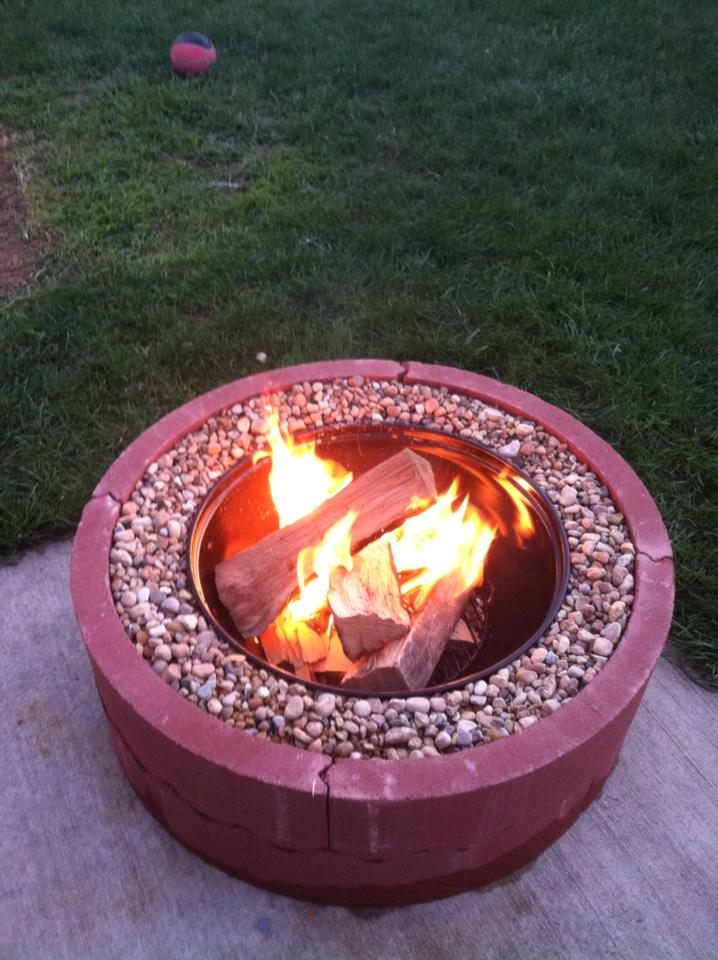 8 ~ 24″ diameter scalloped tree rings @ $1.99 each
(8 x $1.99 = $15.92)
10 ~ bags of 2 cubic feet River Pebbles @ $1.99
(10 x $1.99 = $19.90)
22.5 inch Masterbuilt charcoal grill @ $59.99
TOTAL ~ $95.81 pre-tax
Time spent: 30 mins