Children can be destructive for several reasons. Some are "innocently" destructive due to excess energy and poor judgment. Kids with ADHD, for instance, can play too wildly at times, accidentally causing damage to property through impulsive behavior. Other kids are destructive on purpose, acting out their anger, hurt or frustration. This sometimes occurs because of their inborn temperament, sometimes because of watching parents or older siblings behave similarly and sometimes a combination of both nature and nurture. Some kids are destructive only at home whereas others are destructive elsewhere as well. In all cases, parents need to know how to stop their child's destructive actions.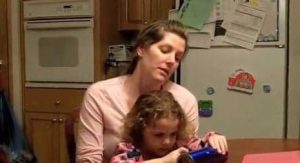 If your child is destructive at times, consider the following tips:
Never Lose Control

The destructive child is out-of-control and needs to see a model of excellent self-control. No matter how upset you are with your child's destructive behavior, control your own behavior! Even if your youngster broke your favorite, irreplaceable camera, heirloom or something similar, restrain yourself: no yelling, no touching the child, no name-calling, no verbal abuse of any kind. Instead, let the child know that you need to THINK about what you're going to do about his behavior, and then leave the scene of the crime to do just that. If you lose control in front of your child, how can you expect him to behave differently?
Teach Your Child the Importance of Respecting Property

Let your child know that he can't destroy property just because he's upset. Explain to him the value (monetary or sentimental) of things and the consequences his actions have not only on himself in terms of getting punished, but on those whose property he destroys. Ask him how he would feel if someone broke or damaged his favorite toy or his bike. Let him know that when he destroys someone's property, he's making them feel the same way. The child may simply not fully understand the consequences his actions have.
Use the 2X-Rule

If your child continues to be destructive, warn him or her that acting in this way will result in a negative consequence in the future. You can say "From now on whenever you are destructive, you will lose "screens for that day." or something along those lines. If the destruction is very serious (i.e. damaging a car or a house or causing expensive or severe damage to property), use "jail level" consequences (see Raise Your Kids without Raising Your Voice for a detailed explanation of discipline strategies, including "ticket" and "jail-level" negative consequences). "Jail level" consequences are punishments that your child would REALLY dislike.
The "ticket-level" consequence of losing screens for a day can be annoying or slightly upsetting to children, but most will recover quickly. The "jail-level" consequence of losing screens for a week (or longer for an older child) however, might be something that the child really can't bear. All children have different feelings about what is or isn't important to them though. You should pick both regular, "ticket-level" consequences and very serious "jail-level" consequences according to your own child's value system. If losing a story at bedtime is upsetting enough, that can be a consequence for playing with balls in the living room after being told not to do so. For another child, losing dessert will be the language he understands best. For a child who has painted your walls with magic marker, you might warn that future occurrences of this very destructive behavior will cost the child significant portions of his allowance or the privilege of riding his new bike. See Raise Your Kids without Raising Your Voice for an extended list of negative consequences.
Teach Anger-Management strategies

If your child's destructive behavior occurs mostly when he's angry, teach him alternative ways of handling this strong emotion. There are many techniques and strategies to help your child manage his anger and many internet resources and books on this subject. Some tips that you may find helpful include:
Teach your child to think about the situation and it's consequences before he acts.
Teach breathing techniques to your child. These can help calm your child down in moments of anger. One simple technique your child can use is to think the word "in" while breathing in and think the word "out" while breathing out. Have him practice nightly at bedtime in order for this technique to be truly available and calming in a moment of upset.
Teach him how to communicate his feelings in the right way when he is angry.
Teach him how to be able to "let go" after upset has occurred.
Anger and tantrums can often come about after a build up of stress, so teach your child stress reduction methods as well.
Use the CLeaR Method

In the CLeaR method, a parent gives the child a comment on what he is doing correctly, a label on how he is acting, and a reward to reinforce positive behavior. If your child is often reckless and careless while playing but is at the moment playing quite appropriately, give him a comment – "I see that you're being careful with your toys today." a label -"That's very mature of you." followed by a reward -"You can play outside for longer today since you're being so careful." when he plays carefully.
Consider Bach Flower Remedies

Bach Flower Therapy is a harmless water-based naturopathic treatment that can ease emotional distress and even prevent it from occurring in the future. If your child exhibits violent rage that leads to destruction of property, the flower remedy Vine may help him. For loss of control, the flower remedy Cherry Plum is used. If your child has meltdowns when provoked, you can try the remedy Impatiens.
You can mix several remedies together in one treatment bottle. To do so, you fill a one-ounce Bach Mixing Bottle with water (a mixing bottle is an empty bottle with a glass dropper, sold in health food stores along with Bach Flower Remedies). Next, add two drops of each remedy that you want to use. Finally, add one teaspoon of brandy. The bottle is now ready to use. Give your child 4 drops of the mixture in any liquid (juice, water, milk, tea, etc.) four times a day (morning, mid-day, afternoon and evening). Remedies can be taken with or without food. Continue this treatment until the negative behavior disappears. Start treatment again, if the behavior returns. Eventually, the behavior should diminish completely.
Seek Professional Help

If your child continues to exhibit destructive behavior despite all the interventions you employ, it is best to arrange for professional assessment and treatment. It is possible that you need a "tighter" educational approach and it is also possible that your child him or herself, will benefit from therapeutic intervention. Ask your doctor for a referral to a pediatric mental health professional.