Great Bacon Lover Gifts
Bacon is one of, if not the, greatest creations in human history. The smell of bacon in the morning (or any time of day) makes our mouths water uncontrollably. There's no doubt that many of you bacon fans out there have the same thought process as we do, so we created the ultimate bacon buyer's guide just for you.
This year, when the sort of person who would feel weird getting me socks  or tequila, have asked me what I want for my birthday, I've been answering with one word: BACON.

You think I'm kidding, but I'm not. I love bacon, both as a food and a memetic construct. I am very much like that dog in the old Beggin' Strips commercial. IT'S BACON! Bacon is, in a word, FRAKKIN' AWESOME. (Okay, that's two words, but whatever.) As the saying goes – and if it doesn't, it should – everything is better with bacon. And bacon is very big right now, especially on that giant universal 24-hour novelty store known as the Internet, so it's pretty much guaranteed that anywhere you go right now, you'll be able to find something for me (or the fellow bacon-lover on your shopping list) at just about any price point. There are all kinds of guides out there to theme gifts for the discerning bacon lover on your gift list; I've narrowed my wish list down to seven things that I'd really, honestly love to find in my stocking.
Bacon Bandages
You can walk into any store right now and find an entire wall of character Band-Aids. In my house alone we have about 10 different instantly recognizable characters in 48 different sizes. But what we don't have? Are bacon bandages. I would love bacon Band-Aids. They might actually make paper cuts pleasant. (Of course, that could be the 10 a.m. tequila talking.)
Periodic Bacon T-Shirt
This is perhaps clothing intended for people with advanced nerdulence credentials (I got one for my husband the chemical engineer as a gift a few years ago, after all), but it's a pretty sweet shirt anyway, and a great conversation starter, provided you are having conversations with other nerds and/or bacon lovers, which I am inclined to be.
Bacon Salt
I don't know which of the following two facts is more amazing: (1) that there are SO MANY DIFFERENT FLAVORS of Bacon Salt, or (2) that they are all KOSHER. I'm not sure that kosher certification should matter much to someone who celebrates Christmas, but I still think this is amazing. I've never actually had Bacon Salt, but I strongly suspect that I would love it and put it one everything, along with my fancy balsamic ketchup.
Bacon Lip Balm
I am not entirely sure if this would make a good gift for a bacon-lover on your list, or a special someone who likes a bacon-lover, or the cosmetically adventurous, or what, but if you are not at least a little bit intrigued by the prospect of bacon-flavored lip balm, well then I don't think that we can remain friends.
Bacon-of-the-Month Club
If you really love me, you will sign me up for one of these. I kind of love anything-of-the-month clubs, honestly, except possibly mustard-of-the-month because I am not a huge fan of mustard in general, but a new flavor of bacon every month? Yes, please! Except for the one time I accidentally bought expired bacon at a convenience store and it was rancid and nasty, I have never had bad bacon. This Bacon Club was featured on the Food Network, which would not intentionally steer me wrong.
Bacon Cookbook
Admit it: you want to get this gift for someone just so you can see what deliciousness they can cook up, don't you? You get this for me and I will invite you over. No, really. Any excuse to have a party and cook copious amounts of bacon at the same time is fine by me.
Bacon Vodka
If you're the crafty sort who likes to give carefully, lovingly home-made gifts for the holidays, why not try this recipe for bacon vodka? No, it's not bacon tequila, which no one appears to have invented yet because then we would all immediately experience nirvana, thereby negating the necessity for Christmas gifts (I mean, what does a fat guy in a red suit have on BACON TEQUILA, I ask of you?), but vodka is my emergency back-up drink, and I'd be lying if I didn't say bacon vodka sounds positively delightful. – Bacon and vodka available almost everywhere, prices vary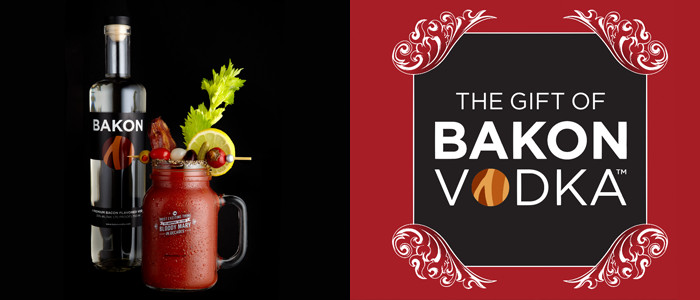 Of course, if you just can't get behind basing your gift shopping on food products, then you can always just hand out cash. If you want it to look extra-festive for the holidays, you can always learn how to fold five-dollar bills into origami poinsettias.