When I talk about using essential oils for neurological or spectrum related problems, it's important to note that I have not found one specific oil or blend that has been overly effective in treating the specific disorder. As I'm sure you know, these are complex diseases that require treatment from many angles. But, when used regularly and in conjunction with other interventions and treatment plans, essential oils have proven beneficial in a number of ways for kids who suffer with these conditions. Throughout my research here are my recommendations.
Basic Oil Must-Haves
General Oils for Wellness
Children who suffer from behavior and/or neurological disorders commonly have impaired immune systems as well. This is a double edged sword because a minor illness is just enough to push our little ones into a tailspin. According to research, most essential oils score higher than most fruits and vegetables in providing antioxidants. In fact, essential oils have the highest ORAC (Oxygen Radical Absorption Capacity) rate in the world, making it the best source for destroying free radicals. In addition to using essential oils on a regular basis, an immunity blend like thieves can be applied to the feet daily before bed as a front line defense against illness.
Non-Toxic Healing for General Illness
Natural medicine is important for children with neurological disorders because they are unable to adequately metabolize the artificial chemicals, flavors and dyes that are included in pharmaceuticals. 100% pure essential oils have an amazing healing power for a variety of ailments, without many of the harmful side effects that chemically based medications come with. The following oils are a must have for your natural medicine cabinet:
•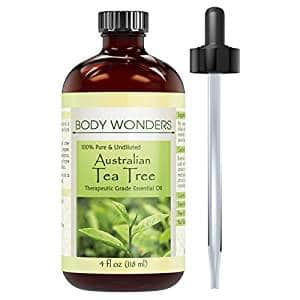 Respiratory blend for fevers, immunity, stuffy noses, sinus infections, colds, coughs and mild asthma
• Melaleuca for bacterial or fungal infections – melaleuca is the same thing thing as tea tree oil
• Muscle Pain and Inflammation blend for sprains, sore muscles, aches and pains
• Digestive Blend for stomach ailments
• Lavender for pain relief, burns, allergies, wounds, aiding sleep, bee stings and insect bites, and calming nerves
Essential Oils for Specific Conditions
Below is a list suggested essential oil protocols for common ASD and other neurological conditions. Only apply these oils when the child is willing and open to receiving them. If the child has a strong sensitivity to smell, start by applying a small amount to the feet and cover with socks. Once a child starts feeling the healing power of oils, he will often come to like them. But if the experience is forced or negative, he will associate the oils with a negative experience. Also, please refer to a respected source for age guidelines, dilution recommendations, other precautions and more specific information on each oil.
Intestinal Dysbiosis or Gut Imbalance
oregano, lavender, peppermint and sweet fennel
Studies have proven that these oils (along with anise, caraway and bitter orange) show the greatest degree of selectivity, inhibiting the growth of potential pathogens with no effect on the beneficial bacteria. Apply selected oil on the abdomen and the reflex points on the feet.
Candida
melaleuca, oregano, clove, immunity blend, peppermint, thyme, lavender, eucalyptus, rosemary and digestive  blend
For a candida immune-boosting body oil, mix 4 ounces of fractionated coconut oil (or other vegetable based carrier oil), 4 drops of geranium, 6 drops of white fir, 3 drops of frankincense, 3 drops of thyme, 2 drops of patchouli, and 3 drops of melaleuca. Massage the mixture into the skin several times a day. Before bed, apply to bottoms of feet and cover with thick cotton socks.
To fight Candida overgrowth, ingest the following oils in an gelatin capsule – myrrh 2 drops, melaleuca 4 drops, oregano 2 drops, fractionated coconut oil 4 drops. Take three times a day with food for at least 10 days.
 Nervous Energy, Meltdowns, Fear and Fits
bergamot, balance, frankincense, Roman chamomile, lavender, patchouli, wild orange
During a meltdown or fit, apply in the following order on the top of each big toe, allowing the child to inhale the fragrances as you go: balance, roman chamomile and lavender. If you cannot get to the feet, apply the oils behind the ears or on the inside of the wrists.
Diffuse 3 drops of bergamot or wild orange and 1-2 drops of lavender to create a calming environment.
For an anxiety relief diffuser blend, mix together 8 drops of patchouli, 10 drops of clary sage, 10 drops of bergamot, 8 drops of geranium, 4 drops of frankincense, and 5 drops of wild orange, then add 4-6 drops of mixture in to your diffuser.
Frankincense is the most valuable essential oil for slowing and deepening breathing, helping to allay fear, anxiety, nervous tension and stress. Apply to the insides of the wrists or behind the ears during especially stressful moments.
ADD/ADHD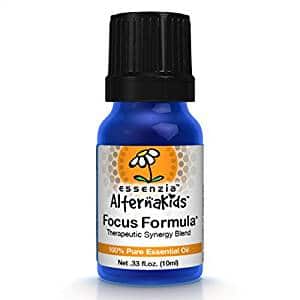 clary sage, frankincense, lavender, serenity blend, vetiver, ylang ylang,
In a two year case study published in the American Medical Association Journal, Dr. Terry Friedmann M.D. found significant results when children that had previously been diagnosed with ADD/ADHD were administered therapeutic essential oils by inhalation. The essential oils vetiver, lavender and cedarwood were used. The inhalation of the oils proved to settle the children's brain waves back into normal patterns and improved their scholastic performance and behavioral patterns. The final results were:
Lavender increased performance by 53%
Cedarwood increased performance by 83%
Vetiver increased performance by 100%.
For improved concentration, apply vetiver to the feet, focusing on the big toe. For school children that need help during the school day, use a necklace with a pendant that will absorb the oil that can be smelled all day. Focus Formula can help with focus for kids.
For hyperactivity, diffuse Roman chamomile and lavender or apply on the insides of the wrists or behind the years.
General Healing
Peaceful Child Blend (peacefulchildblend.com), vetiver, frankincense, myrrh, and patchouli have high levels of sesquiterpenes, which are one of the only known substances that can cross the blood-brain barrier. High levels of these sesquiterpenes help increase the amount of oxygen in the limbic system of the brain, particularly around the pineal and pituitary glands. This leads to an increase in secretions of antibodies, endorphins, and neurotransmitters. When used regularly, it can be nourishing to the brain, aid in the balancing of the central nervous system and minimize the symptoms of sensory processing disorder, ADHD, autism, anxiety and other neurological disorders.
Insomnia and Sleep Issues
lavender, bergamot, ylang ylang, vetiver, orange and clary sage
Diffuse oils 15-30 minutes before bed or apply on the feet, behind the ears or on the inside of the wrists.
To calm an active mind for restful sleep, layer frankincense, vetiver and lavender on the big toe of each foot, allowing the child to inhale each one throughout the process.
Allergies
melaleuca, lavender, peppermint, Roman chamomile, melissa, patchouli, eucalyptus, emon, ylang ylang
For seasonal allergies mix equal parts lavender, lemon, peppermint and a carrier oil and apply to the bottoms of the feet.
For allergy rashes and skin sensitivity, apply 3 drops of lavender, 6 drops of Roman chamomile, 2 drops of myrrh 1 drop of peppermint and coconut oil on location.
Geranium, lavender and ylang ylang can soothe the inflammation and irritation of psoriasis, eczema and other types of dermatitis.
Constipation
rosemary, lemon, marjoram, ginger, orange
Dilute 1-2 drops of oil in 2 tblsp. of fractionated coconut oil and massage on stomach and feet.
Diarrhea
geranium, ginger, sandalwood
Dilute 1-2 drops of oil in 2 tblsp. of fractionated coconut oil and massage on stomach and feet.
Disclaimer: I am not an aromatherapist, naturopathic doctor or other professionally trained medical practitioner. By accepting my advice, you are acknowledging that while these claims come through scientific research, anecdotal evidence and personal experience, they have not been evaluated by the FDA. You also agree not to hold me liable should you have an adverse reaction to any of the protocols I recommend. Finally, if you are pregnant or have a chronic health condition, please speak to your doctor before using any essential oils. Always make sure to choose a high quality oil and research any possible interactions or side effects.